Discover more from Callaway Climate Insights
Callaway Climate Insights provides news, critical analysis and original perspectives at the intersection of global finance and the challenges of climate change. 
Over 3,000 subscribers
As Big Oil ponders new world order, renewables not a priority
Amid public pledges from BP, total investment is a fraction what is spent on oil and gas, even as peak demand worries mount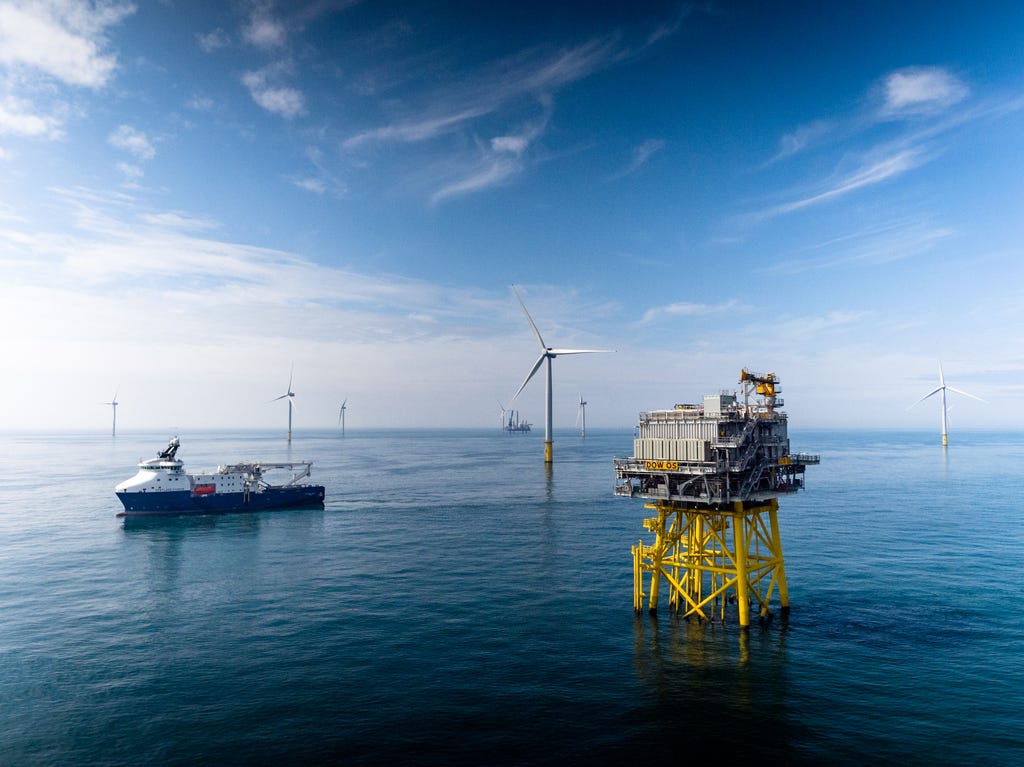 SAN FRANCISCO (Callaway Climate Insights) — BP's promise to increase investing in renewable energy projects 10-fold over the next decade marks a sharp change of direction for one of the world's major public oil companies, putting it in a leading position among oil majors shifting to become "energy" companies, but whether others will follow suit remains an open question. 
Earlier this month, BP (BP) said it would boost low-carbon investment to $5 billion a year over the next decade while cutting oil and gas production by the equivalent of 1 million barrels a day, or about 40%,over the same period.
If executed as described, the move would vault BP to the top of the league tables of oil majors investing in renewable energy. 
But the move is not without risks, as BP itself knows from past experience.
Newly minted CEO Brian Looney announced the changes on top of a disastrous quarterly report that saw BP lose more than $16 billion and cut its dividend in half. 
BP's own forecasts indicate renewables will be the fastest-growing source of energy over the next 20 years, with production seen expanding five-fold by 2040. 
Shell led renewable investing in an analysis late last year of eight oil majors — BP, ExxonMobil (XOM), Chevron (CVX), Italy's ENI, France's Total, Brazil's Petrobras and Norway's Equinor (formerly Statoil).
The analysis, by Prof. Matthias J. Pickl at the King Fahd University of Petroleum and Minerals in Dhahran, Saudi Arabia, found that Shell (RDS.A) was in the lead on renewables investments, with commitments of $1 billion to $2 billion a year. BP, Total and Equinor were tied for second, with commitments of $500 million a year each. Eni had commitments of $300 million a year, while U.S. oil majors ExxonMobil, and Chevron, and Brazil's Petrobras had $0. 
How one defines renewables investments can affect the standings. ExxonMobil, for instance, has concentrated on carbon capture technologies and biofuels, eschewing wind and solar plays. 
It is important to keep the investment dollars in perspective, as well. 
A report on planned renewable investment by oil majors by Rystad Energy, forecast total renewable investments of $17.5 billion over the next five years. By contrast, the 10 oil companies included in that study are expected to spend "$166 billion on greenfield oil and gas projects during the same period."
Equinor is seen accounting for more than half of renewable investments over the next five years — about $10 billion — with much of it committed to an offshore wind power project in the North Sea. "Not until later in the decade do we see an increase in renewable spending from other companies," said Rystad Energy product manager for renewables Gero Farruggio in a statement. 
BP, notorious in the U.S. for the Deepwater Horizon drilling platform disaster and oil spill in 2010, has had mixed results with earlier investments in renewables.
Pickl's report noted that the company pursued a variety of renewables projects starting as early as 1980, including solar components manufacturing, and project development. It even launched a "Beyond Petroleum" rebranding campaign in 2001. However, most of its earlier investments in green energy have been written off, with the company closing its BP solar business altogether after the Deepwater Horizon spill.
Still, the oil industry, which once worried about peak production, now has a different concern: peak demand. In the U.S., nearly 70% of oil consumption is tied to the transportation sector. In the short term, demand is down sharply thanks to Covid-19 closures. Longer term, growing use of electric vehicles for personal and commercial transport will likely pose continued pressure. 
Above, Equinor's Dudgeon North Sea offshore wind farm. Photo: Jan Arne Wold/Woldcam via Equinor.