Discover more from Callaway Climate Insights
Callaway Climate Insights provides news, critical analysis and original perspectives at the intersection of global finance and the challenges of climate change. 
Over 3,000 subscribers
Battery power through radioactive waste
Infinite Power launching next week, to make power bricks using radioisotopes, hoping to replace coal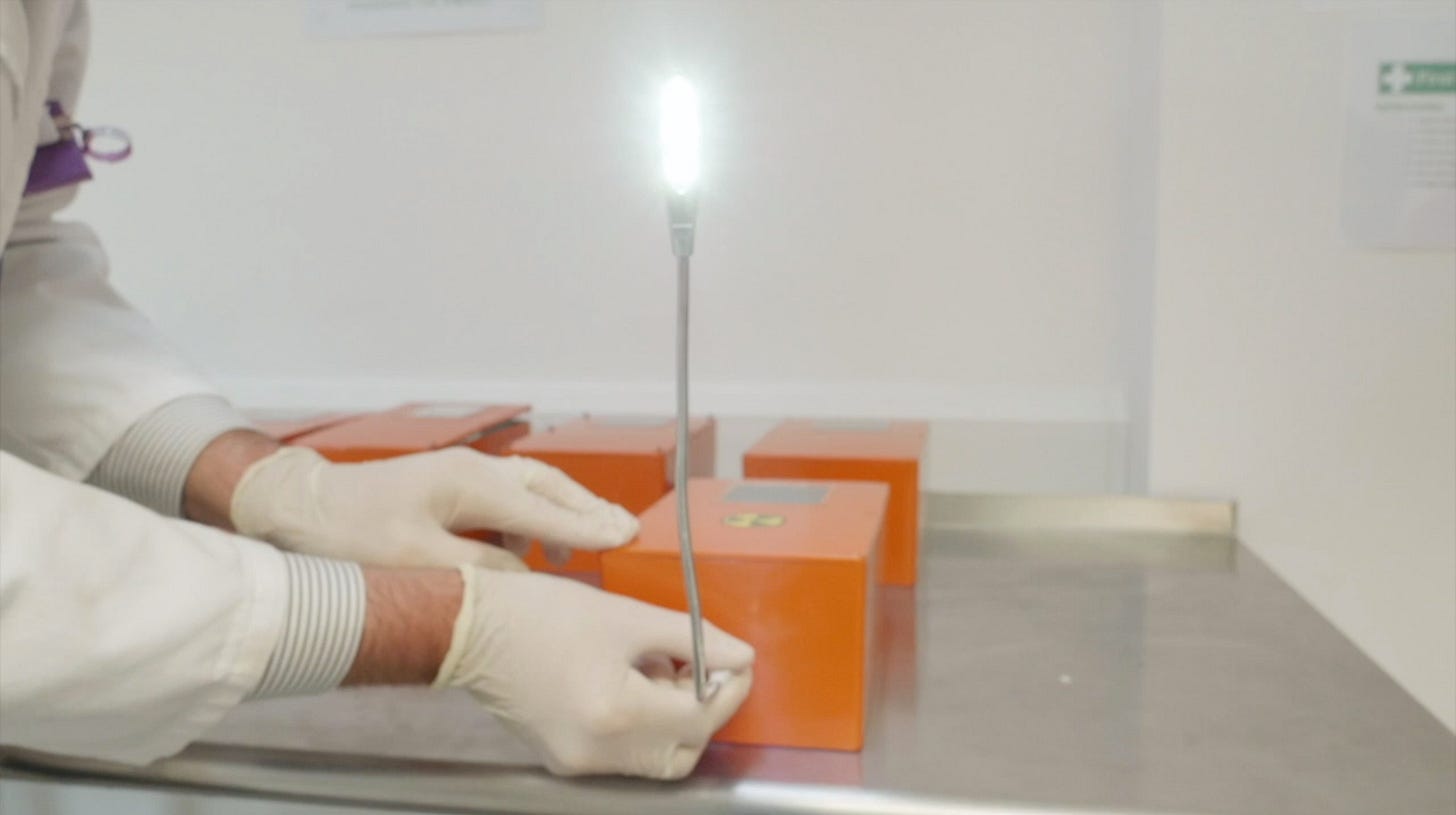 Above, IPC prototype powering light. Photo: Infinite Power.
By Dan Byrne
DUBLIN (Callaway Climate Insights) — A new zero-emissions power supply using radioactive waste will be announced next week in the UK as a potential alternative to coal in Europe and even more powerful than solar energy.
Infinite Power's power cell supplies electricity using radioisotopes — substances which consistently produce radiation over a long period of time as they undergo natural decay. Similar to how solar cells capture the sun's energy, the Infinite Power cell converts the radiation wave from radioisotopes into electricity.
The company, which is being put together by investors after scientists in Australia and the UK developed the technology and were granted a patent, wants to be a long-term, carbon-neutral replacement for coal, with large plants supplying energy to industry.
The attraction to European countries dependent on coal, such as Poland, and countries weaning themselves off it, such as Britain, is that the Infinite product will create jobs to replace those lost in the coal plants, said Infinite Power CEO Robert McLeod.
"We have to make sure there's a proper transition, and our technology will create jobs. A gigawatt-sized Infinite power station would require anything from 900 to 1100 staff daily — similar to nuclear power stations," said McLeod.
Marketing material sent to investors includes claims that the Infinite Power cell can product seven times more power than solar and five times more power than wind energy, with zero waste.
The cells can be produced in boxes and then stacked like Lego bricks to build power stations that can serve small communities, or large ones to replace coal-fired plants, the company said. Because the radioactive waste has a half life and breaks down, the product is safe, as well as recyclable, the company said.
The cell was first developed and tested eight years ago by Infinite scientists in Australia, and a patent was granted in 2015. Testing at a lab in Cumbria, England is now to the point where the company can announce commercial plans, McLeod said.
The radioisotope (in this case Cobalt-60, with a half-life of 5.27 years), is stored inside a compact "safe box" with a semiconductor, which will convert the radiation released into electricity.
Given the half-life of their source radioisotope; their power cells can operate for up to 100 years and would be much cheaper than other green energy forms — costing as little as $0.02 per kilowatt hour, according to the company.
Global electricity price averages ranged from below $0.08 to above $0.33 per kilowatt hour in 2018 according to Statista, depending on the country, and the power sources which are popular in each.
Infinite said it will be initially focused on the UK market, which British Prime Minister Boris Johnson promised just this week will seek its future in offshore wind energy. Johnson said wind from the seas around the British Isles will power all British homes by 2030.
"It's a very brave call by Johnson to say he wants to power all homes by wind, but if you want to do that, you'd need a wind farm the size of Wales," said McLeod. "We can provide a base load power supply to support wind and solar energy, much like coal power does now."
"Base load power" refers to the minimum energy required to power an electrical grid in a given time.
Infinite's product may also be of interest to countries in central and Eastern Europe that are worried by the job losses the transition from coal will cause. Up to now these states, particularly Poland, have previously pushed back against moves by the EU to hasten the switch to zero-emissions energy, claiming it will affect them more than other nations.
In addition to the more commonly discussed forms of green energy like wind and solar, attention is also being given by the EU to green hydrogen, an alternative fuel source which uses pure hydrogen obtained from passing electricity through water.
McLeod said he doesn't believe hydrogen and infinite power cells will be in serious competition with each other, given EU Climate Commissioner Frans Timmermans's commitment to hydrogen. "My view is that hydrogen will become the main fuel for heavy transport — planes, trains, etc.," he explained. "To produce green hydrogen, you need green electricity and electricity is expensive."
(Dan Byrne is a correspondent based in Dublin, covering climate and finance matters. He is a graduate of Dublin City University and previously worked in communications and fundraising for NGOs, He recently covered the 2020 Irish General Election for state broadcaster RTE.)