Discover more from Callaway Climate Insights
Callaway Climate Insights provides news, critical analysis and original perspectives at the intersection of global finance and the challenges of climate change. 
Over 3,000 subscribers
Can new reactor design bring nuclear in from the cold?
As concern about climate change grows and risks decline, Darrell Delamaide asks if it's time to reconsider nuclear's place in the fuel mix.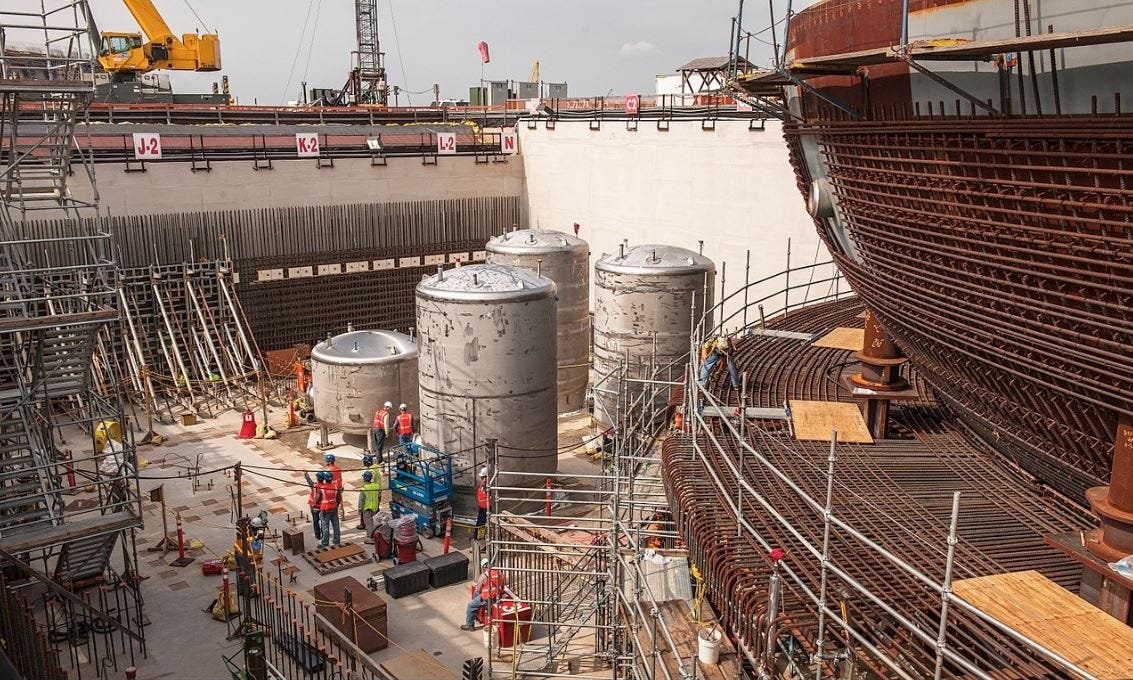 By Darrell Delamaide
(About the author: Darrell Delamaide is a freelance journalist based in Washington, D.C. He has specialized in business and finance over a long career, writing for Barron's, Dow Jones, Institutional Investor, Bloomberg, and MarketWatch, among others. He has written extensively about energy, economic and monetary policy, banking, capital markets, politics and regulatory affairs. A longtime correspondent in Europe, Delamaide also has written about international economics, global markets, foreign policy, and other international topics.)
WASHINGTON, D.C. (Callaway Climate Insights) — When Southern Company decided in 2006 to build two new 1,250 megawatt nuclear reactors at the Vogtle plant of its Georgia Power unit near Waynesboro, Ga., some people thought they were crazy to build the first U.S. nuclear generators in more than a quarter century. Now, with completion running five years past the original 2016 deadline, and costs running to an estimated $27 billion (nearly double the initial budget of $14 billion), many people still do.
When the two new reactors come on stream in 2021 and 2022, however, they will be generating some of the cheapest electricity in the country, as nuclear fuel costs $0.008 per kilowatt-hour, compared to $0.0289 for gas and $0.028 for coal. The new units can supply electricity to 1 million homes.
Therein lies the quandary for environmentalists. Nuclear energy is cheap and produces zero emissions. Not technically renewable, the enriched uranium fuel nonetheless lasts a long time. But the counter-arguments are compelling and can be summed up in a few words: Fukushima, Chernobyl, Three Mile Island, and even, for good measure, The China Syndrome.
The fact is, the United States is the largest producer of nuclear energy in the world, with nuclear accounting for 20% of the country's electricity output and 55% of its low-carbon production. As concern about climate change grows and risks in nuclear power decline, is it time to reconsider its place in the fuel mix? 
France produces more than two-thirds of its energy from nuclear plants and recently fought to avoid nuclear energy being excluded as a potential green investment in the European Union's taxonomy. (In typical EU fashion, the decision was kicked down the road — nuclear power is not included, but also not excluded as a potential green investment.)
But the Fukushima Daiichi nuclear disaster in 2011, following an earthquake and tsunami in Japan, was the last straw for some other countries. Germany decided virtually overnight to shut down its nuclear plants despite its ambitious goals to reduce emissions and its historic reliance on dirty brown coal. Japan vowed to exit nuclear energy and briefly shut down nuclear plants, but has gradually restarted several, saying it cannot meet its commitments under the Paris accord without nuclear power.
The two AP1000 power units being built at the Vogtle plant are likely to mark the extinction of dinosaur-like generators with their massive cooling towers and tons of concrete. The industry is focusing now on small modular reactors that don't require the heavy containment features of traditional nuclear plants. 
Oregon-based NuScale Power, for instance, is developing 60-megawatt modular units that can be partially buried and clustered to provide sufficient power for a city. They are far less complex than the traditional reactors and do not rely on electricity-powered pumps so the chain of events that led to the Fukushima meltdown cannot happen. There's much less to go wrong — and the small modular reactors, or SMRs, are much cheaper and easier to build since they are not assembled on site but built in the factory and delivered as a finished product without the massive containment dome and cooling towers of traditional reactors. None have been deployed yet, but NuScale is further along than other SMR producers and expects to bring the first cluster on stream in the mid-2020s.
Even Southern Company Chief Executive Tom Fanning says the utility will be shifting its focus to smaller reactors and it will be some time before they consider building another giant facility. In the meantime, Southern is also exploring use of spent fuel in current plants.
Nuclear power proponents, such as Jacopo Buongiorno, the head of MIT's Center for Advanced Nuclear Energy Systems, say that emissions goals are not achievable without including nuclear. "Our analysis shows that the most effective, and frankly least-cost, path toward decarbonizing our economy includes nuclear energy," Buongiorno told Boston's NPR station WBUR in September. Wind and solar are intermittent and battery storage is still very expensive despite dramatic gains.
Russia's Rosatom is developing low-capacity floating nuclear plants, and brought the first one, Akademik Lomonosov, on stream in December, anchored in the Chukotka region in the Far East of the country (the part of Russia you can see from Alaska). The two small modular reactors on the ship generate 35 megawatts of power each, and Rosatom sees it as a prototype to provide energy in some of Russia's remote regions.
Back in the U.S., Exelon, the country's biggest operator of nuclear plants, says it remains committed to the fuel even as the licensed life of its reactors is routinely extended. In March, the company's Peach Bottom plant in York County, Penn. became the second nuclear power plant in the U.S. to be licensed out to 80 years after the Nuclear Regulatory Commission extended licenses at two units for a further 20 years. Florida Power & Light's Turkey Point units 3 and 4 were the first to get operating permits for 80 years, while Dominion Energy (D) and Duke Energy (DUK) have also applied for extensions.
The two older reactors at the Vogtle plant, which came on stream in 1987 and 1989 have had their licenses extended out to 60 years, expiring in 2047 and 2049. The same is almost sure to happen with the new units 3 and 4, which have been initially approved for 40 years. The older reactors have been uprated — permitted power generation was increased as measuring became more accurate — and further safety measures have been taken since 9/11 and Fukushima. 
When the new reactors are completed, Vogtle will be the country's largest power generation plant. At the end of December 2019, Southern Company derived 16% of its power from nuclear, compared to 50% from gas, 22% from coal and 12% from wind, solar and other renewables. It is investing in renewables as well so that by 2023, when both the new nuclear units are operational, nuclear will represent 34% of its carbon-free or carbon-neutral generation, up from 30% now, and solar will represent 30%, up from 25%.
After suffering years of derision for the cost overruns at the new Vogtle units, Southern Company may have the last laugh.
Photo: Vogtle Unit 3 liquid processing tanks inside the reactor building.