EU launches ambitious hydrogen plan
Fanfare as plan to decarbonize Europe takes shape but huge challenges remain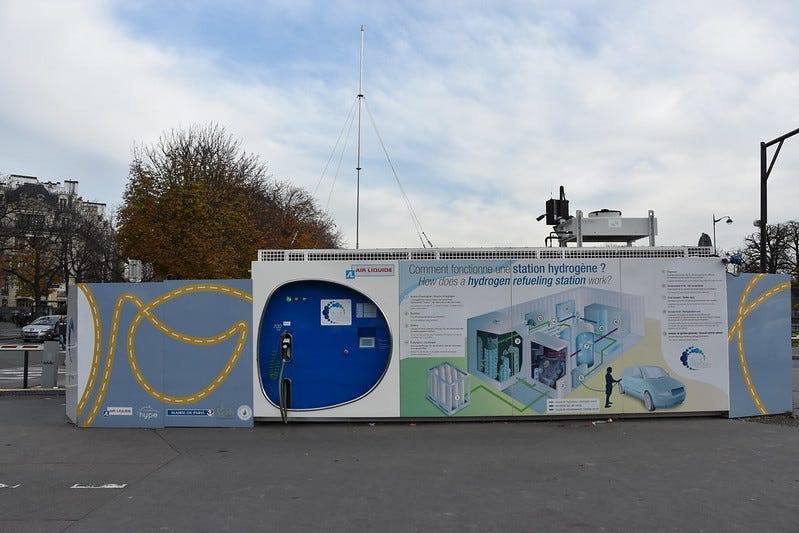 By Elizabeth Hearst
BRUSSELS (Callaway Climate Insights) — The EU's long-awaited Hydrogen Strategy was launched Wednesday with fanfare in Brussels.
The so-called "Energy System Integration Strategy" marks a major shift toward renewable hydrogen energy in the bloc.
First Vice President of the European Commission Frans Timmermans labeled the strategy as "crucial for the European Green Deal," saying it was "ambitious and necessary" for the European Union to be the first carbon-neutral continent by 2050.
Timmermans described the current system as "too wasteful," and said that the EU must decarbonize its energy sector, responsible for 75% of its greenhouse gas emissions, and revolutionize its strategies to increase its current 1% energy consumption of hydrogen.
This policy will serve as the framework for the green energy transition from an individual based system (in silos), to a collaborative effort between industries and infrastructure. The strategy is divided into three pillars.
This plan will allow the EU to "stay ahead and bring more jobs" and will enable the EU to be a "strong, competitive and clean economy", according to Timmermans.
Kadri Simson, EU commissioner for energy emphasized the importance of a "circular energy" system, whereby local energy sources will be prioritized and seen as an effective tool in buildings and communities. This energy will be sourced through the reuse of waste heat from industrial sites, data centers and through bio-waste resulting from agricultural and waste management.
Secondly, the EU will prioritize direct electrification of end-use sectors and have specified that countries should use electricity where possible. The EU has committed to installing one million electric vehicle charging points as well as an expansion of solar and wind power.
Finally, the strategy promotes the use of clean fuels including renewable hydrogen and sustainable biofuel and biogas, in sectors where electrification is difficult to achieve. The Commission has pledged to introduce a new classification and certification system for renewable and low-carbon fuels.
"Today's strategy lays out our vision and concrete roadmap for the role of hydrogen in our future energy system. It is an ambitious plan, but it is achievable," Simson said.
The Commission also sets out 38 actions to create a more integrated energy system and includes revising existing legislation, financial support, research and development of new technologies, guidance to member states on fiscal measures and phasing out of fossil fuel subsidies.
In terms of the hydrogen strategy, the EU believes that hydrogen can support the decarbonization of industry, transport, power generation and buildings across Europe, with the "cooperation between neighbors to the South and the East."
The European Commission's gradual transition to a hydrogen-based energy system will require a phased approach. This includes the installation of at least 6 GW of renewable hydrogen electrolyzers in the EU (up from 1 GW), and the production of up to a million tonnes (metric tons) of renewable hydrogen in the next four years.
From 2025 to 2030, the use of renewable hydrogen is to become an integral part of the EU's integrated energy system. There will be at least 40 GW of renewable hydrogen electrolyzers and production will increase to up to ten million tonnes of renewable hydrogen in the EU.
For its long-term vision, the EU has committed to the full implementation of renewable hydrogen technologies from 2030 to 2050, and should be deployed at a large scale across all hard-to-decarbonize sectors.
The Commission has launched a European Clean Hydrogen Alliance with industry leaders, civil society, national and regional ministers and the European Investment Bank, which will build up an investment channel for scaled-up production and will support demand for clean hydrogen in the EU.
To achieve these goals, the Commission will endeavor to introduce common standards, technology and certification, based on current life-cycle carbon emissions as stipulated in existing climate and energy legislation. The Commission will then propose policy and regulatory measures which will create investment security and certainty, facilitate increased hydrogen production, promote infrastructure and logistical networks through the Next Generation EU recovery plan.
Timmermans said: "The strategies adopted today will bolster the European Green Deal and the green recovery, and put us firmly on the path of decarbonizing our economy by 2050. The new hydrogen economy can be a growth engine to help overcome the economic damage caused by Covid-19."
Simson added: "With 75% of the EU's greenhouse gas emissions coming from energy, we need a paradigm shift to reach our 2030 and 2050 targets. The EU's energy system has to become better integrated, more flexible and able to accommodate the cleanest and most cost-effective solutions."
Above, hydrogen refueling station, Paris. Photo:
FaceMePLS
/flickr.