Discover more from Callaway Climate Insights
Callaway Climate Insights provides news, critical analysis and original perspectives at the intersection of global finance and the challenges of climate change. 
Over 3,000 subscribers
EU looks to tidal power; plus Poland agrees to give up coal
This week's notebook also looks at plans to color-coded trash bags across EU states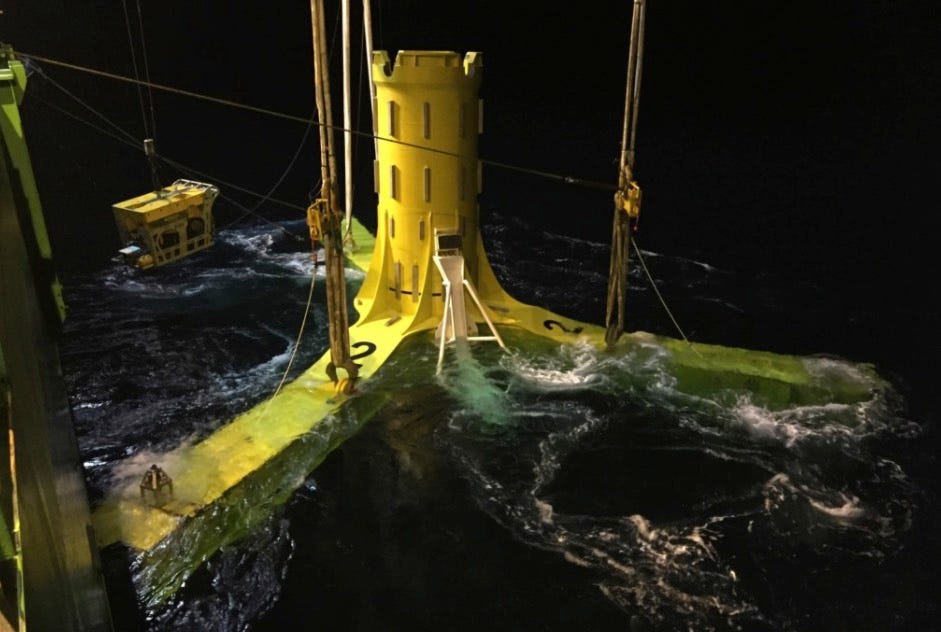 Above, turbine installation for the offshore MeyGen tidal energy project underway in Scotland. Photo: MeyGen.
By Dan Byrne
DUBLIN (Callaway Climate Insights) — Wave and tidal energy could be more effective than wind power in supplying Europe's needs. And now the European Commission is preparing a blueprint set to unlock the potential of offshore renewable energy deployment.
The plan will examine the existing potential for renewable energy in the North Sea, Baltic Seas, Black Sea, and Mediterranean and Atlantic.
Although Germany holds the key EU presidency, and will be eager to invest big in offshore wind energy, it's wave and tidal power that are expected to play a significant role in emerging technologies the EU is keen to harvest.
Francesco la Camera, director-general of the International Renewable Energy Agency (IRENA) in Abu Dhabi told Euractiv that the advantage tidal and wave technologies have "is that they can help stabilize the electricity system because they don't suffer the same kind of variability as solar and wind. They could offer a way to balance the grid and give flexibility to the energy system."
He added that the decision to invest in these technologies was sensible because European countries hold around 23% of all ocean energy patents globally.
The Commission's findings are expected to be published before the end of the year.
---
. . . . As the saying goes, one man's trash is another man's treasure. Well, it would be a lot easier if the treasure could be color-coded. That's the idea behind color coding of refuse bags across the EU's 27 member states.
This color coordinated scheme for bin bags will seek to encourage appropriate and correct recycling. Mattia Pellegrini, a senior official at the European Commission's environment directorate says right now "there are different bags and different rules for collecting the different streams of waste" and added that as a result "many things that are recyclable end up in the residual bin."
The proposal would facilitate pan-European campaigns to inform EU customers. He added that the idea is to come up with the new guidelines by 2022.
Jean Hornain, director-general of Citeo, a company responsible for collection and sorting of waste in France, explained that "in France, we recycle 70% of household packaging."
Pellegrini added that the Commission will look to include clothing, construction and demolition waste in its EPR scheme, which currently includes packaging single-use plastics, batteries and electronic equipment.
---
. . . . A groundbreaking deal by the Polish government and the country's miners union will see mines abolished in Poland by 2049.
Poland's reliance on fossil fuels has been well documented as the country has previously favored existing coal supply rather than joining its greener European neighbors.
Having previously rejected the EU target of the bloc's carbon neutrality by 2050, this landmark decision will put Poland firmly back on track to meet projected targets.
As green politicians across Europe celebrated the decision to raise the current greenhouse gas emissions targets from 40-55% by 2030, politicians in Poland seemingly closed ranks and expressed concerns.
The agreement will see the existing coal industry maintained on subsidies until 2049, when the last coal mine will be closed. Currently dependent on coal for 80% of its energy requirements, the move has jolted Poland's climate ambitions into gear.
In an interview with local media, Dominik Kolorz, chief of the coal miners solidarity union said they had "signed the liquidation of one of the most important industries in the history of the Polish Republic."
He added that "no one employed in coal mines will lose their jobs," and said there are guarantees and potential severance packages established for the workforce.
The agreement must be approved by the European Commission, with some environmental activists critical that it represents a fossil fuel subsidy and could be seen as a blank check to sustain the Polish coal industry.
(Dan Byrne is a correspondent based in Dublin, covering climate and finance matters. He is a graduate of Dublin City University and previously worked in communications and fundraising for NGOs, He recently covered the 2020 Irish General Election for state broadcaster RTE.)