Discover more from Callaway Climate Insights
Callaway Climate Insights provides news, critical analysis and original perspectives at the intersection of global finance and the challenges of climate change. 
Over 3,000 subscribers
EU notebook: Norway's Longship hailed as carbon capture milestone
Plus, Iberdrola's green hydrogen play, Germany's forest drought, and the EU's carbon sink scandal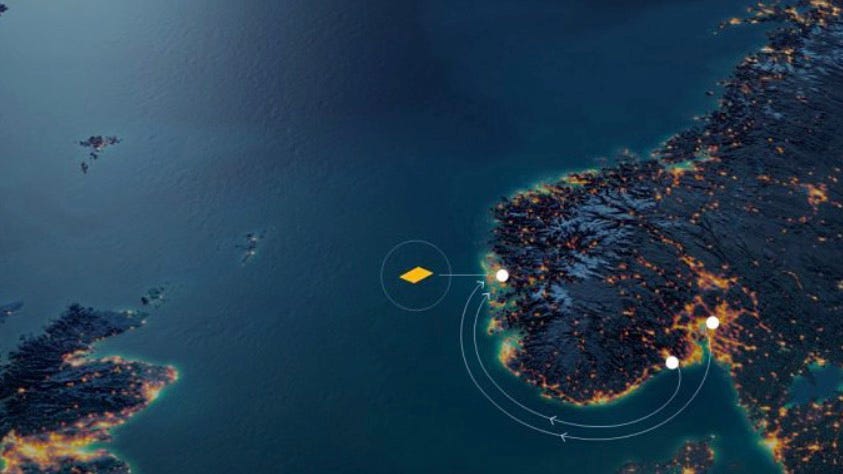 Above, an illustration from Gassnova, the Norwegian state enterprise for carbon capture and storage, of the Longship and Northern Lights projects.
By Elizabeth Hearst and Dan Byrne
DUBLIN (Callaway Climate Insights) — The Norwegian government is looking at building a massive €2.2 billion ($2.5 billion) carbon capture project in two industrial zones.
The project, called Longship, is being hailed as a "milestone in the government's industry and climate efforts," by Prime Minister Erna Solberg.

Longship aims to establish carbon capture and storage systems in a key cement factory in Brevik, as well as at a waste incinerator in Oslo.

Energy Minister Tina Bru said, "Longship is the greatest climate project in Norwegian industry ever. We will cut emissions, not progress."

The news comes as Norway, alongside the EU, presses harder on climate goals by committing to emissions reductions of 55% by 2030, relative to 1990 levels.

The government highlighted the carbon capture as the only viable option for industries like cement to cut emissions, since their processes don't generally align with renewable energy initiatives.

Carbon capture systems work by sequestering CO₂ from waste products generated by facilities like power plants and factories. They then transport the gas to a storage site and pump it into a ground reservoir, where it is held.

A key component of the Longship project is a component called Northern Lights. It's a plan to build infrastructure capable of transporting the gas from the facilities to the reservoir, located off Norway's extreme west coast, near the city of Bergen.

Energy companies Total, Shell (RDS.A) and Equinor (EQNR) are all involved in the Northern Lights portion of the project, the government said.
Nils Røkke, executive vice president for sustainability at SINTEF Energy and president of the European Energy Research Alliance, commended the project and said that it would "change the context of CCS in Europe and globally."

The government advised that engagement with CCS on a global scale would eventually be necessary if it is to have maximum impact.
---
. . . . Spanish electricity giant Iberdrola aims to supply green hydrogen to fuel heavy transport and other industries. The company will set up a brand-new green hydrogen technology business, it said.
Hydrogen, the most abundant chemical substance in the universe, has the potential to be widely used as a zero-emissions fuel.
Speaking as part of New York Climate Week, Iberdrola Chairman Ignacio Galán confirmed that this is what his company is committing to in the future. 
The company "had already taken first steps" by investing €150 million in the development of Europe's largest green hydrogen plant in Spain, due to be commissioned in 2021. 
In the UK, through a subsidiary, the company is investing in a network of green hydrogen production plants to supply heavy transport. The first of these will be based outside Glasgow and will power electrolysis through wind energy. 
---
. . . . The European Commission has been slammed for a component of its climate change plan that relies on processes which have no human involvement. 
In September, the Commission announced an increase to the EU's emissions reduction targets from 40% to 55% by 2030. It is part of the long-term goal of being a climate-neutral bloc by the middle of the century. 
However, the commission expects carbon sinks to meet part of this target. Carbon sinks are reservoirs — typically oceans or forests — which absorb more carbon than they produce. They decrease the amount of carbon dioxide in the atmosphere, but are generally independent of human activity. 
Various green campaigners have said that including carbon sinks makes up 2-5% of the proposed 15% target. This means the target that EU industries would need to aim for is below 53%, and even shorter of the 65% target suggested by many in the scientific community — a target which does not include carbon sinks in calculations.  
The move has been called a "trick" by critics. World Wildlife Fund spokesperson Alex Mason said the Commission is "greenwashing" its own climate target. "We're facing a climate emergency, and there isn't time for games," he said. 
European Commission Vice President Frans Timmermans defended the move, however. "I don't understand the logic," he told EURACTIV. "Carbon sinks play a role. They take CO₂ out of the atmosphere. Isn't that what we want to achieve?"
---
. . . . When you think of drought, Germany is not the first place to spring to mind. But 285,000 hectares (more than 700,000 acres) of German forest has been damaged by drought, it's been revealed.
Germany's Federal Ministry of Agriculture, in conjunction with the German Forestry Council, recognized Sept. 18-20 as German Forest Days, encouraging citizens to explore how they can preserve the German forest.

Alois Gerig, spokesperson for the German Forestry Council encouraged Germans to get active and said that it's "time to pick up the spade and plant the trees our grandchildren will play under."

At the event, German MPs were given oak, red beech, silver firs and Douglas fir seedlings. Ralph Brinkhaus, parliamentary group leader explained that "we want to set an example for the German forest." Group Vice-President Gitta Connemann said that one hectare of forest compensates for eight metric tons of CO₂, and added: "Anyone can do something." The CDU has pledged €1.5 billion to support reforestation in Germany's forests, with an area the size of Saarland needed to be reforested.
(Elizabeth Hearst is a journalist based in Ireland and a graduate of Dublin City University's Masters of Journalism. She has interned with the Racing Post — the UK and Ireland's top horse-racing newspaper. She has worked for the National Broadcaster RTE at the Irish General Election).
(Dan Byrne is a correspondent based in Dublin, covering climate and finance matters. He is a graduate of Dublin City University and previously worked in communications and fundraising for NGOs, He recently covered the 2020 Irish General Election for state broadcaster RTE.)