Discover more from Callaway Climate Insights
Callaway Climate Insights provides news, critical analysis and original perspectives at the intersection of global finance and the challenges of climate change. 
Over 3,000 subscribers
EU to vote on whether a non-meat burger is really a burger
Food labeling taken to extremes in Brussels as list of banned words grows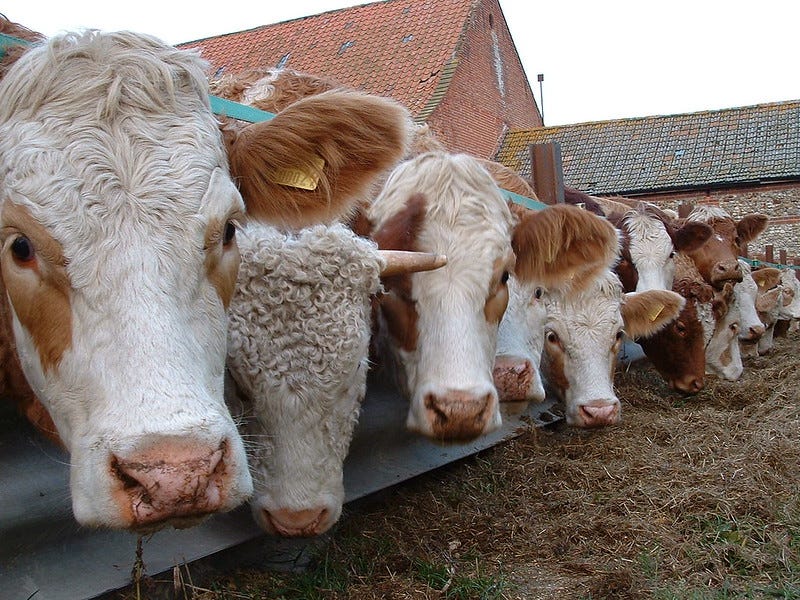 Above, beef cattle. Photo:
Nick Saltmarsh
/flickr.
(Stephen Rae is the former Group Chief Editor of INM, Ireland's largest online and print media group. He serves on the board of the World Association of News Publishers (WAN-IFRA) and was previously on the board of the World Editors Forum. He was appointed by the European Commission to its High Level Expert Group on Online Disinformation.)
DUBLIN (Callaway Climate Insights) — Europeans will likely hear on their mid-morning cappuccino breaks tomorrow whether the veggie burger they plan for Saturday lunch can legally be labelled a "burger."
The same goes for the legal definition of "sausage" as angry European farmers demand a ban on calling vegetarian products a "burger" or a "sausage." The farmers claim use of the terms misleads consumers into thinking certain products contain meat.
Members of the European Parliament vote Friday morning as the powerful farmers' lobby pushes back on the success of high-end veggie burgers that closely replicate the taste and sensation of eating meat.
Vegetarianism is also gaining ground due to the link between raising cattle and climate change.
Also banned would be products labeled as "yoghurt-style" or "cheese-like" for non-dairy based products. Terms such as "soy milk" and "vegan cheese" are already banned in the EU.
According to the proposal, "terms and descriptions referring to 'meat' should be reserved exclusively for the parts of animals fit for human consumption."
The draft text lists "steak," "sausage," "escalope," "burger" and "hamburger" as examples of banned words.
Already only producers in a small region in France are allowed to call their sparkling wine Champagne and the moves by the agricultural lobby follow a long tradition in the parliament of safeguarding the names of regional produce in the EU. The parliament's agriculture committee proposed the passage as an amendment to a vast farming bill that would was to go to a vote on Tuesday and will now happen Friday.
Jean-Pierre Fleury, of the EU's farmers association Copa and Cogeca, called the misuse of meat labels "an obvious case of cultural hijacking."
"We are about to create a brave new world where marketing is disconnected from the real nature of products, which is just asking for things to spin out of control," he said earlier this month.
Food advocacy group ProVeg International said the opposite was true and that the terms "provide important information regarding the taste and uses that people can expect from a product."
"Just as we all know that peanut butter does not contain butter, consumers know exactly what they are getting when they buy veggie burgers or veggie sausages," said ProVeg's Alex Gromminger.
Hervé Salomon, director for France of veggie butter maker Upfield, called the proposal "totally absurd" and said it went against everything the EU is trying to achieve in terms of lowering pollution in farming.
Voting results should be available no earlier than Wednesday.
If the current text is adopted, it would then be negotiated with EU member states as part of a reform to the EU's agriculture policies.