Discover more from Callaway Climate Insights
Callaway Climate Insights provides news, critical analysis and original perspectives at the intersection of global finance and the challenges of climate change. 
Over 3,000 subscribers
Europe notebook: Sun shines as Ireland locks down, and a German front for Tesla
Plus, the death of the Mercosur trade deal, Part 2.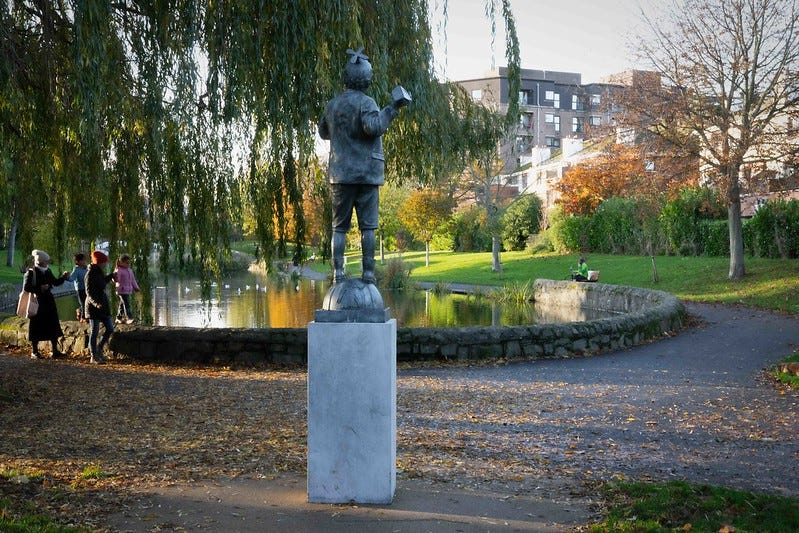 (Stephen Rae is the former Group Chief Editor of INM, Ireland's largest online and print media group. He serves on the board of the World Association of News Publishers (WAN-IFRA) and was previously on the board of the World Editors Forum. He was appointed by the European Commission to its High Level Expert Group on Online Disinformation.)
DUBLIN (Callaway Climate Insights) — Greetings from a surprisingly bright and sunny Dublin where we have just entered our second national lockdown.
It is now an offense to travel 5 km (roughly 3 miles) from your home and the police are being empowered to issue €500 ($593) fixed-penalty fines.
The lockdown has baffled many of our European neighbors, with some diplomats based in Dublin expressing bewilderment at the decision to close down all shops, apart from essential grocery stores and pharmacies. If Sweden was at one end of the pandemic policy spectrum, then Ireland would be at the other end.
Our rates of Covid-19 infection are by no means exceptional but a three-party coalition government (including the Green Party) feel unable to act against the advice of the National Public Health Emergency Team (NPHET — pronounced nefet). NPHET is primarily made up of government medical professionals and has no input from business, the private sector or even psychology professionals. Only Israel has tried this and now we enter the experiment with the only certainty being an economic bomb for small businesses at the other side.
Across Europe, the Covid-19 wave is irrepressible with the southern nations — and Belgium — bearing the full brunt, throwing hospitals back into the crisis mode of last spring. Luckily though, just like in the U.S., better treatments mean less deaths. I'll let you know how we get on next month!
---
. . . .  As I mentioned, Belgium, and specifically its capital (and that of the EU) Brussels, are in the eye of the Covid storm. One of those feeling the weight of the impact is European Commission President Ursula von der Leyen who quietly moved back home to Hanover, Germany. When she became president, the former German Defense Minister decided to make her home in the Berlaymont Commission building, which means her absence from the 13th floor executive suites was noticed pretty quickly.
It's reported von der Leyen left a European Council meeting this day last week (Thursday) to go into self-isolation after one of her receptionists tested positive. She was nowhere to be seen until spokesman Eric Mamer divulged at a press conference she was back home in Germany. As Politico reported: "So, in short, there was a grave enough risk for her to leave a leaders' meeting, but not for her to refrain from traveling across Europe shortly after."
It turns out she took an official car the 483km (300 miles) there and according to officials had planned to go there anyway and they claim it made even more sense to do so while in isolation.
One wonders what her former Trade Commissioner Phil Hogan thinks about the matter — after being forced by von der Leyen to walk the plank when he admitted breaking quarantine, albeit testing negative for Covid-19.
Von der Leyen tweeted Wednesday that her test was negative.
---
. . . . Europe is determined to wrestle back its reputation as the builder of premium car marques — a title stolen in the electric vehicle age by Tesla (TSLA). To further infuriate Europe's car makers, Tesla is building a giant factory in east Berlin, where Elon Musk was welcomed last month by the locals (and Angela Merkel) as a savior. The Tesla presence in the backyard of BMW, Mercedes and Volkswagen is a clear and present danger to the brands and one they are taking very seriously — particularly as EV sales trebled this year to 10% of all car sales, and are expected to rise to 15% in 2021.
Now the European Commission is introducing regulations to ensure EV batteries manufactured or imported into Europe are the "greenest on this planet."
Maros Sefcovic, the European Commission's vice president, said the new "Battery Passport" regulation will impose "mandatory requirements for the greenest, safest and most sustainable batteries on this planet."
The rules will be in place in 2023 and there is no surprise that Germany, which holds the EU's six-month rotating presidency, is "very much interested" in fast-tracking the process, said Sefcovic. The battery regulation will ensure EU-made batteries use raw materials that are traceable and follow strict ecological and labor norms, he added.
Now how will Tesla regard that?
---
. . . . Sefcovic also warned that the EU has become too dependent on rare earth imports and is pushing the concept of "open strategic autonomy" on raw materials. He wants Europe to develop its own supplies of lithium and rare earths while diversifying import supplies — widely seen as strategically vulnerable to China in particular during the pandemic. The commissioner maintained that Europe can be 80% self-dependent on lithium by 2025 and have its own rare earth mining and refining capacity ready by 2030. 
He has also revealed that the EU is talking with countries like Canada, Australia, Serbia, Albania and Ukraine about opportunities on raw materials and is requesting "reciprocity" in trade relations with China in return for granting access to its single market.
Meanwhile, so-called "urban mining" will contribute to the EU's push for raw materials autonomy — with €1 billion going to recycling R&I over the next seven years.
---
. . . . Valdis Dombrovskis, the man who replaced Phil Hogan as Trade Commissioner, was earlier this week talking up the chances of the EU-Latin America Mercosur Trade Deal going ahead. As reported in CCI last week, many member states see the deal as dead in the water — particularly over Brazil's deforestation pandemic in the world's lungs, the Amazon. Nonetheless, Dombrovskis said the commission has started fresh talks with the Mercosur countries. "We hear the [environmental] concerns which are being voiced and we are actually sharing those concerns and willing to address them," Dombrovskis said, citing worries "linked with the deforestation of the Amazon, and also on adherence of Mercosur countries to the Paris Agreement."
Roll on one day and France chimed in. The deal is dead, said Paris.
"I don't think there is any chance this agreement goes through," a French minister was quoted as saying in the media.
You read it first in CCI last week!
Above, a statue in Dublin's Ranelagh Park Gardens dedicated to Richard Crosbie, who made the first balloon flight in Ireland. Photo:
William Murphy
/flickr.