Discover more from Callaway Climate Insights
Callaway Climate Insights provides news, critical analysis and original perspectives at the intersection of global finance and the challenges of climate change. 
Over 3,000 subscribers
European airlines get climate pass, and the coming hybrid grid
An integrated and resilient energy system shifting between gas and electricity, plus updates to airline bailout plans in Austria and France.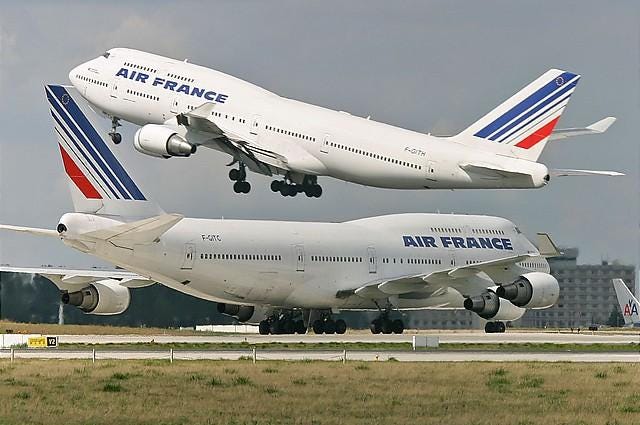 (Stephen Rae is the former Group Chief Editor of INM, Ireland's largest online and print media group. He serves on the board of the World Association of News Publishers (WAN-IFRA) and was previously on the board of the World Editors Forum. He was appointed by the European Commission to its High Level Expert Group on Online Disinformation.)
DUBLIN (Callaway Climate Insights) — European Energy Commissioner Kadri Simson will later this month spell out plans for an integrated gas and electricity grid across the continent. 
The strategy for a hybrid energy sector is to build resilience and allow for the speeding up of the European Green Deal, primarily using hydrogen for electricity production.
In effect, many industries which are heavily dependent on fossil fuels — such as transport, manufacturing, housing and offices — will be matched up with cleaner energy sources on the hybrid grid.
A central plank of the Green Deal has been "the smart integration of renewables, energy efficiency and other sustainable solutions across sectors" which "will help to achieve decarbonization" at the lowest possible cost.
An integrated and resilient energy system shifting between gas and electricity supply — which currently work in silos — is designed to wean industry and homes away from fossil fuels rapidly.
Now Simson has indicated she will reveal details of the energy sector integration within the next two weeks. Follow Callaway Climate Insight's European notebook for all the details. 
. . . . 
Austria has bailed out its flag carrier airline to the tune of €600 million — with a commitment to spend €150 million on newer, cleaner aircraft and by introducing carbon surcharges on short-haul flights.
The conditions were won by the Green Party which is part of Austria's coalition government.
Under the rescue package Austrian Airlines (AUA) must:
Reduce its 2018 carbon emissions level 50% by 2030

Ban below-cost selling of tickets, with a minimum €40 per-seat charge

Introduce a ticket tax of €12

Introduce a €30 carbon surcharge on flights under 350 kilometers

Increase aircraft fuel efficiency by 1.5% per annum, and

Add 2% alternative fuels on all flights
Similar to the French Government's bailout of Air France, all short-haul flights will be phased out in favor of high-speed trail travel. The government's pre-pandemic commitment to spend €500 million on public transport will now also get an extra injection of €10 million for two new night trains to replace existing short-haul routes.
. . . .
France on Tuesday announced its €15 billion strategy for the aerospace industry — including research budgets to deliver zero-emission aircraft by 2035.
The national carrier, as revealed in CCI, has already been cleared for a €7 billion  bailout, including the commitment to eliminate domestic flights.
Now the government has said €1.5 billion of the aerospace package is being set aside for:
Hydrogen-powered flight

Aircraft that use bio-fuels and hybrid-electric systems
The strategy sees the first carbon-free flight in 2035 and will be welcomed by Airbus, the Toulouse-based manufacturer, which is an industrial powerhouse in the French economy.
. . . . 
European airlines breathed a sigh of relief this week when transport ministers agreed that carbon taxes on increased flight activity would use 2019 figures as the cutoff.
Climate activists branded the decision as another missed opportunity, but for the airline industry it was a major win as 2019 was a record year for air travel — and unlikely to be repeated for at least another three years.
Under the United Nation's CORSIA scheme, the airlines would have to pay fines for activity above the average of 2019 and 2020 activity. As 2020 has been a washout for the sector (suffering a €100 billion loss according to IATA) representatives were fearful that the reduced average would leave them open to massive fines — payable in the form of investment in carbon sinks and renewable energy.
As signaled in this column last week, European transport ministers have decided to use 2019 only as the benchmark — something that had been urged on them by the European Commission.
The Commission is this week attending the UN's International Commercial Aviation Organisation's (ICAO) council meeting in Montreal where the CORSIA standards will be agreed.
Croatia holds the 6-month rotating presidency of the EU Council and its transport minister Oleg Butkovic commented: "Adapting the baseline is crucial to maintaining a similar level of ambition for the scheme and the commitment of ICAO states to the CORSIA pilot phase while taking into account the extremely difficult circumstances created by the pandemic for international air traffic."
It's a move which will not please MEPs in the European Parliament's Environment (ENVI) Committee.
Chair Pascal Canfin said of the transport ministers' decision that the "EU should be leading on emission regulation, not watering down the ambition."
. . . .
With all the attention in Europe on culling short-haul flights in favor of rail travel, it was a case of "do as I say, not as I do" for one Belgian minister.
Lydia Peeters, the mobility minister for Belgium's Flanders region, took a plane ride Tuesday from Brussels and Antwerp — less than 50 kilometers apart.
She even tagged herself on social media on the promotional flight run by private jet company ASL Group, which is to run regular flights from Antwerp and Brussels from the summer.
The route is already served by comfortable and regular high speed and local train services, with a journey time of just 40 minutes.
Peeters countered that she was invited by Marcel Buelens, CEO of Antwerp and Ostend airports, and ASL Group entrepreneur Philippe Bodson on the new service.
"It can't get crazier than this: A minister for mobility who takes a plane for 40 kilometers as a support measure (?) for one private entrepreneur," Mathias Bienstman, policy coordinator for environmental group Bond Beter Leefmilieu complained on social media.
Ironically, Peeters is campaigning to get people to cycle more.
Later, she said she also understood why people were angry and it would have been sufficient to be present at the press conference at the airport.
Still think she doesn't get the point.