Discover more from Callaway Climate Insights
Callaway Climate Insights provides news, critical analysis and original perspectives at the intersection of global finance and the challenges of climate change. 
Over 3,000 subscribers
European notebook: Holland deal on renewables avoids EU fines
Stephen Rae says Denmark benefits from the deal, and is launching an electric ferry.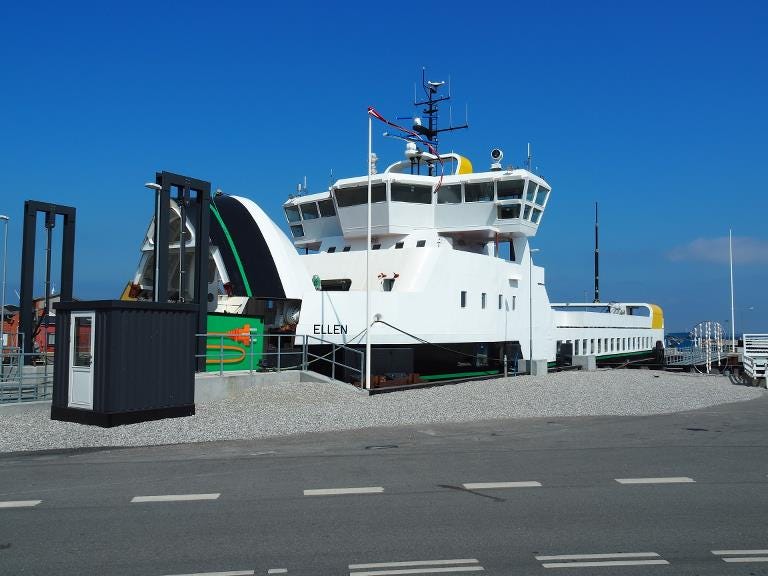 (Stephen Rae is the former Group Chief Editor of INM, Ireland's largest online and print media group. He serves on the board of the World Association of News Publishers (WAN-IFRA) and was previously on the board of the World Editors Forum. He was appointed by the European Commission to its High Level Expert Group on Online Disinformation.)
DUBLIN (Callaway Climate Insights) — Holland's reputation as a green energy leader took a battering this week when it was forced to sign a €100 million ($112 million) deal with Denmark to offset poor progress in developing renewables.
The deal is part of the EU's renewable energy directive which allows countries to effectively exchange surplus clean energy statistics for cash.
For Holland, the deal makes sense as it means the country will avoid heavy EU fines. The Dutch government was due to reach 14% renewables capacity, but latest figures showing it only hitting 7.5%.
Conversely, Denmark will plough the €100 million windfall into a massive green hydrogen project. "The Danish state shall use the payments to finance a tender for projects aimed at developing and upscaling Power-to-X technologies," a statement said, with "a particular focus on production of green hydrogen."
Said Dutch Climate Minister Eric Wiebes: "The compensation of €12.50 per MWh is lower than comparable agreements concluded by other European member states. The combination of a fixed price and flexible quantity ensures that the costs of statistical transfer remain limited."
The bi-lateral agreement follows a similar deal between tiny Luxembourg and the Baltic states of Lithuania and Estonia in 2017. Those contracts allowed Luxembourg to reach its renewables target of 20%.
. . . .
The Danes also celebrated this week the successful trials of the world's largest and most powerful electric ferry.
The 60-meter long, 750-tonne Ellen plies between two Danish islands in the Baltic Sea. At its home port of Ærø, spokesman Trine Heinemann explains why the ferry is so special. "Firstly, we're fully electric, so there is no oil on board to run anything on the ship. And secondly, it's the distance that we cover, which 22 nautical miles. That's seven times what existing ships have covered. And the longer distances you start covering, the more usable your technology becomes. And I think in Europe it's about 80% of the ferry transportation that can be covered in a 22 nautical miles range."
Another notable feature is that Ellen is injected with the surplus from wind turbines on Ærø, which produce 130%  of the electricity needed on the island.
Ferries are today the largest polluters on the island, and Ellen will save 2,000 tons of CO2 emissions a year. In Europe, nearly 12% of CO2 emission comes from marine traffic.
Ellen is powered by four quiet engines and 56 tons of lithium-ion batteries with a capacity of 4.3-megawatt hours. There is no backup oil generator. Upstairs, she has all the comforts of a classic ferry, with the additional benefit of no noise or smell, ensuring a quiet crossing for passengers.
Capt. Thomas Larsen is very pleased with his French-built craft. "Actually, electric motors are more powerful because we have the full torque from the bottom so that's quite nice. You can almost drive it like a speed boat!"
. . . .
Climate activist Greta Thunberg says the Covid-19 crisis offers lessons to the world on how to tackle global warming.
"The main message that underlines everything that we do is 'listen to the science, listen to the scientists and the experts.' And now all of a sudden you hear that everywhere, everyone is saying that — the people in power, the business leaders," she said.
In an interview with the BBC, she said that the pandemic has changed the role of science in society. "We are suddenly starting to understand that … we actually have to listen to the experts, that's actually something that we depend on," she opined.
Despite this, she worried that the climate crisis is still not being treated by governments with the urgency it requires. "The level of knowledge and understanding even among people in power is very, very low, much lower than you would think."
Global warming "has never been treated as a crisis; it is still seen as this vague, distant topic," she said.
"It's not like it's not affecting people already today … but it's this kind of crisis that will sneak up on us later if we don't do anything.
"I think that older generations and especially people in power are underestimating the power of young people and the amount of change that we can actually achieve," she concluded.
. . . .
Much effort is being spent on growing carbon sinks to absorb emissions — and the EU has vowed to plant 3 billion trees as part of the answer. But the solution is far from clear cut, particularly as existing forests struggle in warmer climate and newly seeded woodland may not survive.
Forestry experts point to issues, including:
Drought affecting growth

Increasing fire damage

Bark beetle and other species impacting health of trees

Resilient species are less effective at absorbing CO2
Forestry is a key part of the EU's European Green Deal to be emissions-neutral by 2050. Trees, which cover half the continent's land mass, currently absorb 10% of emissions. In late 2019 however, the European Commission said increasing numbers of wildfires and commercial felling meant trees were less effective as carbon sinks.
The Greens spokesperson on agriculture in the European Parliament Martin Hausling said two years of drought meant there had been a "dramatic dying of trees." Not only were spruce and pine trees suffering, but so too were the normally resilient types of beech which populate central Europe, he pointed out.
The answer is not simple and requires policymakers to decide what species will thrive over the next 20 to 30 years. The Commission's new biodiversity strategy says that "in addition to strictly protecting all remaining EU primary and old-growth forests, the EU must increase the quantity, quality and resilience of its forests, notably against fires, droughts and pest, diseases and other threats likely to increase with climate change."
Watch this space.
Above, Horizon 2020 Project E-Ferry's
Ellen
. Photo: European Commission.