European notebook: Siberia ain't what it used to be
Amid 100 degree temperatures in the north, Europeans raise calls for climate relief: plus, biking in Benelux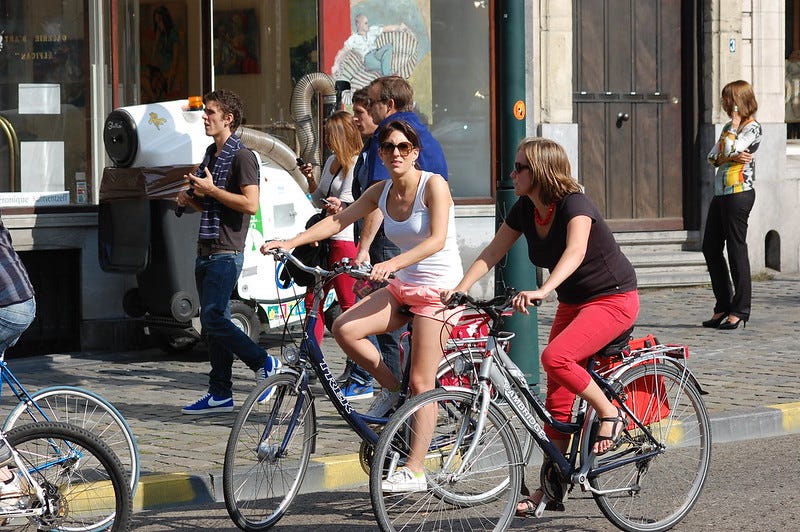 Above, pre-pandemic, a 'car-free Sunday' in Brussels. Photo: European Cyclists' Federation/flickr.
(Stephen Rae is the former Group Chief Editor of INM, Ireland's largest online and print media group. He serves on the board of the World Association of News Publishers (WAN-IFRA) and was previously on the board of the World Editors Forum. He was appointed by the European Commission to its High Level Expert Group on Online Disinformation.)
DUBLIN (Callaway Climate Insights) — The record-breaking heatwave in Siberia was made at least 600 times more likely by human-caused climate change, a study has concluded.
Between January and June, temperatures in the far north of Russia were more than 5°C. (41°F.), causing permafrost to melt, buildings to collapse, and sparking an unusually early and intense start to the wildfire season, The Guardian reported. On June 20, a monitoring station in Verkhoyansk registered a record high of 38°C. (100°F.).
An attribution study shows such prolonged heat over the first six months of the year would have been virtually impossible without the effect of greenhouse gas emissions from industry, transport and farming.
Researchers from international universities and meteorological services, including the PP Shirshov Institute of Oceanology in the Russian Academy of Science, calculated this human impact added at least 2°C. of warming to the region.
. . . .
A major survey of European citizens and their post-pandemic outlook has shown a surge in support for green issues.
"Many people want to use the COVID crisis as an excuse to change the system," said Mathieu Lefevre, CEO of More in Common, which commissioned the poll.
There was widespread support for a Green New Deal "that makes large-scale government investments to make our economy more environmentally friendly." This was supported by 59% of German respondents, 71% in Poland, and 77% in Italy.
Respondents feared that rescue packages could come at the cost of environmental priorities. Half of French and German respondents worried the "commitment to protecting the environment will slow down or stop." In Italy the fear was greater at 75%.
The crisis fostered an appetite for change, said Lefevere: "Italians score higher when it comes to demanding conditionality for companies who receive public aid when compared to Germany, France, Poland and the Netherlands." The survey showed 91% would support "asking companies to stop using tax havens and pay their taxes at home."
A third of Italians claimed they were willing to pay higher income tax to help finance the economic recovery — exceeded only by Britain at 44%.
Around three-quarters of all respondents agreed that "no matter where we are from, as humans we are fundamentally the same."
. . . .
The so-called Low, or Benelux, Countries have urged the EU to prioritize bicycles through improved cycle paths, charging points for electric bikes and increased parking availability post Covid-19.
Belgium, Luxembourg and the Netherlands penned a declaration insisting that the EU member states should embrace bicycles during the post coronavirus recovery period.
Dutch Infrastructure Minister Stientjevan Veldhoven argued that "cycling is cheap, healthy and good for the climate and clean air."
The Benelux countries stated that the "shift to sustainable and smart mobility is one of the main elements of the European Green Deal" and emphasized the importance of cycling's contribution to pollution-reduction efforts.
Furthermore the declaration highlights that cycling has annual "global benefits of €150 billion ($170.7 billion), including €44 billion linked to bike tourism and job creation.