Exclusive: Details of Europe's green recovery plan
This is an exclusive story from Callaway Climate Insights ahead of an announcement in Brussels next week of massive green investment in buildings and transportation. If you like it, please share.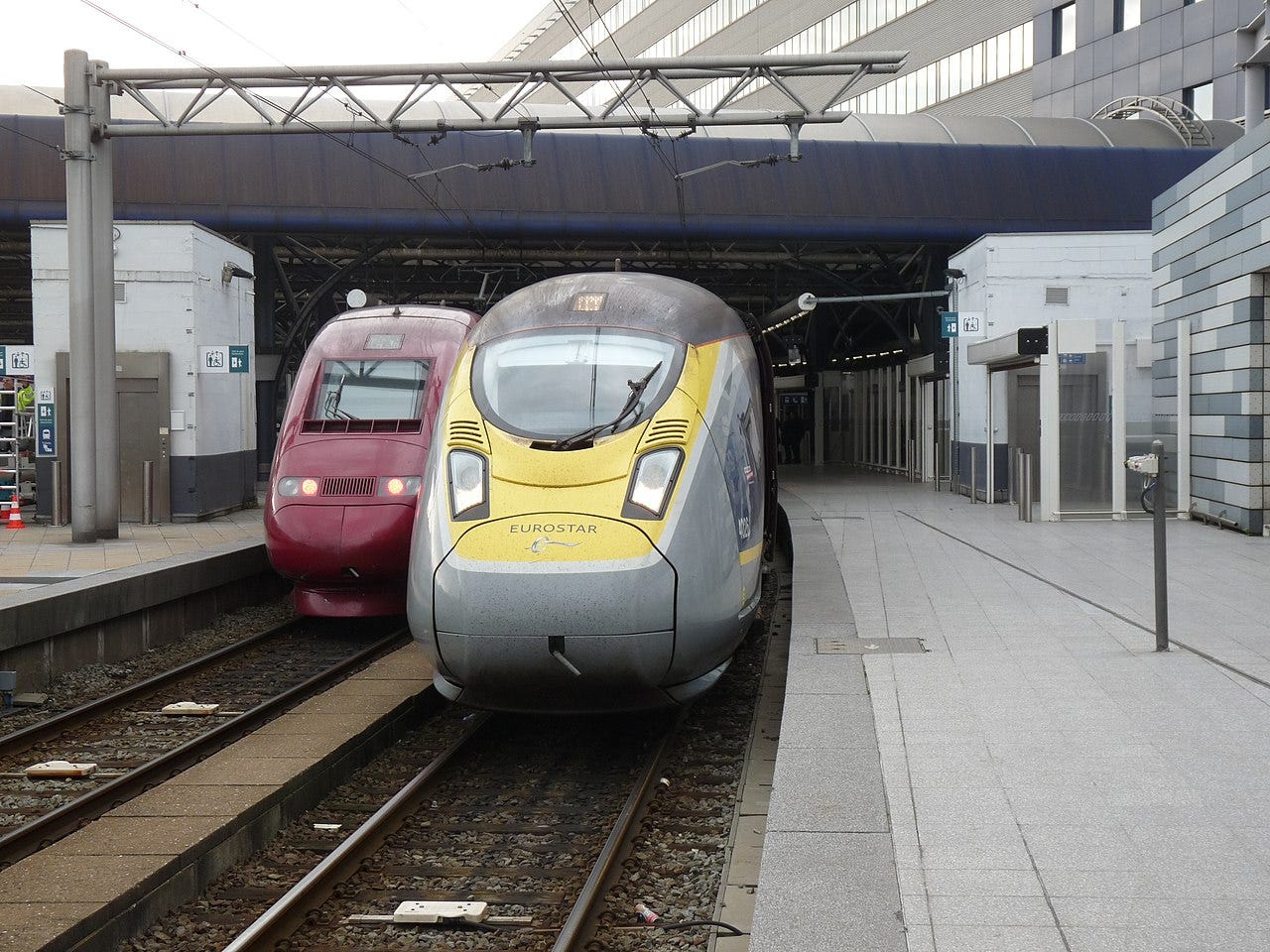 Europe needs a "Renaissance of Rail," the report recommends strongly.
Draft of Europe's master plan for carbon neutrality to be unveiled next week

Includes ambitious stimulus package

Recommends green transport and supporting farmers
DUBLIN (Callaway Climate Insights) — Europe's master plan to be carbon neutral by 2050 is being finalized and set to be unveiled next week.
Callaway Climate Insights has received an exclusive preview of what is in the blueprint from a draft that is circulating among officials at the Berlaymont European Commission Headquarters in Brussels.
The final document is not due to be published until next Wednesday. However, we can now reveal it has five main pillars:
€350 billion annual ($384 million) stimulus package for renovating homes and businesses

Speeding up solar/wind power projects and scaling clean hydrogen production

Greening all aspects of Europe's transport infrastructure, from logistics to car production to bicycle travel

Making Europe self-sustainable on waste recycling

Putting farmers and agriculture at the center of the plan — by growing forestry carbon sinks and harnessing agricultural natural gases for biofuels
Renovation
Insiders at the EU headquarters outlined to Callaway Climate Insights how the recovery from the Covid-19 pandemic will have the European Green Deal at its heart. The Green Deal is the carbon-neutral-by-2050 vision championed by Commission President Ursula von der Leyen.
The plan comes as German Chancellor Angela Merkel and French President Emmanuel Macron this week committed to anchoring Europe's recovery packages to green priorities. Both said stimulus packages must be supported by grants as well as loans — a major step particularly by the Germans who have traditionally resisted grant aid as part of Europe's monetary armory.
Our sources now reveal that von der Leyen and her Climate Commissioner Frans Timmermans will say Wednesday that their top priority is making Europe's homes and offices energy efficient.
"Buildings consume the largest amount of energy in the EU and are responsible for 36% of EU greenhouse gas emissions. Existing buildings will mostly still be here in 2050. They are insufficient now and will mostly remain so at the current renovation rate of 1%," the draft version outlines.
It recommends "Faster and deeper renovation [of homes and business] would be beneficial in many respects. It is a must for a net climate neutral EU and a clear win-win investment priority for a green, digital and fair recovery."
A source in the Berlaymont said the plan has two major benefits. It will make existing buildings more energy efficient, driving down carbon emissions. It will also drive employment in Europe following Covid-19, especially among contractors, insulation manufacturers and small businesses in the building industry.
The Commission, as part of its €1 trillion Covid-19 rescue package, will encourage member state countries to use funds under the a "Recovery and Convergence Instrument" to stimulate investment in decarbonizing buildings.
The initial effort will focus on "speed, scale and fairness." An EU "NegaWatt Initiative" will see public sector buildings, hospitals and schools the first to be converted. They will be followed with conversion of social housing and "other forms of low-income dwellings."
The second phase will see the EU drive the renovation of offices, farms and homes. To target homes, the initiative "will enhance the supply of Green Mortgages allocating €5 billion worth of InvestEU guarantees to mobilize €50 billion in investments to develop an attractive mass-market financing product for renovation when the property is being purchased or re-financed." This will include risk-sharing, allowing mortgage lenders to cover the costs of building renovation under the same low-interest and long-term conditions of the mortgage.
Acceleration of renewables and hydrogen
Europe's energy consumption has to be decarbonized speedily to reach climate neutrality targets, the draft report emphasizes. A lot of progress in providing carbon-free solar and wind energy to European consumers has been negatively impacted by the pandemic, the report acknowledges. "The Covid-19 crisis, however, is seriously affecting the renewables market: The European solar and wind markets are projected to shrink by 20% and 33% this year, respectively, due to supply chain disruptions, project delays and stricter financing conditions," according to the draft.
"A green recovery package should ensure acceleration of renewable energy products, especially wind and solar" at distribution and transmission level "and of cross-border relevance. Support action will avoid job losses and present good potential for job creation," it said.
This will involve an investment of €25 billion for two years in solar and offshore wind investment installations to support 25% of the market under the EU Tendering Scheme "15GW renewable electricity." An additional €10 billion over two years will be provided to national governments to promote solar and wind power.
The report sees hydrogen as a key fuel for Europe and a priority is developing "sustainable hydrogen technology."
"As a carbon-free energy carrier, hydrogen would allow for bulk transport of energy over long distances, for storage of large energy volumes and could be used to de-carbonize energy use in hard-to-abate sectors such as the chemical and steel industry and heavy transport."
The Commission will kick-start research and innovation to reduce clean hydrogen costs. This will involved a fund of around €10 billion over 10 years "to substantially reduce risks of large/complex projects such as hydrogen ones."
The aim is to produce 1 million tonnes of clean hydrogen — which at the moment is vastly more expensive than carbon-heavy grey hydrogen used in fertilizer and refinery plants.
Clean and resilient mobility
More than 50 million people are employed in the EU's transport sector — from international trucking to building bicycle lanes and rail transit. The report says "mobility must decarbonize fast to reach our target of climate neutrality by 2050."
Cars
Around 300,000 European companies are involved in the auto industry from manufacturing to repairs. The industry accounts for 12.5% of all manufacturing output and employs almost 14 million people. The EU is the world's largest producer of cars after China.
The draft report says that "after severe supply disruptions, car production is slowly taking off again. A vital threat to the supply chain comes from the contraction of demand for cars, as incomes and household spending on mobility are squeezed."
Rescuing the auto industry cannot come at the cost of "our youth's expectations on climate change and for a healthier and cleaner future." The "win-win" for Europe, it says, are "smart incentives [that] can help the sector to produce and sell clean cars, and innovation support can set it on the pathway to zero-emission mobility. Investments in charging infrastructure and upskilling and reskilling of workers can facilitate the transition."
It recommends up to €60 billion is spent on developing "zero-emission drive trains" for cars. The EU will also double investment in car charging points to have 2 million alternative fueling stations by 2025.
Rail
Europe needs a "Renaissance of Rail", the report recommends strongly.
It predicts pressure will rise to reduce short-haul flights and therefore, there must be investment in high-speed rail connections.
The rail sector in Europe involves 4,500 companies and employs 1.2 million people. "Europe is a winner in this field: it leads with a 50% worldwide market share, but faces increased competition from China. A boost to public transport can retain this leadership. The 2008 crisis showed that slow public spending on in rail and public transport can persist for years. Smart support for clean public transport can secure jobs in the supply chain and allow cities to move citizens around once normal life returns."
The report says the pandemic is "an opportunity for cities and regions to re-invent the way in which residents move around. Cities across Europe gave their space back to bikes, erected pop-up cycling lanes and hubs linking bike sharing services with public or individual transport. In the recovery phase, this novel type of urban mobility — a priority of EU cohesion policy — deserves a fresh impetus."
A "Renaissance of Rail Investment" package of €40 billion will be used to develop "key corridors where passengers and freight can shift to rail. Investment in the modernization and digitization of rail tracks delivers quick wins for jobs."
The vision is to provide the help that allows "finding an online international train ticket as easy as booking a flight (build a European RailScanner next to SkyScanner)."
Circular economy
The pandemic has caused major problems in recycling waste across Europe, the report finds. "This means that the foundation of circular economy [has been] destabilized and therefore also one of the main pillars of the European Green Deal," it says starkly.
"While the disruptions in waste collection and shipment are expected to be temporary the recycling industry is impacted by the overall economic downturn, affecting the demand for their products. For instance, specific concerns have been raised by plastic recyclers who have seen their markets threatened by the lower prices of virgin polymers due to falling oil prices."
This poses a serious danger to the EU's circular economy.
Emphasis therefore must be placed on "fresh investments to the waste management sector, in particular to the collection, sorting and recycling technologies and infrastructure, with the view to ensuring the supply and uptake of high-quality secondary raw materials."
It points out that 140,000 extra jobs can be created over the next 15 years by "achieving ambitious targets in municipal waste management."
"For the textile sector around 20 jobs could be created for every 1,000 ton of textiles collected and sorted, adding up to 120,000 jobs in the EU."
Resilient food chain and recovery
The pandemic has shown that agriculture needs to increase its resilience — especially in diversifying farm incomes and the portfolio of produce from Europe's agri-sector.
"This recovery package is an opportunity to accelerate the transition to a sustainable and resilient food chain immediately and to creating a healthy environment with cleaner air, less water and soil pollution and with a positive impact on biodiversity. This is an opportunity to increase farmers' incomes, improve quality of life and work in rural areas, create jobs and help de-carbonize other sectors," the report highlights.
It recommends spending €130 billion on rolling out fast broadband to Europe's regions to enable "precision farming."
This will allow the EU to "fully exploit its global leadership in satellite technology. This will result in a cost reduction for farmers, improve soil management and water quality, reduce the use of fertilizers, pesticides and GHG emissions and create a healthier environment for biodiversity, farmers and citizens."
Farmers are seen as key part of the leadership in terms of producing new biofuels and building carbon sinks.
While three quarters of the EU is covered by forests and agricultural land, one third of this is grassland. "European agriculture therefore has an enormous capacity to store carbon. We need to boost investments in creating these sinks and progressively turn the carbon capture into a functioning green business model by developing an EU Carbon Farming Programme."
It recommends a €14 billion investments in developing forests, peatlands and soils over the next two years.
It also recommends another €4 billion be spent in reducing methane — the second most important greenhouse gas — from farm waste. The money ought to be spent in the "optimal use of waste and residual streams for biogas production with the objective to increase the production of biogas or biomethane by 15m TOE (15 million tons of oil equivalent) by 2030."
"Farmers should grasp opportunities to reduce methane emissions from livestock by investing into anaerobic digesters for biogas production. In addition, farms have a potential to produce biogas from other sources of waste and residues" as is done in other industries such as the beverage and wastewater sectors.
Farmers should also be encouraged to diversify into the production of solar, wind and biomass energy on their own land.
Above: Eurostar at Brussels South. Photo: Smiley.toerist/Wikipedia