Discover more from Callaway Climate Insights
Callaway Climate Insights provides news, critical analysis and original perspectives at the intersection of global finance and the challenges of climate change. 
Over 3,000 subscribers
For sale: future oceanfront property
As sea levels rise, real estate investors are looking at where the oceanfront property will be tomorrow. The answer might surprise you.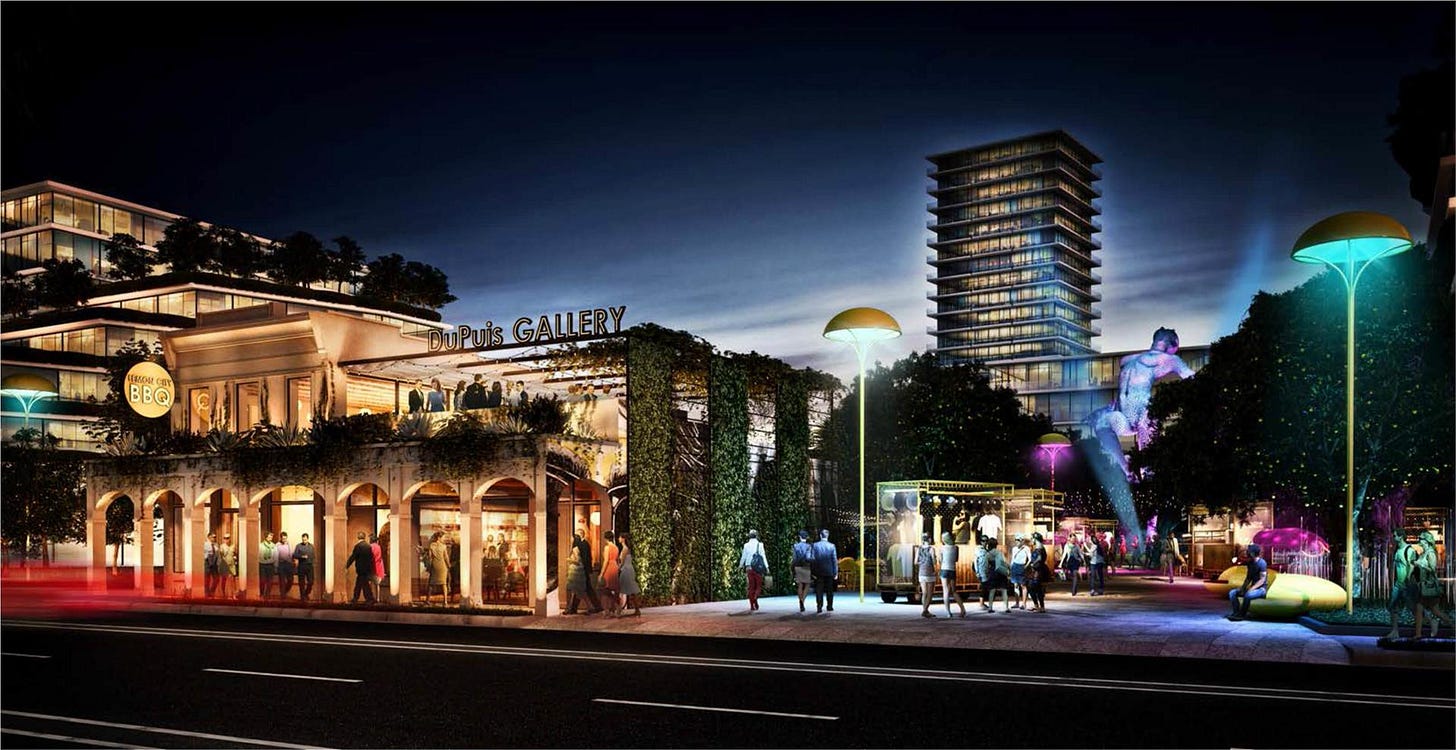 By Michael Molinski
(About the author: Michael Molinski is an economist, content strategist and author. He has worked in the financial industry for Fidelity, Charles Schwab and Wells Fargo, and previously as a foreign correspondent and editor for Bloomberg News and MarketWatch. He is the author of Investing in Latin America: Best Stocks, Best Funds (Bloomberg Press, 1999), and Small Business in Paradise (Nolo, 2007). Currently, he is a senior economist at Trendline Economics.) 
MIAMI (Callaway Climate Insights) — Just a few years ago, an abandoned corner of Northeast 60th Street and Northeast 2nd Avenue in Miami's Little Haiti neighborhood was an impoverished trailer park where Haitian refugees gathered to eat Poul nan Sòs and swap stories of their island homeland. Now, it is the home of the controversial $1 billion Magic City redevelopment project set to break ground this year.
The project's investors include Metro 1, Dragon Global, Plaza Equity Partners and Canadian billionaire Guy Laliberté, the founder and creative force behind Cirque du Soleil. Magic City is slated to include high-end hotels, offices, condos and a theme-park-like shopping mall with art galleries, restaurants and boutiques.
What would bring such deep-pocketed investors to Little Haiti, which is deep in Miami's hurricane zone, has a 40% poverty rate and is well known for its infestation of Haitian gangs and drugs? Indeed, the investors tried six times to win approval from Miami commissioners before they agreed to pay $19 million in impact fees alone.
The answer is simple: Little Haiti and Magic City is on land that is 7 to 14 feet above sea level, which gives it some protection against rising sea levels and an advantage over most places in the Miami area.
Globally, the sea level has risen more than 8 inches since 1900, but the rate of rise is increasing. Current estimates are that sea levels will raise 3 to 7 inches by 2030, and by 2100 the sea levels will be anywhere between 3.5 feet to 6.5 feet higher than they are today. In the U.S., Florida is expected to get the worst of it. Some 65,000 homes in Florida worth $35 billion are expected to be underwater or impacted daily by high tides in 2040.
The problem isn't limited to Florida. Other U.S. cities such as New Orleans and New York could face flooding as well. A study from the Union of Concerned Scientists estimates that $1.07 trillion of U.S. coastal properties will be at risk of exposure to the encroaching coastline by 2100. A separate study performed by data scientists from First Street Foundation and Columbia University estimated the U.S. Eastern Seaboard lost an estimated $15.8 billion in property value in the years between 2005 and 2017 as a result of rising sea levels and tidal flooding.
Global cities such as Amsterdam, Shanghai, Bangkok, Mumbai, Dhaka and Tanzania's Dar es Salaam that are close to or below sea level could also be susceptible.
Why are these cities more susceptible to rising sea levels?
Overall, all coastal cities will be affected by rising sea levels, but some will be even more affected.
"It depends where the ice is melting" from the polar ice caps and the world's glaciers, says Eric Rignot, a glaciologist at the University of California Irvine and a senior research scientist at NASA's Jet Propulsion Laboratory. "As the Earth's crust deforms in response to the unloading of ice into the ocean, and the Earth gravity field changes too, sea level tends to rise faster away from the source of melt and tends to lower near the source of melt. This effect is called "sea level fingerprint."
"Sea level is also rising because of warmer temperatures," said Rignot.
It also depends on how vulnerable the coastline is. Coastlines with low vegetation and no cliffs or hills, and have land that is easily eroded will get more flooded when sea levels rise. Scientists refer to that as the "bathtub" effect.
I should know. I live in one of those areas, Playa del Rey, which is at the mouth of the Ballona Wetlands and is the last remaining wetlands in Los Angeles County. 
Chronic inundation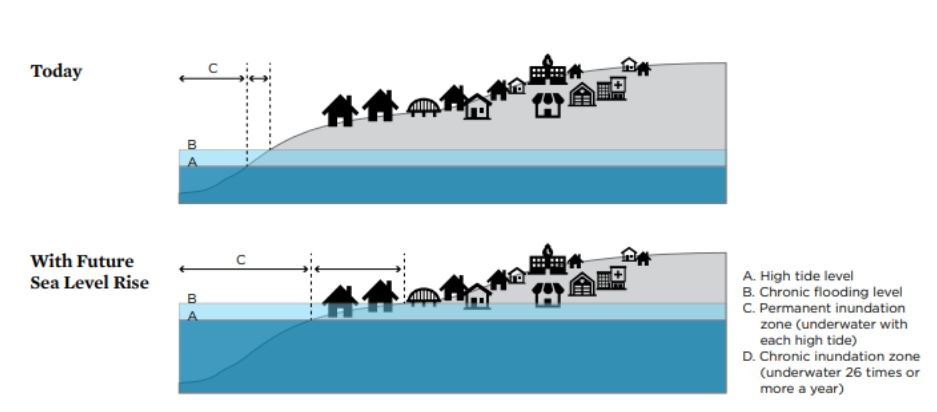 Source: Underwater, Union of Concerned Scientists, 2018
A study about the Ballona Wetlands and its susceptibility to rising sea levels estimated that if the sea were to rise three feet, the subtidal area would increase, upland areas would be reduced, and the entire area around the Ballona Wetlands would be flooded 70% of the time, including local businesses and residences on Culver Boulevard and past Jefferson Avenue to Playa Vista. With a 4.5 feet sea level rise, the flooding increases to 85% of the time.
"Low-lying coastal regions, such as the Ballona Wetlands, are particularly vulnerable to changes in sea level," the study said.
The Ballona Wetlands today: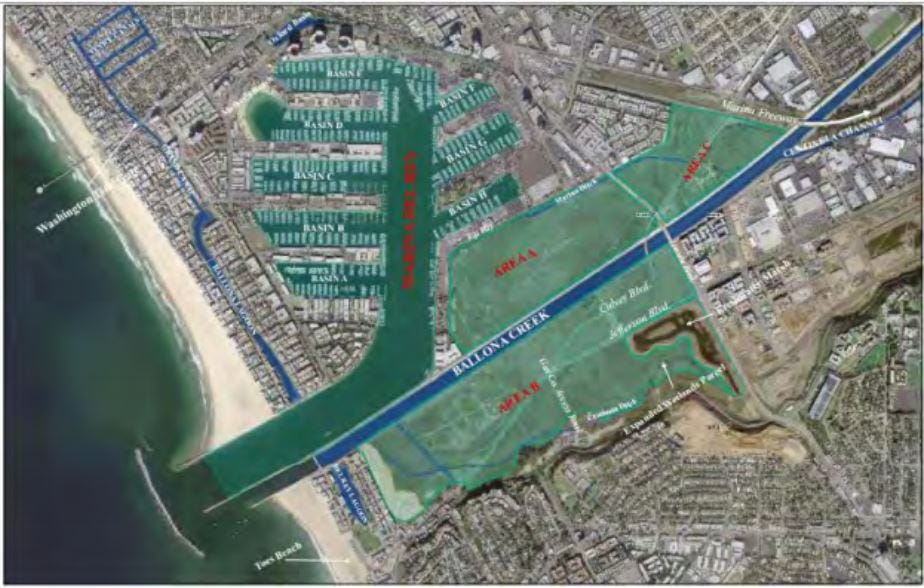 The Ballona Wetlands with a 3-foot and 4.5-foot rise in sea level: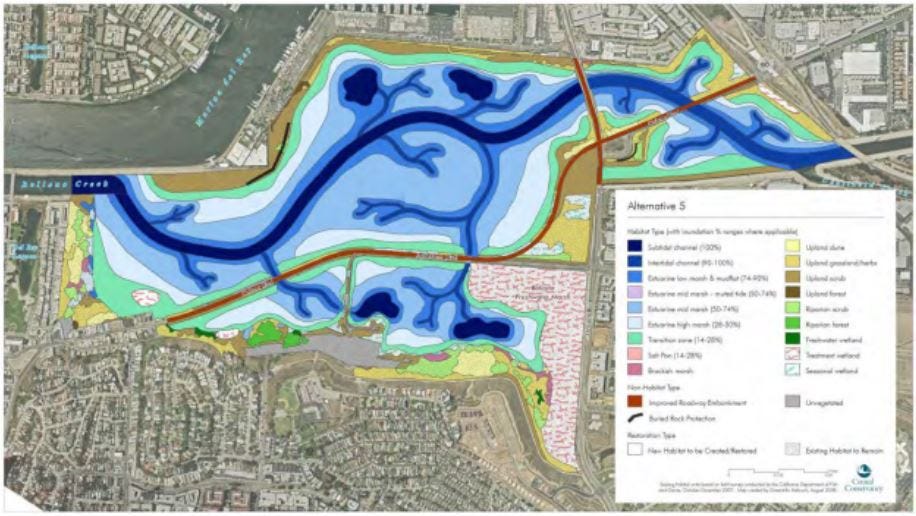 Source: Climate Change Implications for Ballona Wetlands Restoration
Because I live on a hill several hundred feet above sea level, my home should be protected. However, the local businesses and restaurants that I frequent are likely to be underwater.
Investing in coastal areas subject to sea level rise
If you're an investor or real estate fund manager, should you change your strategy to account for sea level rise? Absolutely, unless you're investing in a place for your own personal use, have a high tolerance for risk, and you have a short time horizon.  Sea level rise, or the possibility of sea level rise, should be part of any strategy that involves investing in risk-prone coastal properties.
A study by researchers at the University of Colorado at Boulder and Pennsylvania State University found that vulnerable homes sold for 6.6% less than unexposed homes, and those that stand to be flooded after seas rise by just one foot were selling at a 14.7% discount.
Property investors — not residents or business occupants — were driving most of the decline by demanding reduced prices to balance the risk.
Sure, the sea may not rise for another 10 or 20 years, but in that time the property value on your investment could decline by 20 to 40% as a result of concerns that the sea level could rise. If you're an investor, pay attention to property value forecasts and to government charts on sea level rise or check out Climatecentral.org.
Sea level rise is also likely to usher in a new era of climate gentrification. Low-lying beachfront properties which 10 years ago were the cream of the crop, are much more likely to attract lower-income residents in the future. On the contrary, Rio de Janeiro's famed hillside favelas (slums), where gangs rule the neighborhoods and entire blocks live below the poverty level, may someday be gobbled up by affluent investors seeking to capitalize on developing land that is not subject to sea level rise. In that case, the favela residents may be chased out — just like they were in Little Haiti to make way for Magic City.
Image: Rendering of Magic City Innovation District. Plaza Equity Partners.