Discover more from Callaway Climate Insights
Callaway Climate Insights provides news, critical analysis and original perspectives at the intersection of global finance and the challenges of climate change. 
Over 3,000 subscribers
German CEOs demand Merkel add climate conditions to bailouts
This is a special story for Callaway Climate Insights subscribers. The full newsletter will be out Thursday. Please share, and if this was forwarded to you, please subscribe (free).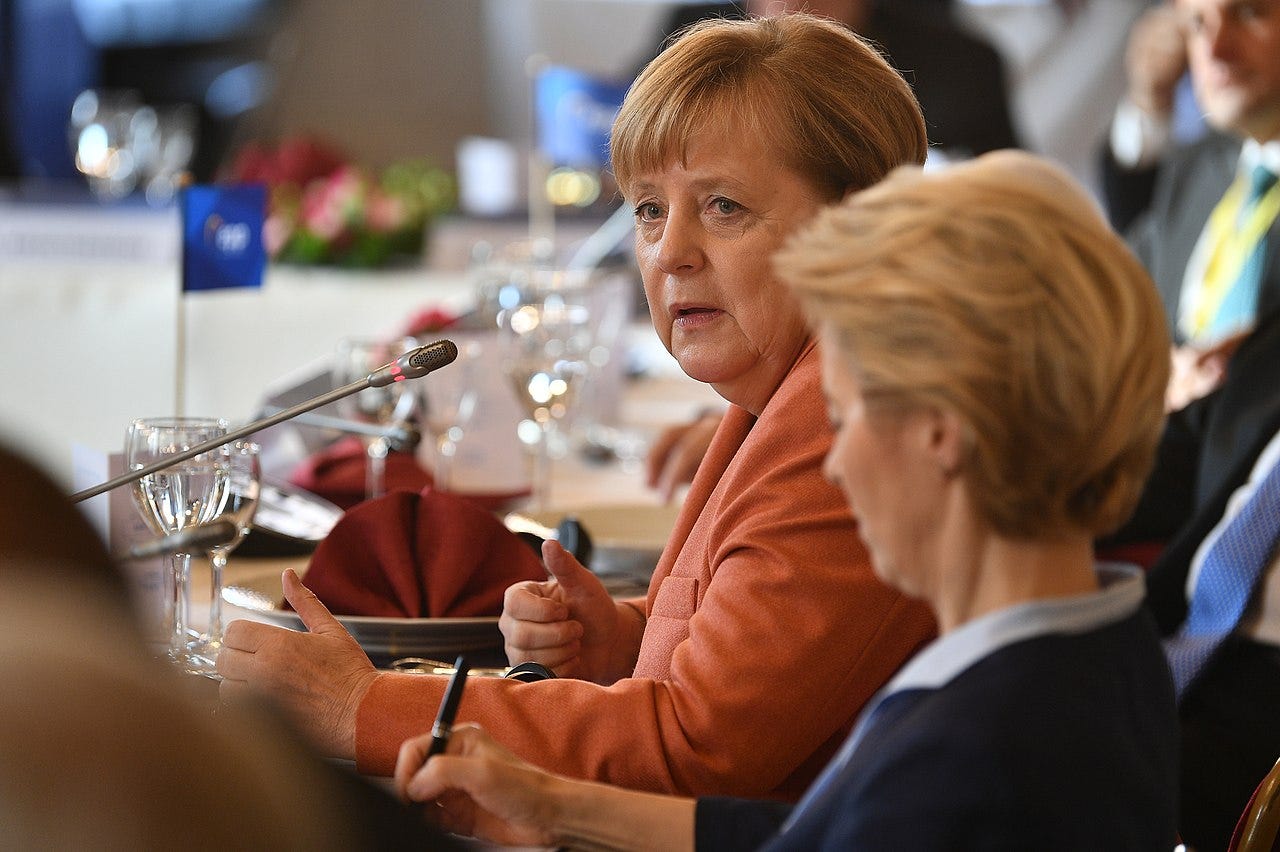 By Stephen Rae
(About the author: Stephen Rae is a leading European writer who splits his time between Brussels and Dublin. He is the former Group Chief Editor of INM, Ireland's largest online and print media group. He serves on the board of the World Association of News Publishers (WAN-IFRA) and previously served on the board of the World Editors Forum. He was appointed by the European Commission to its High Level Expert Group on Online Disinformation. Stephen grew up on Ireland's southwestern-most Atlantic coast and has always been committed to green and biodiversity issues.)
DUBLIN (Callaway Climate Insights) — The chief executives of some of Germany's best known and most influential corporations have signed a letter to Premier Angela Merkel demanding that state aid measures be linked to climate targets.
The letter, signed by more than 60 companies, comes as Germany prepares to take over the presidency of the European Union in June. 
"Ambitious and effective climate policy must remain a fundamental component of an economic and industrial policy aimed at stepping up crisis resilience," the CEOs wrote. "We appeal to the federal government to closely link economic policy measures to overcome both the climate crisis and the coronavirus crisis."
"Companies that signed the appeal include not only those that benefit directly from an ambitious climate protection policy, but also traditional industrial companies such as Thyssen-Krupp, Salzgitter, Bayer, Covestro or Wacker Chemie," Handelsblatt newspaper reported. 
"Allianz, the automotive supplier group Dräxlmaier, Eon, Heidelberg Cement, Puma and Telekom also joined the appeal. There are also companies such as Rossmann, Vaillant and Viessmann, the outdoor outfitter Vaude and the Otto retail group," the newspaper reported Monday.
"Understanding climate protection as a modernisation project for the economy can now play an important role in coping with the consequences of the corona crisis," says Michael Otto, chairman of the Otto Group supervisory board.
"It's about making our economy more crisis-proof and competitive with a view to a truly sustainable, climate-neutral future," added Markus Steilemann, CEO of Covestro.
Today also it was revealed that the German airline Lufthansa is in line to receive €10 billion ($10.8 billion) in state aid from the German government to stay alive during and in the period after the emergency. European Commission President Ursula von der Leyen has previously said that airlines should not be allowed to receive state handouts without climate strings attached.
Air France-KLM Group has already secured a €7 billion bailout in the form of French government-backed loans and which are contingent on meeting sustainability criteria.
Separately, Handelsblatt reports there is huge pressure on companies in the steel and chemical industries who "are facing major challenges in terms of climate neutrality, which the federal government and the EU Commission are aiming for by 2050.
"They have to completely change large parts of their production processes. This requires investments in the billions and requires that companies have access to climate-neutral hydrogen in large quantities over the next few years and can rely on internationally competitive electricity prices. In this respect, these companies rely heavily on long-term, reliable political commitments."
Populists in Germany meanwhile are railing against the Green Deal.
Last week in the European Parliament, Germany's far right party AfD (Alternative for Germany) attacked Climate Commissioner Frans Timmermans over carbon targets, describing them as "complete nonsense."
MEP Syliva Limmer said that as the European economy was "wrecked by the pandemic" the European Commissioner was "clinging to this green Utopia" which she described as "the next nail in the coffin after Brexit."
Monday, another MEP and one of the party's leaders, Jorg Meuthen, fired off: "In view of the enormous costs that German companies will have to face in dealing with the … crisis, it is only right and proper that business representatives should finally take a stand against Ursula von der Leyen's Green Deal. 
"If the German economy ever wants to get back on its feet after corona, it can only do so without the EU's completely excessive, anti-economic climate regulations," he said in a news release.
Above, German Chancellor Angela Merkel at the EPP Summit, Brussels, 2019. Photo: European People's Party.