Discover more from Callaway Climate Insights
Callaway Climate Insights provides news, critical analysis and original perspectives at the intersection of global finance and the challenges of climate change. 
Over 3,000 subscribers
Green Lights Feb. 24: Top stories this week
Don't miss a single story: The best from Callaway Climate Insights this week.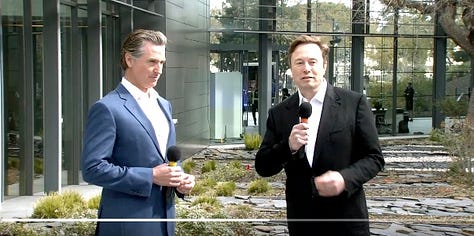 . . . . Welcome to Green Lights, our weekly roundup of the best of Callaway Climate Insights. This week, it's all about power: California Gov. Gavin Newsom and Elon Musk square up; we map new carbon prices and electricity sources in Europe; the AI robots have all the dance power; and finally, some researchers think the Yellowstone supervolcano could power the whole country. Here are the highlights in a simple and convenient format that makes it easy for our readers. It's also easy to subscribe.
. . . . Elon Musk, who moved Tesla's corporate headquarters from Palo Alto to Texas last year in a fit of California pique, has decided to play nice with California Gov. Gavin Newsom. The two met this week at Tesla's TSLA 0.00%↑ new California "engineering headquarters."
---
. . . . As explosive new AI tools capture headlines with their ability to "eat the Internet" in creating images and documents from the sum of global web knowledge, some fascinating legal questions around copyrights are already making their way to the courts.
---
. . . . Mapped: Europe's Biggest Sources of Electricity by Country shows how energy and electricity supply have become vital for nearly every European nation over the past year, as the region shifts away from its dependence on Russian fuel imports.
---
. . . . President Joe Biden's surprise pick of former Mastercard CEO Ajay Banga to run the World Bank portends a dramatic shakeup in climate financing for poorer nations to come, writes David Callaway. And it marks the second major climate advancement of the Biden presidency.
---
. . . . Matthew Diebel writes that a bunch of people have gone nuts over Chick-fil-A's decision to launch a fried cauliflower sandwich, calling it "woke" and worse. He loves Chick-fil-A.
---
. . . . Researchers have a supergiant idea for the Yellowstone supervolcano: They propose using the energy of the volcano "to superheat steam for spinning turbines at sufficient speed and on a sufficient scale, in order to power the entire USA."
---
. . . . Carbon futures hit a new high this week, rising above €100 ($106.33) in Europe and setting a new threshold for the price of pollution, which authorities hope will cause companies to find new ways to reduce their emissions as they get more expensive.
---
More greenery . . .
---
Follow us . . . .