Discover more from Callaway Climate Insights
Callaway Climate Insights provides news, critical analysis and original perspectives at the intersection of global finance and the challenges of climate change. 
Over 3,000 subscribers
Green Lights Sept. 14: Our best stories
Don't miss a single story: The best from Callaway Climate Insights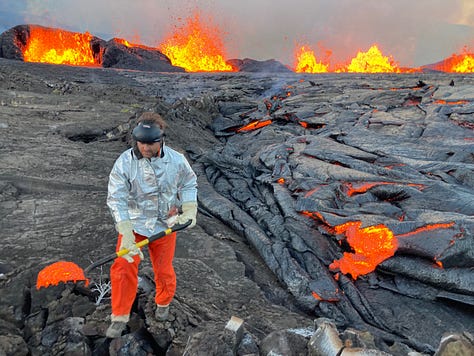 . . . . Aloha! And welcome to Green Lights, a roundup of the best of Callaway Climate Insights. Just back from two weeks traveling in Japan with my daughter, including a stopover in Oahu. Here're the highlights from the last weeks of summer. We look forward to seeing you again next week. — Dave Callaway. . . .
---
. . . . Hawaiian Volcano Observatory geologists conducted an overflight of the new eruption within Kīlauea summit caldera this week. The active volcano began erupting Monday, the third time this year. The USGS says the eruption is occurring in the east portion of Halemaʻumaʻu crater. Halemaʻumaʻu crater is significant to native Hawaiian communities as it is the home of Pele. A geologist, above, collects a molten sample of newly erupted material. The sample will provide information on magma storage and transport before it was erupted onto the surface as lava. USGS photo by M. Patrick. . . .
---
. . . . Mutual funds that are truly climate friendly don't just grow on trees, Mark Hulbert writes. He looks at a new study that aims to measure the extent to which a portfolio deviates from what it would have held independent of ESG. To find mutual funds that go the furthest in pushing a climate-friendly agenda, confine your search to smaller funds with the highest active share. And focus on such funds' ratings along the "E" dimension alone rather than their overall ESG score.
---
. . . . There's the subsidies and incentives, such as those provided by the U.S.'s climate change-focused Inflation Reduction Act and others, particularly in Europe, which are spurring renewable energy. But in the end, it will be the free market that talks when it comes to when renewables will trounce fossil fuels in powering the world. After all, wind, solar and other green sources of electricity will inevitably get cheaper as economies of scale and technical advances bring per-unit costs (and prices) down.
---
. . . . To shrink demand for fossil fuels, climate-friendly investors should shift their focus away from trying to convince fossil fuel companies to cut their production, and instead campaign for large users of fossil fuel-using products to shift to other energy sources.
---
. . . . Drought and high temperatures started the fire season early in Canada this year and have kept the fires burning across the country. Climate scientists see the elevated fire risk continuing for weeks. The Canadian Interagency Forest Fire Centre said there are more than 1,000 active wildfires burning in Canada, with more than 650 of them deemed "out of control."
---
. . . . Join Worth Media for Techonomy Climate NYC with sustainability experts, entrepreneurs, investors, government officials, and tech executives to discuss how we can each play a role in addressing the climate crisis. This climate conference, set for Wednesday, Sept. 20 at City Winery/Pier 57 in New York, will focus on addressing the biggest crisis of our lifetime which will require a diversified approach that includes carbon removal and sequestration, lower consumption, reliable renewable energy, and nature-based solutions. It will also take the efforts and collaboration of governments, investors, businesses, technology, and other constituent groups to solve the problem. Featured speakers include Seth Godin, founding editor, The Carbon Almanac: It's Not Too Late; Katharine Hayhoe, author, "Saving Us," and chief scientist, The Nature Conservancy; Jennifer Huffstetler, chief product sustainability officer, Intel; Adam Met, executive director, Planet Reimagined; and Mike Schroepfer, co-founder, Additional Ventures. See the full list of speakers here. 
---
More greenery . . . .
. . . . Doctors 'prescribed' free fruit and vegetables to thousands: The health of people with diabetes, hypertension and obesity improved. (The Conversation)
. . . . You're not from around here: Invasive species cost global economy $423 billion per year (Reuters)
. . . . In the teeth of the hurricanes: DeSantis shifts right on climate change as Florida faces hurricanes (USA Today)
. . . . That last step is a doozy: Humans Have Crossed 6 of 9 'Planetary Boundaries' (Scientific American)
. . . . Seeing red: Climate protesters spray paint Scottish Parliament building (The Independent)