Counterplay in Brazil
While the world watches the damage big industrials are doing in the Amazon, this Brazilian forest company is planting its stake in the ground to make a difference, writes Michael Molinski.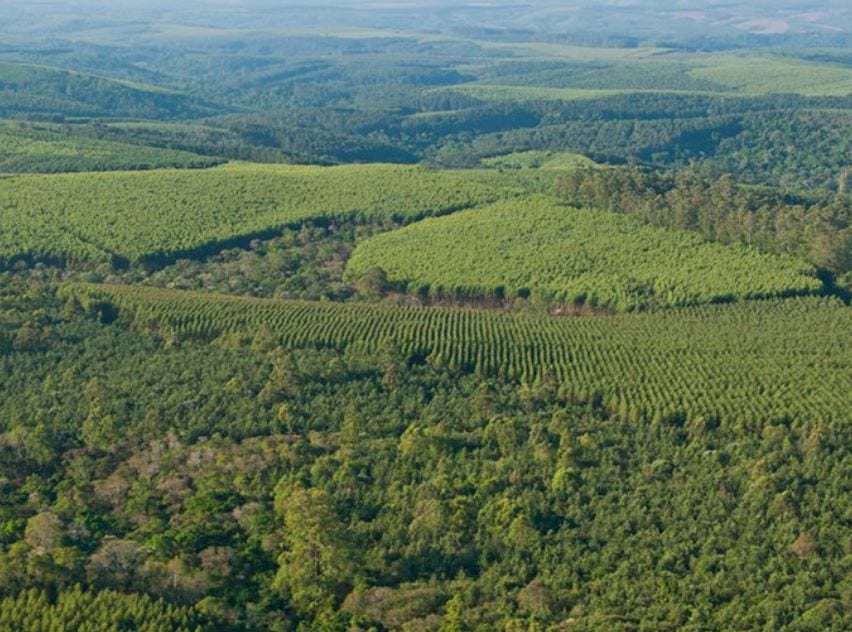 By Michael Molinski
(About the author: Michael Molinski is an economist, content strategist and author. He has worked in the financial industry for Fidelity, Charles Schwab and Wells Fargo, and previously as a foreign correspondent and editor for Bloomberg News and MarketWatch. He is the author of Investing in Latin America: Best Stocks, Best Funds (Bloomberg Press, 1999), and Small Business in Paradise (Nolo, 2007). Currently, he is a senior economist at Trendline Economics.) 
TELEMACO BORBA, BRAZIL (Callaway Climate Insights) — In the southern Brazilian state of Parana, about a mile outside of Klabin's Monte Alegre paper mill, I stroll through a forest littered with butterflies, wild birds, squirrels and the occasional monkey. It's hard to believe that this quiet place, just 300 miles southwest of Sao Paulo, may hold the answers to the future of global climate change.
Forestry projects, including this forest which was carved out of Klabin's commercial forests, could be the key to meeting the climate change challenge by creating new forests and preserving old forests, thus reducing carbon in the atmosphere and consequently slowing the pace of global warming. Klabin is Brazil's largest producer and exporter of packaging paper. 
Brazil has made headlines recently for burning forests and the deforestation of lands in the Amazon and Cerrado regions to make room for cattle to graze, goldmining, soybeans and to house people. But 2,000 miles south of the Amazon, the people and companies are doing what they can to reverse what is happening in the rest of the country.
"We will continue our efforts to increasingly reduce gas emissions and help reduce global warming," said Julio Cesar Batista Nogueira, Klabin's sustainability and environment manager.
Klabin is one of three Brazilian companies who have joined 84 other companies worldwide to join the United Nations' Business Ambition for 1.5 °C: Our Only Future, a communications and advocacy campaign. It's the UN's climate change initiative to bring the private sector into efforts to address climate change.
Some of Klabin's other environmental efforts include: 
Reducing the emission from Klabin's 17 mills and other industrial units of carbon dioxide by 58% per equity/ton over the past 15 years.

Maintaining 48% of the forest area earmarked for conservation and biodiversity.

Recycling 91% of all waste generated at the Monte Alegre and Puma plants, and using 89.1% of renewable sources for the company's energy matrix.

Consuming 27 m3 of water per ton of pulp produced, versus 30 m3 per ton by the traditional mills. 

Klabin removes more carbon dioxide from the atmosphere than the company mills emit.
"These bold companies are leading the way towards a positive tipping point where 1.5°C-aligned corporate strategies are the new normal for businesses and their supply chains around the world," said Lise Kingo, CEO and executive director of the United Nations Global Compact. "This is the type of transformative change we need to deliver on the sustainable development goals for both people and planet."
The question for Klabin, and for its shareholders, is how much of these environmental efforts are going to cost, and can the company afford it?
The 12 analysts who follow the company's stock have an average "hold" rating on the stock, in part because it has taken on too much debt lately. And yet, over the past year, the company's stock has only declined 28%, compared to the iShares Global Timber & Forestry ETF (WOOD), which was down 26% through March 13, 2020.
To finance its environmental initiatives, Klabin has sold several green bonds. In September 2017, Klabin made its first issuance of green bonds in the amount of $500 million, with a 10-year maturity. The bonds are earmarked for sustainable forestry, restoration of native forests, conservation of biodiversity and renewable energy.
S&P Global, while not assigning a rating to the bond, said in a report in December 2019 that the Klabin bond probably would have garnered an E1 or E2, on a scale of E1 to E4, with E1 being the best and E4 the worst. 
"First, investors consider forestry as a hedge to financial markets — trees grow irrespective of macroeconomic conditions," the S&P report said. "Second, large forestry companies have dominated the issuance of land use green bonds." The report also said that Brazil has by far dominated the market for land use green bonds.
One reason that Klabin's stock price has kept up with other global forestry companies may be that Klabin is considered more attractive to socially responsible investors. Tapping into that growing pool of socially responsible investors can have an impact.
The Carbon Disclosure Project, or CDP, which analyzed 8,400 companies worldwide, listed Klabin among its top 179 companies according to corporate transparency and action on climate change. It assigned Klabin an "A" rating on climate change and water security, and an "A-" on forests.
"In our management, we prioritize a model of self-sufficiency and respect to the environment, which balances productivity with the least possible impact on the ecosystem, while seeking to continuously improve the performance of our business," said Cristiano Teixeira, Klabin's chief executive officer.
In terms of climate change, Brazil remains key to efforts to reverse or at least slowdown global warming, because of the Amazon and Brazil's proximity to Antarctica. Cutting down trees to plant soybeans is only going to make matters worse. Companies like Klabin, therefore, will make a difference.
Photo: Klabin forest unit, Telemaco Borba, Brazil.