Discover more from Callaway Climate Insights
Callaway Climate Insights provides news, critical analysis and original perspectives at the intersection of global finance and the challenges of climate change. 
Over 3,000 subscribers
LanzaTech's big bet to clean up aviation
The global market for sustainable plane fuels is miniscule, but the dream is getting closer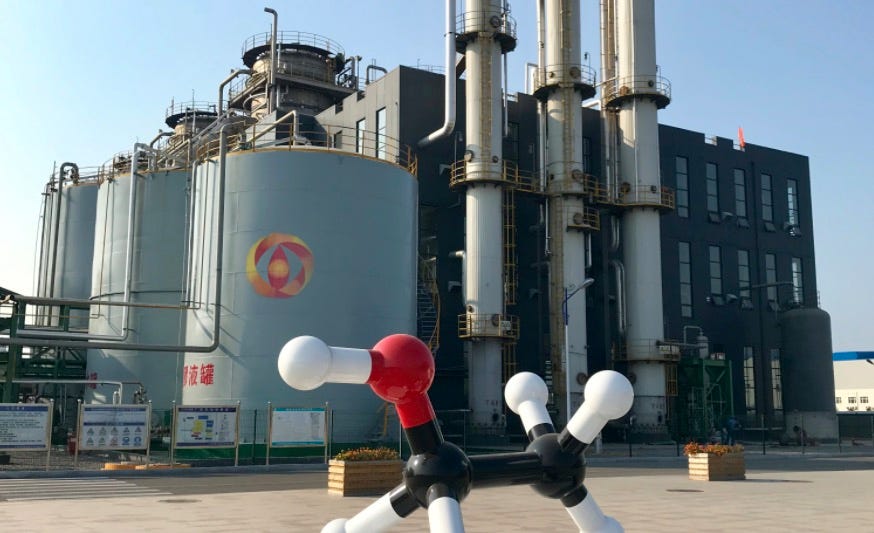 By Molly Glick
(Molly Glick is a freelance science reporter and a recent graduate from Northwestern University. She has reported everywhere from Panama to the Netherlands and recently worked as an editorial intern for Popular Science.)
NEW YORK (Callaway Climate Insights) — As the global airline industry finally reckons with its massive pollution problem, sustainable aviation fuels (SAFs) have quietly emerged as a plausible solution. Unlike conventional petroleum-based jet fuels, SAFs (also known as biofuels) are sourced from recycled materials like crops, animal fat and even factory waste.
Within the past few months, companies like Amazon (AMZN), Lufthansa (XE:LHA) and Boeing (BA) have announced SAF initiatives in order to clean up their dirty reputations.
These fuels have the potential to reduce the U.S. aviation sector's greenhouse emissions by up to 90% compared to 2005 levels, according to an October 2019 study published in Transportation Research. SAFs could therefore help the global industry meet its lofty goal to halve emissions by 2050, as proposed by the International Air Transport Association (IATA). In 2018, commercial aviation contributed about 2.4% of global carbon dioxide emissions, which had steadily increased over the previous five years.
"I think there is a real commitment both inside the industry and with those that serve it to start doing something about carbon," said Jennifer Holmgren, CEO of biotech startup LanzaTech Inc.
LanzaTech is one of a growing number of biotech start-ups aiming to drive SAF usage in both air shipping and commercial passenger flights. The company launched its spinoff, LanzaJet, in June to further develop its ethanol-based synthetic kerosene. It will be headed by CEO Jimmy Samartzis, a former United Airlines (UAL) executive with a background in renewable energy and sustainability.
SAFs could dramatically advance IATA's objective if widely used in the United States, the world's busiest aviation hub. But that may take a while: In 2018, these fuels powered a miniscule 0.1% of planes, according to the World Business Council for Sustainable Development. That's because SAFs are fairly new and around three times more expensive than petroleum. Currently, researchers are still working out the kinks for individual types of fuels, which vary in emissions.
These calculations are still rough estimates and depend on each fuel's lifecycle assessment. While it's important to pursue low-emissions flights, SAF manufacturers and airlines must also consider the entire supply chain's carbon impact, said Datu Buyung Agusdinata, an assistant professor at Arizona State University's School of Sustainability. Agricultural byproduct, for example, must move from farms to refineries to airports before it eventually powers flights.
"For biofuels, most of the emissions come from the cultivation stage," Agusdinata said. "The fertilizer used, the electricity for algae … they make up the bulk of emissions."
Canadian and Japanese funding

By sourcing industrial residue, LanzaJet's fuel circumvents land and water use challenges inherent to agriculturally sourced SAFs, Holmgren said. And to curb transportation emissions, regional production hubs could someday serve airports within relatively short distances.
That dream just got a bit closer: LanzaTech recently received $15 million and $10 million investments from Canadian oil and gas producer Suncor Energy Inc. (SU) and Japanese trading and investment company Mitsui & Co. (MITSY). This funding will go toward building a demonstration plant that will produce 10 million gallons of SAF and renewable diesel annually, with production estimated to begin in 2022.
Now headquartered in Chicago, LanzaTech was founded in 2005 by Sean Simpson and Richard Foster. Between 2010 and 2012, the company's revenue increased by more than 340%, according to Forbes. It currently employs 175 people, with two working separately within LanzaJet's growing team. After the new plant takes off, Suncor and Mitsui plan to finance additional facilities in a "phased investment" approach, LanzaTech said in a statement.
COVID-19's impact on sustainable aviation fuels
Despite recent momentum in the SAF market, the COVID-19 has thrown in a wrench in industry progress. A sharp drop in ticket sales may cost airlines more than $84 billion in 2020, the IATA estimated. Companies therefore convinced the United Nations' International Civil Aviation Organization (ICAO) to ease emissions targets, which may de-incentivize biofuel investments for the time being.
This reversal, along with cheap oil prices, could hinder the industry's desire to curb greenhouse gas pollution, Agusdinata said. The delay could be particularly significant because increased SAF production accelerates the technology learning curve — the longer airlines hold on to petroleum, the longer it takes for SAFs to deliver a return on investment. Even before the pandemic, Agusdinata's October 2019 study gave the U.S. airline industry a 3.5% chance of reaching its 2050 emissions target — and this theoretical percentage hinges on lawmakers implementing pro-SAF policy incentives.
"In the near term, I don't think sustainable fuels can slow down the increase in aviation emission," he said. "I think that's very much in doubt."
Accelerating toward cleaner fuels
But LanzaTech's Holmgren is still optimistic. Amid accelerating climate change, airlines should aim beyond the 2050 goal, Holmgren said, by aggressively pursuing new technological solutions. While planes currently employ a 50/50 blend of SAF and conventional fuel, she predicts that the next decade could bring majority-SAF flights.
For SAFs and any sustainable innovation to become truly marketable, Holmgren and Agusdinata agreed that regulatory incentives are necessary. While the ICAO encourages a global carbon offset market, Holmgren said that a U.S. carbon tax could bridge the financial gap and propel sustainable fuel forward. But given the Trump administration's environmental record, it seems unlikely anytime soon.
"People who don't want legislation to reduce carbon emissions say that it'll be more expensive for the little people," Holmgren said. "Frankly, it's even more expensive when they have to get treated for cancer … we are smarter than this problem and we are smarter than the excuses."
Photo: LanzaTech.