Discover more from Callaway Climate Insights
Callaway Climate Insights provides news, critical analysis and original perspectives at the intersection of global finance and the challenges of climate change. 
Over 3,000 subscribers
Latin America's green buildings built to last, attracting investors
Brazil, Mexico leading a push for more LEED certification; finding value in age-old infrastructures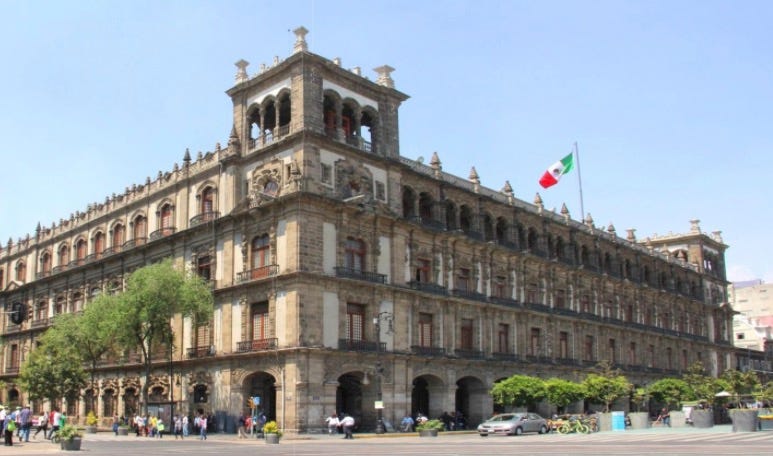 By Michael Molinski
(Michael Molinski is a senior economist at Trendline Economics. He's worked for Fidelity, Charles Schwab and Wells Fargo, and previously as a foreign correspondent and editor for Bloomberg News and MarketWatch.) 
MEXICO CITY (Callaway Climate Insights) — It's rare to see a 500-year-old building achieve the coveted green building certification, so when the Antiguo Palacio del Ayuntamiento in Mexico City was awarded the Leadership in Energy and Environmental Design (LEED) certification by the U.S. Green Building Council, Latin American companies, and investors, took notice.
"By having bioclimatic architecture, the building is structurally efficient," USGBC said in a statement about the historic building in the Zócalo, which dates back to 1527. "It has very thick building walls, openings and solid ratio, mezzanine with double height, natural lighting and ventilation provided by the central courtyards."
So-called green certified buildings are becoming more appealing to both investors and environmentalists, and as a result, Latin American companies and builders are actively pursuing LEED certification. Among them are Chilean department store Falabella, Brazilian fast-food restaurant chain Madero, Europe-based supermarket chain MAKRO, Coca-Cola Co. (KO) distribution and manufacturing plants, Bancolombia of Colombia and Promerica Bank of El Salvador; in addition to multinational corporations and banks such as Citicorp (C), Colgate-Palmolive (CL) and Frito-Lay from the U.S., BBVA of Spain, Siemens of Germany and London-based HSBC (HSBC), which have extensive operations, manufacturing and distribution centers in Latin America.
Latin America is fourth overall in the world, with 5,053 LEED projects to date. It's behind the U.S. and Canada, East Asia and Europe, but is slowly gaining. For example, Latin America is increasing its efforts and is now second in the world behind the U.S. and Canada in terms of using Arc, a free technology platform that allows companies and cities to track building sustainability performance in an effort to achieve LEED certification. Within Latin America, Brazil (1,510 LEED projects) and Mexico (1,171) are by far the leaders in achieving LEED.
"Not only do these companies see the value of getting LEED-certified for new buildings, but there has been a real push to bring existing buildings to international standards using LEED-approved platforms for energy reduction, water efficiency, ventilation and the reduction of waste," said Nicolette Bohnett, director of Latin America for USGBC.
To achieve LEED certification, a company must meet the following nine guidelines:
location and access to public transportation

sites built and chosen for their sustainability

water efficiency

energy and the atmosphere

material and resources

indoor environmental quality

innovation of design and implementation

regional priority for environmental issues

integrative processes for designing buildings
Many of these attributes have a direct connection to climate change, while others enhance the productivity, job performance and overall well being of employees.
Moreover, in the wake of the coronavirus pandemic, the USGBC announced in June several new credits for LEED that align with public health and industry guidelines related to cleaning and disinfecting, workplace re-occupancy, HVAC and plumbing operations.
In Latin America, USGBC has redrafted its LEED guidelines for existing buildings, realizing that many old buildings like the Antiguo Palacio were built centuries ago by people who understood that buildings needed ventilation, natural light, and walls that protected occupants from heat and wind.
This is especially true in tropical countries like Colombia and Brazil, where natural ventilation becomes more important. Insurance company Seguros (SURA) in Colombia is a good example, and is actively pursuing LEED certifications on its new and existing buildings, Bohnett said.
"With the growing green building trend, having a tool to evaluate energy and water consumption, and to analyze materials, will give owners an opportunity to impact efficiency, whether it's a home or a skyscraper," said Carlos Roberto Pacas Herrera, director of the Instituto de Investigación en Energía in El Salvador.
Latin America uses more earthen materials like adobe, cement and cinder block, and less wood. As a result, its buildings may not have as many hurdles to achieve LEED certification for its construction materials. Also, the environment is given a higher public priority than in many developed countries. A recent poll by the Pew Research Group found that major Latin American countries consider the environment one of the most important threats, compared to the U.S., Great Britain or Russia.
As a result, the USGBC has ramped up its efforts to make LEED initiatives more attractive to companies that are more interested in pursuing climate change initiatives. For example, the USGBC now has a new certification called LEED Zero. To qualify, a company has to show that it meets any of the following: net zero carbon emissions, net zero energy use, net zero water use or net zero waste. By "net zero" it means that whatever a company takes out of the environment, it sets a goal of putting back into the earth.
Last year, the headquarters of Brazilian engineering and green building consulting firm Petinelli became the first company in Latin American to achieve net zero status.
To date, 14 projects have achieved net-zero status worldwide, with the U.S. in the lead with eight, Brazil with five, and China with one.
Above: Antiguo Palacio del Ayuntamiento. Photo: U.S. Green Building Council.