Discover more from Callaway Climate Insights
Callaway Climate Insights provides news, critical analysis and original perspectives at the intersection of global finance and the challenges of climate change. 
Over 3,000 subscribers
Lessons from New Zealand's Covid election
Prime Minister Ardern's deft handling of Covid won her re-election and a clear legislative route to enacting climate change policy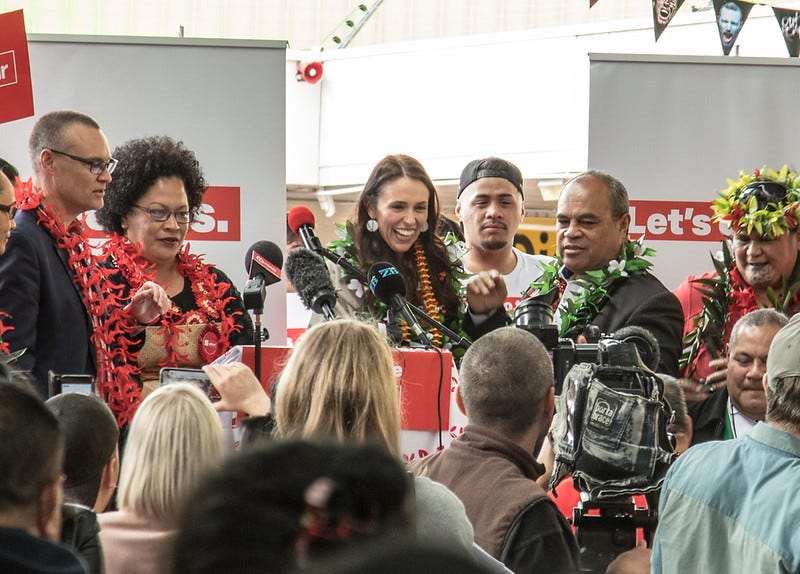 New Zealand Prime Minister Jacinda Ardern, at a 2017 Labour event. Photo:
Nevada Halbert
/flickr.
By Peter Bale
(About the author: Peter Bale is a London-based journalist currently working under coronavirus lockdown in his native New Zealand. He's worked for Reuters, the Financial Times, The Times, CNN, Microsoft and the Center for Public Integrity, among others.)
AUCKLAND, NEW ZEALAND (Callaway Climate Insights) — Coherence and competence in its - particularly her - response to Covid-19 won the Labour Party led by Jacinda Ardern an historic victory in the New Zealand elections, but the urgency and scope of its climate policies may perversely be in question.
Her "going hard and going early" contrast with the United States couldn't be greater and in a characteristically egotistical reaction Donald Trump at one point suggested New Zealand was being "held up to try and make us look not as good as we should look…"
Labour won the right to govern alone under the country's proportional representation system, the first time any party has achieved that since the country abandoned the UK-style first-past-the-post electoral system in 1993, meaning the Green Party won't be part of a coalition as it had been since entering government in 2017.
Labour does have what by world and certainly U.S. standards would be a relatively progressive set of environmental policies in its manifesto. In coalition with the Greens, it also introduced a zero carbon bill, suspended offshore oil exploration, promoted a cleanup of the huge livestock industry and invested in environmental protection in its last budget.
Yet the climate change barely surfaced as an issue in the election campaign — though Ardern was careful to pull an environmental mantle gently away from the Greens during televised debates by highlighting the zero-carbon act and commitment to the Paris accords. However, as with child poverty and economic inequality, she is accused of timidity.
There's no vaccine for climate change. That requires hard, difficult and often unpopular policy decisions.
"We'll eventually, soon, get a vaccine for the virus. But there's no vaccine for climate change. That requires hard, difficult and often unpopular policy decisions. We have to see whether the new government will want to face up to that," former conservative National premier Jim Bolger, now an environmental advocate, said on Newsroom.
Three years ago Ardern called climate change "our generation's nuclear-free moment." But the October election was all about Covid and the coherence and apparent competence she showed in managing the crisis from March until now through one national lockdown and a second in the most populous Auckland region.
She, usually alongside the apolitical civil servant who heads the national health service, Dr. Ashley Bloomfield, presented a calm and science-based response — appearing on television almost daily to ask New Zealanders to "be kind" and work as a "team of five million."
With her authenticity, which came to the fore in her handling of last year's massacre in Christchurch mosques by an Australian-born white supremacist terrorist, Ardern won the respect of even her most libertarian rivals. She pursued a policy of "elimination" of Covid-19, effectively closing the South Pacific island nation's borders to all but returning New Zealanders and shutting down much of the economy.
The contrast with the United States approach, even before the extraordinary admission by White House Chief of Staff Mark Meadows that the Trump Administration is "not going to control the pandemic," could not have been clearer. New Zealand has had 25 deaths from Covid-19.
It worked to create a 100-day period of no community transmission — interrupted by an outbreak in Auckland — swiftly dealt with by a more localized lockdown, which now leaves New Zealand in a position of relative normality, albeit with borders still effectively locked. More than 55,000 expatriate New Zealanders have returned since the start of the pandemic, all going through a minimum of two weeks' quarantine in hotels, secured by the army and police and almost all paid for entirely by the government.
The second outbreak even led to an extension of the election campaign, but despite a couple of breaches of quarantine and lapses in border security, the country rewarded Ardern and Labour with a provisional 64 members in the 120-seat parliament. The more right-wing National Party slumped, while the libertarian ACT expanded its vote and the Greens held on.
Labour's other coalition partner, the populist New Zealand First Party — whose leader had been deputy prime minister and foreign minister in the last government — was wiped out.
New Zealand First had been, in its own description "a handbrake" on the environmental and "woke" ambitions of Labour and the Greens, so it is possible that Ardern and Labour could make faster progress in applying an environmental lens to economic recovery from the pandemic, the key issue with gross domestic product falling 12% in the June quarter.
It is possible that Ardern will, with characteristic personal diplomacy, give the Greens a climate change portfolio outside the cabinet. But it is likely that the immediate focus on Labour environmental policies will be those that promote the country's supposed lower-case green credentials in produce, electricity generation, fossil fuels and eventually tourism.
You can expect:
Support for farmers to protect water courses and reduce greenhouse gas emissions from livestock, particularly in the enormous export dairy industry

Promotion of 100% renewable energy with about 80% already from renewable sources, mostly hydro-electricity and with plans for a $4 billion pumped hydro scheme

Work to deliver on the zero net carbon emissions by 2050 policy passed last year

Limited support for electric vehicles, particularly government-owned fleets
Greenpeace New Zealand leader and former Green Party politician Russel Norman called on Labour to use its majority to act and not be conservative: "This is a moment for transformation — we need action on climate change and biodiversity — a price on agricultural emissions, phasing out nitrogen fertilizer, transition to regenerative agriculture, cameras on boats, and end to bottom trawling and so much more. The numbers are there to take action and there are no more excuses for failing to take action."