Discover more from Callaway Climate Insights
Callaway Climate Insights provides news, critical analysis and original perspectives at the intersection of global finance and the challenges of climate change. 
Over 3,000 subscribers
Linde, Air Liquide bullish on clean hydrogen
This is a special report from Callaway Climate Insights on Europe's plan for a green recovery. Enjoy, and if you like it, please share.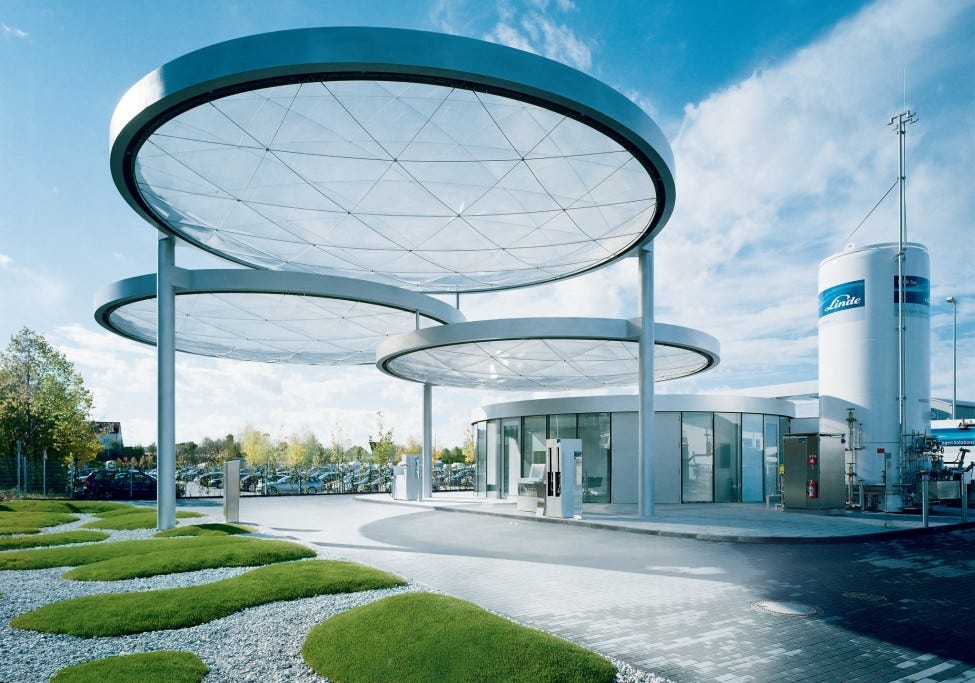 By Darrell Delamaide
(Darrell Delamaide is a freelance journalist in Washington, D.C. He has specialized in business and finance over a long career, writing for Barron's, Dow Jones, Institutional Investor, Bloomberg, and MarketWatch, among others. A longtime correspondent in Europe, Delamaide also has written about international economics, global markets, and foreign policy.)
WASHINGTON, D.C. (Callaway Climate Insights) — Europe's focus on hydrogen as the future fuel of choice bodes well for Linde PLC (LIN) and Air Liquide (FR:AI), the world's two biggest producers of industrial gas, as momentum grows for the carbon alternative following details of the EU's Green Deal last week.
Steve Angel, chief executive of Linde, says green hydrogen will be the company's biggest growth driver in the coming years. He expects the company's $2 billion in annual revenue from clean hydrogen to quadruple in the near future.
His forecast in an interview last week with the German business daily Handelsblatt comes as European Commission Executive Vice President Frans Timmermans on Thursday assigned clean hydrogen a critical role in the EU's Green Deal to reach the goal of being carbon-neutral by 2050 and reducing emissions by at least 50% by 2030.
Read: Quarter of €750 billion EU rescue package will be green
Green hydrogen, a fuel won with electrolysis of water using renewable energy sources, provides a carbon-free alternative via fuel cells to power trains, buses and heavy trucks, which don't lend themselves to batteries because the charging time is too long. In addition, industrial manufacturing and power generation can use hydrogen instead of natural gas.
Last month, Fatih Birol, the Turkish economist who heads the International Energy Agency, tweeted that green hydrogen is "ready for the big time" as he presented an IEA report on lithium ion batteries and hydrogen electrolyzers.
Green hydrogen is a way of capturing intermittent wind and solar power for a more consistent energy source. Clean hydrogen also includes the traditional method of extracting it from natural gas, while capturing emissions instead of adding them to the atmosphere.
The Linde group, created in the 2018 merger of Germany's Linde AG with U.S. rival Praxair, has emphasized its healthcare role during the coronavirus pandemic, supplying medical devices and oxygen, as well as other healthcare products. While healthcare will remain important, Angel says green hydrogen is the opportunity that excites him the most for the longer term.
The combined Linde group has more than 600 subsidiaries in 100 countries, and Angel sees opportunities not only in the group's home countries of the U.S. and Germany, but in China, Japan, and South Korea as well. Angel was CEO of Praxair and kept that role in the merged company, remaining based in the Praxair headquarters in Danbury, Conn.
Linde, which is listed on both Nasdaq and Germany's Xetra trading platform, plunged to a 52-week low of $146 in the March pandemic selloff, from its 52-week high of $228 in February and has since rebounded to above $200. 
The original Linde AG dates back to 1879, when Carl von Linde founded a company for refrigeration technology. Praxair was founded in 1907 as Linde Air Products Co., evolving into Praxair until the two companies were rejoined in 2018.
Angel told Handelsblatt that French rival Air Liquide doesn't have an edge in hydrogen even though it has been working on it for years, acknowledging that the market is big enough for more than one player. Hydrogen accounts for just 2% of energy usage, so there is plenty of room to grow, he says.
Air Liquide, which is listed in Paris, has seen its stock price fall from its 52-week high of €140 ($156) in February to a low of €95 in March, rebounding now to above €120. 
Chief Executive Benoît Potier bragged in a YouTube interview presenting the 2019 results in February that the French company is building what he calls the world's largest proton-exchange membrane electrolyzer in the world, using technology developed by Canada's Hydrogenics Corp., in which Air Liquide acquired a nearly 19% stake in 2019. (Cummins owns the remaining 81%.)
Linde is also deploying PEM technology in partnership with ITM Power, a UK-based developer of hydrogen electrolysis. ITM, for what it's worth, claims to have what is currently the world's largest PEM electrolyzer plant in Sheffield. ITM (UK:ITK) is listed on the London Stock Exchange and is currently trading above £280 ($351), following a sharp increase in May.
The price of producing green hydrogen is still not competitive, but Bloomberg New Energy Finance said in March that costs have fallen 40% in Europe and North America in the past five years, and 80% in China. With government subsidies of $150 billion over the next 10 years, the cost of producing hydrogen using renewable sources could fall to $1.14-$2.71 per kilogram by 2030, from $2.53-$4.27 now, BNEF said. 
Above: Linde hydrogen fueling station in Munich.