Discover more from Callaway Climate Insights
Callaway Climate Insights provides news, critical analysis and original perspectives at the intersection of global finance and the challenges of climate change. 
Over 3,000 subscribers
News briefs: $10 million climate challenge contest
Plus: UN report on pandemic risks, and smart sponges for oil spills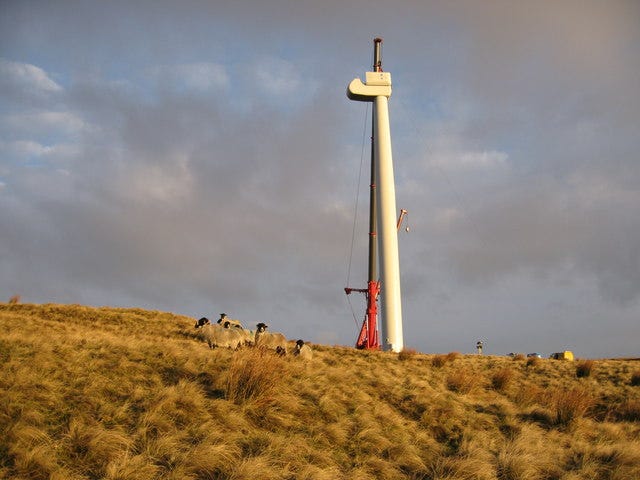 2030 Climate Challenge Competition: $10 million for big ideas
Levers for Change, an affiliate of the John D. and Catherine T. MacArthur Foundation, has announced a $10 million competition for bold solutions that reduce greenhouse gas emissions in the building, transportation, or industrial sectors, according to a report in Thedirt.org. Levers for Change sees the U.S. building, transportation, and industrial sectors as critical in the global fight against climate change. "If the U.S. decarbonizes at scale in the next 10 years — by 2030 — then we have a chance to land at a decent future. Failure in the U.S. almost guarantees global failure." The competition organizers provide an organizational readiness tool that enables those interested to find out if they meet the criteria. Registrations are due July 23 and submissions are due Aug. 20.
The power sector and COVID-19: Planning for a sustainable recovery
"Governments failed to anticipate how to prepare their economies and public health systems to weather a storm like the coronavirus. As such, the cost of the crisis and the subsequent recovery is enormous. We had in effect to stop the global economy so that health systems could cope. It is crucial not to fail again, whether to avert the next pandemic or the "mother of all crises" posed by climate change," Jonathan Walters writes in this recent World Bank blog post. "It's well understood that the impending, massive fiscal stimulus packages will be an opportunity amounting to trillions of dollars. If this chance to avert the climate crisis is missed, it may never come again. But how best to seize the opportunity?" Walters goes on to detail key lessons learned from recent years of rapid progress in clean energy.
In climate change and conflict, Covid-19 is a new challenge
A new report from the UN Environment Program highlights the many communities where the combined effects of climate change, conflict, gender inequality, and now the COVID-19 pandemic are posing grave threats to the security of residents, especially women and girls. This special report but the United Nations Environment Programme, United Nations Women, the United Nations Development Programme, and United Nations Political and Peacebuilding Affairs is taking a closer look at some of those communities. The study, titled Gender, Climate, and Security: Sustaining Inclusive Peace on the Front Lines of Climate Change, finds that gender norms and power structures shape the way women and men are impacted by — and respond to — risks caused by climate change and insecurity. Pre-existing inequalities, gender-related expectations, and unequal access to resources can leave some groups of women and men disproportionately vulnerable, the report says.
Smart sponge could clean up oil spills
But can it do the dishes, too? No matter. A team funded by the National Science Foundation has developed a porous smart sponge that selectively soaks up oil in water. With an ability to absorb more than 30 times its weight in oil, the sponge could be used to inexpensively and efficiently clean up oil spills without harming marine life. The sponge can be reused dozens of times without losing its effectiveness.
"Oil spills have devastating and immediate effects on the environment, human health and the economy," said Northwestern's Vinayak Dravid, who led the research. "Although many spills are small and may not make the evening news, they are still profoundly invasive to the ecosystem and surrounding community. Our sponge can remediate these spills in a more economic, efficient and eco-friendly manner than any of the current state-of-the-art solutions."
Seize your chance, U.N. envoy Carney tells investors
From Reuters: Investors have an "enormous" opportunity to finance a shift to a low-carbon future in the wake of the coronavirus pandemic, United Nations envoy Mark Carney said last week, launching a new diplomatic campaign to revive delayed climate change talks.
Japan's megabanks must lead on sustainability
The path out of the current COVID-19 pandemic is still shifting, with long-term economic recovery perhaps even harder to predict, according to this report in the International Business Times. "For true recovery, we must take into account the ongoing climate and deforestation crises which, as the UN Environmental Programme (UNEP) has said, are exacerbating these deadly pandemics. Among Asian banks, Singaporean banks have led the way toward needed change, adopting some of the strongest [ESG] policies that will limit financing toward the most disastrous projects in the energy and forest sectors. This is demonstrated by not only the exclusion of new coal power by DBS and OCBC, but also by the adoption of best practice 'No Deforestation, No Peat, No Exploitation' (NDPE) criteria by DBS, for at least its palm oil clients."
U.K. finds that green business is good business
From a special report in The New York Times: Over the past three decades, according to figures collected by the World Resources Institute, a Washington-based nonprofit group that tracks climate change, Britain has reduced carbon dioxide generated in the country by about 40%, more than any other major industrialized country. (Emissions in the U.S. rose by about 3% over that period; in China, which saw huge economic expansion, emissions grew nearly 400%.) Read more from this report about how the U.K. can overcome the weight of the coronavirus pandemic to re-energize its efforts to build renewable energy resources.
Above, sheep take a closer look the first wind turbine tower built on Scout Moor in Lancashire. Photo: Paul Anderson/Wikipedia.