News briefs: Bank of England and climate finance
Plus, World Benchmarking Alliance says electric utilities are backtracking on their pledge to decarbonize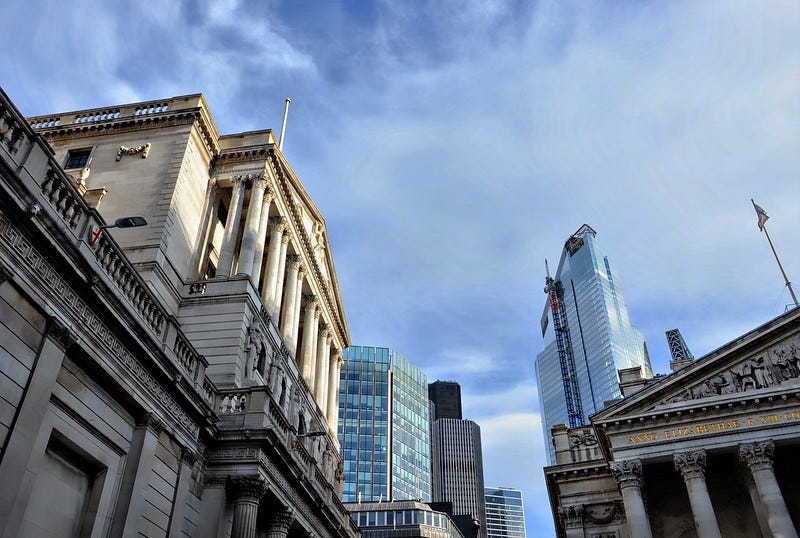 Why the Bank of England cares about climate change
Climate change, says the Bank of England is "a central issue to consider and is widely seen as one of the biggest threats to a sustainable future." The bank has just issued its Knowledge Bank Guide titled Climate change: why it matters to the Bank of England, outlining why it thinks climate change is important and its response. "Severe climatic changes could impact the economy in various ways, whether it's affecting total economic activity, the productivity of the workforce or the smooth functioning of financial markets."
Powering down decarbonization ambitions
Analysis of 50 of the world's largest electric utilities companies shows that less than 10% have fully aligned their business models with the Paris Agreement, according to a new report from the World Benchmarking Alliance. WBA's second climate and energy benchmark "shows the most influential electric utilities companies are powering down on decarbonization," the group says.
Best ways to tackle air pollution and climate change together
A new report from the World Economic Forum has identified the most effective interventions for addressing both air pollution and climate change at the same time. With partners AirQualityAsia, The Schiller Institute for Integrated Science and Society at Boston College, and with support from the Clean Air Fund — the World Economic Forum set out to identify the most successful and practical actions that can improve health by reducing air pollution and impact climate change. Read Air Pollution Interventions: Seeking the Intersection between Climate and Health.
Morgan Stanley IM's new global balanced sustainable fund
Morgan Stanley Investment Management has launched the Morgan Stanley Global Balanced Sustainable Fund. The company says the fund will be lead by Andrew Harmstone, head of the global balanced risk control strategy, and will allocate to global equity and fixed income securities, including impact equities and green bonds, as well as money market instruments and cash.  Read more from International Investment.
Financial markets and regulators still in the dark
With a large degree of unpredictable tail risk, climate change represents a challenge to virtually every aspect of the economy and requires preparation in order to avoid the worst outcome, write Andy Green, Gregg Gelzinis and Alexandra Thornton in this piece from the Center for American Progress. "The recurring physical damage and energy market transformations resulting from it are likely to affect banks, insurers, and investors and may well create cascading risks across the financial system."
Above, Bank of England and The City. Photo:
It's No Game
/flickr.