News briefs: Bill for climate change could hit more than $5 trillion a year
Plus, non-profit focuses on reflectivity to cool the planet, California sets new carbon goals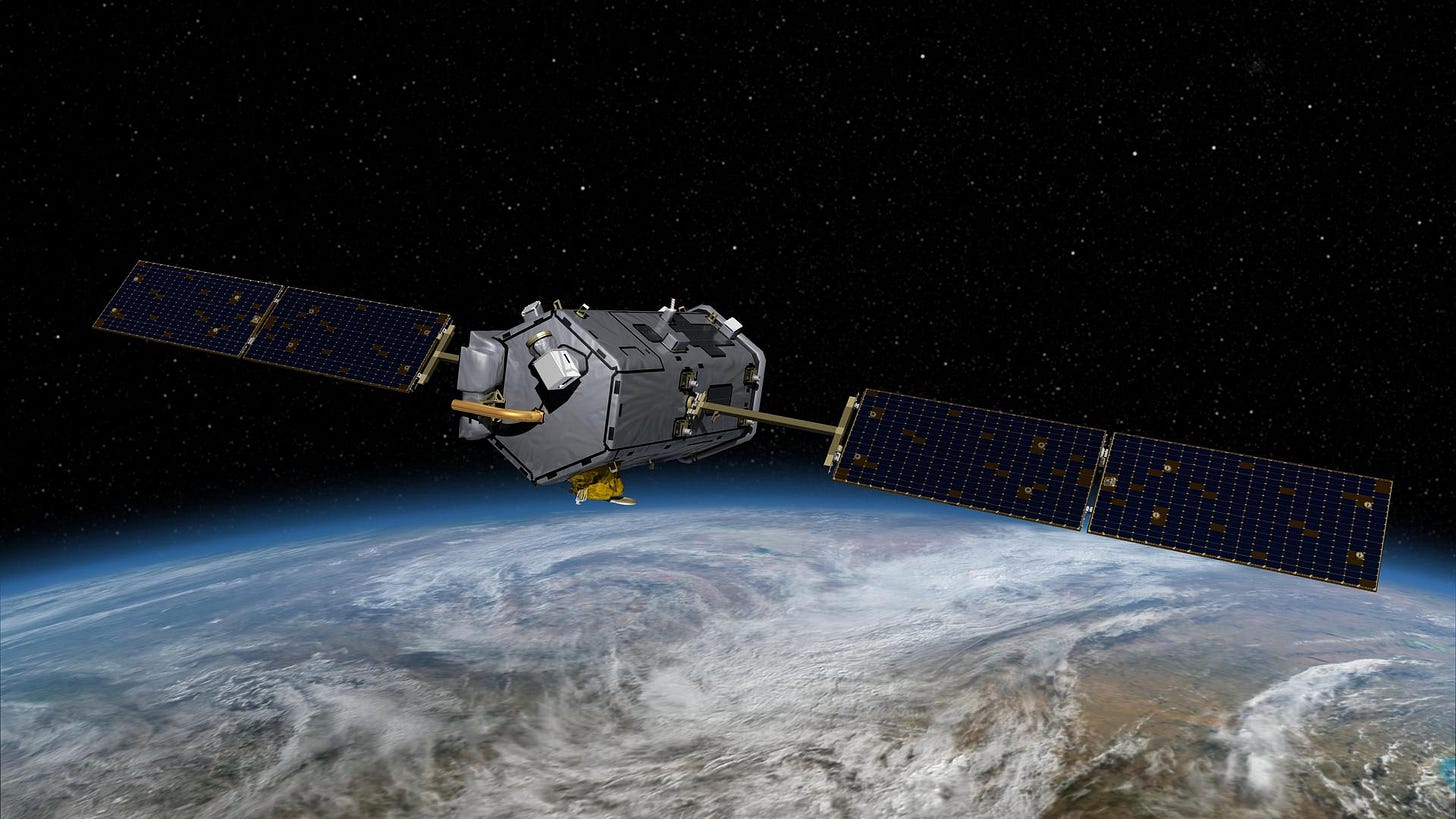 NASA's Orbiting Carbon Observatory 2, or OCO-2, depicted above, is an Earth satellite mission designed to study the sources and sinks of carbon dioxide globally and provide scientists with a better idea of how carbon is contributing to climate change.
Without emissions cut, costs could reach $5 trillion per year
Taking no action on climate change will cost economies a mean $5.4 trillion a year by 2070 and $31 trillion by 2200, according to a new report from non-profit organization the CDP and University College London, which modeled the damage costs of different levels of action on climate change and found that global GDP would also take a 25% hit by 2100 if no action is taken. Carole Ferguson, head of investor research at CDP, said "The impact of climate change on GDP varies significantly between regions, with developing economies such as India suffering the most." The summary report, titled Costing the Earth - Climate Damage Costs and GDP, shows that in contrast, a Paris Agreement-aligned scenario, in which temperatures are kept to 2°C. above pre-industrial levels, results in these damages peaking at US$1.8 trillion/year in 2070.
Clean energy jobs see slow recovery during pandemic
Approximately 12,500 U.S. jobs in clean energy were added in September, leaving almost 14% of the sector's pre-COVID-19 workforce unemployed according to the latest analysis of federal unemployment filings prepared by BW Research for E2 (Environmental Entrepreneurs), E4TheFuture and the American Council on Renewable Energy (ACORE). Overall, September's job gains represented a 0.4% increase in nationwide clean energy jobs and leaves nearly more than 477,900 clean energy workers still out of work in a year the industry projected to add over 175,000 jobs, according to E2. While September represents the fourth straight month of job growth for the industry after three months of devastating job losses, just one out of every five clean energy jobs lost between March and May has come back, according to the monthly report. 
California sets land conservation and carbon goals
California has embarked on a plan to set new land conservation and carbon sequestration goals over the next 10 years. The San Francisco Chronicle reported Wednesday that Gov. Gavin Newsom has set a target of conserving 30% of the state's land and coastal waters by 2030. The Chronicle quoted Newsom as saying his executive order would serve "our collective goal of future-proofing the state of California, of making the state more resistant and resilient to the realities of climate change." The order requires state agencies to create policies to capture more carbon from the atmosphere and store it in the state's natural and working lands such as forests, rangeland, farms, wetlands and coasts. These strategies, intended to help California reach its goal of carbon neutrality by 2045, could include planting cover crops, restoring wetlands, managing forests more actively to reduce wildfire risk, and planting trees and creating parks in urban areas, according to the report.
Non-profit focuses on reflectivity to cool the planet
A new non-profit organization devoted to slowing global warming quickly by reflecting more of the sun's energy back to space has been launched. Reflective Earth already is collaborating on three continents to build and test new technologies that could immediately improve the Earth's heat balance and reduce the severity of catastrophic climate events, the company said in a news release this week. "Reflectivity, often referred to by scientists as 'albedo', can be mobilized far more quickly than changes in the fossil fuel system to reduce global warming," said Jeff Haley, director of the Reflective Earth Foundation. Reflective Earth, he said, is technology-agnostic. "We are working anywhere we can, from rooftops in West Africa to the heights of the Earth's stratosphere, to test and deploy technologies that can make a difference fast."