News briefs: BNP faces loss of clients on coal policy; plus, the wolverines are back
BPN Paribas, Barclays face tough choices as they move toward 'green finance'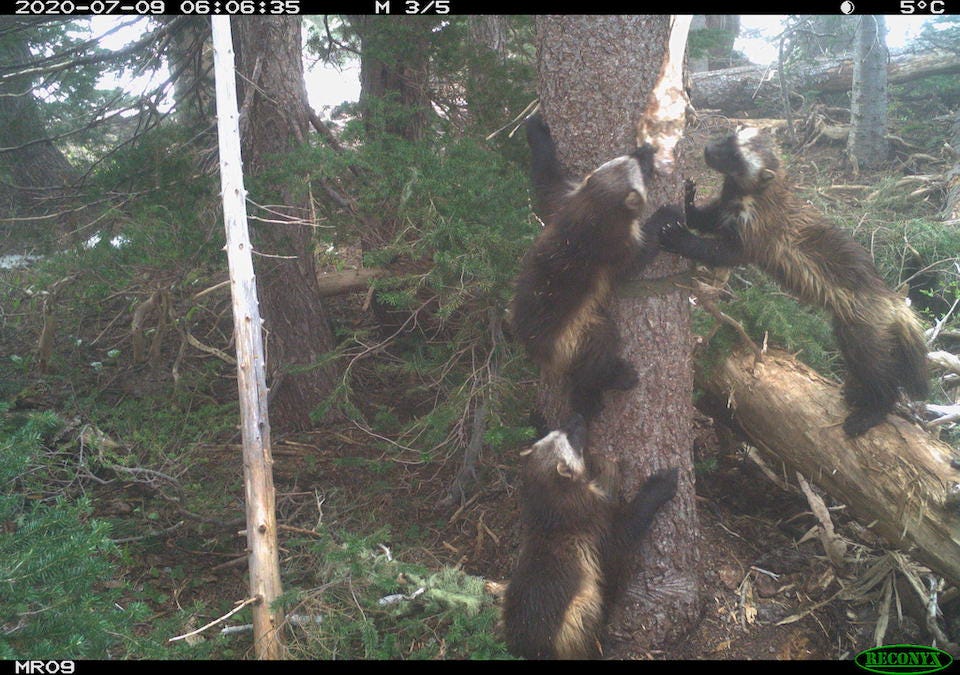 Above, wolverines spotted in Mount Rainier National Park. Photo: NPS/
Cascades Carnivore Project
.
Wolverines return to Mount Rainier after 100 years
Conservationists at Mount Rainier National Park in Washington State have spotted a wolverine mother and her two kits. A reproductive female hasn't been seen in that national park for over a century — suggesting ecological conditions in the area are improving, the National Park Service says. "It's really, really exciting," said Mount Rainier National Park Superintendent Chip Jenkins. "It tells us something about the condition of the park — that when we have such large-ranging carnivores present on the landscape that we're doing a good job of managing our wilderness." Wolverines are extremely rare in the United States. There are estimated to be only 300 to 1000 individual wolverines in the lower 48 US states.
BNP Paribas may lose up to 50% of power clients due to coal policy
BNP Paribas SA expects to lose up to 50% of clients in power generation because of its commitment to stop financing coal, S&P Global Market Intelligence reports. In an interview with the head of corporate social responsibility at BNP Paribas, Laurence Pessez outlined the bank's commitment to end relationships with customers that use coal to generate electricity and its increasing focus on biodiversity in a year marked by the coronavirus pandemic.
General Mills supply chain to focus on restoring soil
General Mills (GIS) plans to cut 28% of greenhouse gas emissions across its supply chain by 2025, starting with implementing more regenerative agriculture practices, Kevin O'Donnell, global director of sourcing and operations sustainability, said in an interview with Successful Farming. "We were the first company across any sector to set a science-based target all the way out to what's called scope three, or our full value chain, which really begins with farmers," O'Donnell said. "If you look at where our GHG footprint lies as a company, the biggest portion is in agricultural ingredients sourcing and transformation. It's also an absolutely critical lever for reducing climate change."
Barclays: Challenges of changing to 'green finance'
Barclays announced a new climate policy earlier this year to bring its lending in line with the Paris Agreement on climate change following pressure from shareholders to phase out its financing of fossil fuel companies, S&P Global Market Intelligence reports. Elsa Palanza, Barclays global head of sustainability and citizenship, gave an interview to S&P Global Market Intelligence about the new policy and how the coronavirus pandemic is affecting the bank's environmental, social and governance strategy. "We made a commitment to align the entirety of our portfolio to the goals and the timelines of the Paris Agreement. We are going to start with the energy and power sectors as we do that analysis because they are most material to Barclays and they are the most carbon intensive."
August's extreme weather: Climate change and bad luck
August's hurricanes, wildfires and a derecho damaged vast sections of the U.S. Science News reports that it was partly just bad luck these events hit back-to-back, but for hurricanes and more frequent wildfires, scientists have long warned that climate change would be a factor. Science News takes a closer look at what causes these kinds of extreme weather events, and the extent to which human-caused climate change may be playing a role in each of them.
States sue White House over rollback of environmental law
A coalition of 21 states sued the Trump administration Friday for its rollback of the National Environmental Policy Act, which requires the government to weigh environmental and community concerns before approving pipelines, highways, drilling permits, new factories or any major action on federal land, Rebecca Beitsch reports for The Hill. The rewrite of NEPA removes requirements to consider climate change before proceeding on a project.