News briefs: Bureau of Land Management director ousted
Plus: Oil giants back anti-climate lobby groups, and Amazon creates new label for climate-friendly products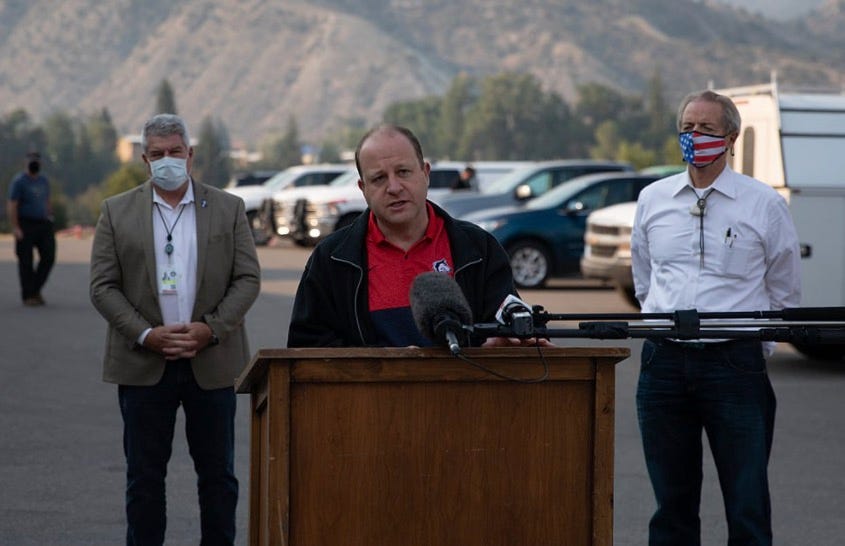 Above, BLM Director William Perry Pendley at the Grizzly Creek fire in Glenwood Canyon, Colo. in August. Photo: White River National Forest U.S. Forest Service.
Judge ousts BLM Director Pendley
An order by the chief judge of the Montana federal court on Friday ousted William Perry Pendley as the top official at the Bureau of Land Management. The ruling also could invalidate a wide range of decisions he took to open up vast parts of the American west to oil and gas drilling, Steve Mufson writes for The Washington Post. According to the report, Pendley has been serving as BLM's acting director even though President Trump never sent his name to the Senate for confirmation, Judge Brian Morris said in his order. The judge gave the Interior Department and the plaintiffs in the case 10 days to submit examples of actions Pendley took that might be set aside. Mufson writes that the order could also call into question decisions made by officials in similar positions across the administration, which has not nominated people to fill 133 of the more than 750 key positions that require Senate confirmation. 
Oil giants back anti-climate lobby groups despite pledge
An investigation by Unearthed and HuffPost shows BP (BP) and Royal Dutch Shell (RDS.A) excluded anti-climate groups from their public reviews of lobbying by their trade associations. The report notes BP and Royal Dutch Shell earlier this year assessed the climate lobbying done by trade associations they have been involved with, and publicly quit a handful of high-profile industry groups campaigning to undermine regulations to reduce greenhouse gases. But according to the investigation, Shell and BP are still active members of at least eight trade organizations lobbying against climate measures in the U.S. and Australia.
Amazon creates climate pledge label
Amazon (AMZN) has created the climate pledge friendly label, which will appear next to listings for products that meet at least one of the company's 19 standards for sustainability, the Seattle Times reports. The label launched for about 25,000 product listings, including those that are part of an Amazon program to reduce packaging waste, the Times said. ECOLOGO Certified is one of the standards. Products that meet this standard — such as Mrs. Meyer's cleaning brand and Scott Paper Towels — "can reduce the environmental impact of one or more stages of the product life cycle," Amazon says on its website. 
Atlantic drilling ban expanded
The Trump administration has expanded a ban on exploratory drilling off the coasts of North Carolina and Virginia, NPR reports. It's part of the latest extension of an existing offshore drilling moratorium in the Gulf of Mexico. The report cites the memo as saying the ban on leasing does not apply if it's for "environmental conservation purposes, including the purposes of shore protection, beach nourishment and restoration, wetlands restoration, and habitat protection."