News briefs: Business Roundtable backs carbon pricing
Plus, hurricanes go Greek, Asian Infrastructure Investment Bank targets climate mitigation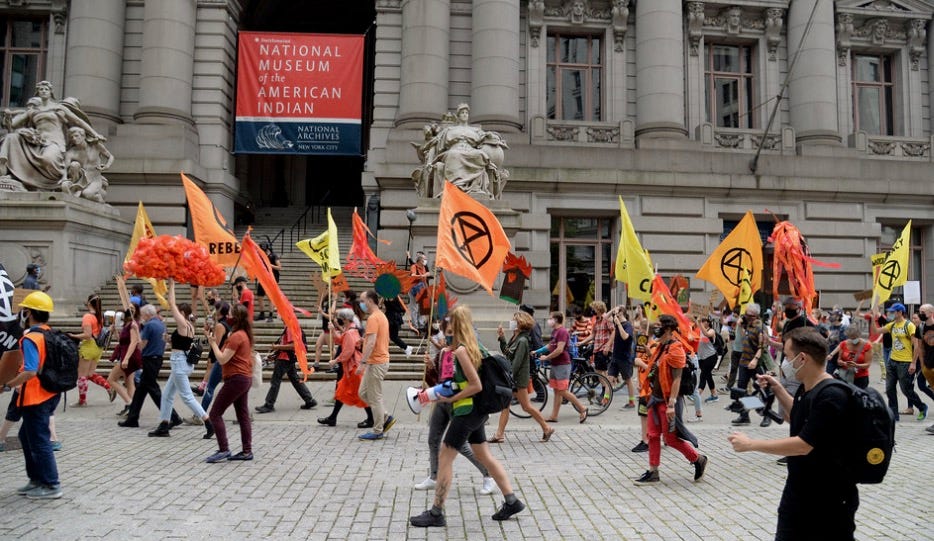 Members of Extinction Rebellion New York held a march last weekend to bring attention to U.S. wildfires. Photo:
Felton Davis
/flickr.
Business Roundtable backing carbon pricing
Ahead of Climate Week, the Business Roundtable on Wednesday released new principles and policies to address climate change, including the use of a market-based strategy that includes a price on carbon. The plan aims to incentivize the development and deployment of breakthrough technologies needed to reduce greenhouse gas emissions, the group said in a statement. To combat the worst impacts of climate change, Business Roundtable CEOs are calling on businesses and governments around the world to work together to limit global temperature rise this century to well below 2°C. above pre-industrial levels, consistent with the goals of the Paris Agreement. In the U.S., this means reducing net greenhouse gas emissions by at least 80% by 2050 as compared to 2005 levels. The organization did not indicate if it would support a carbon tax or traded emissions permits.
Storm names: It's all Greek
This year's Atlantic hurricane season has been so busy, officials will soon have used up all the 2020 designated names and need to — for only the second time — start using the Greek alphabet. After the National Hurricane Center uses the name Wilfred, possibly as soon as the coming week, it'll start using Greek names as happened in 2005. That year, the season produced six Greek-named storms: Tropical Storm Alpha, Hurricane Beta, Tropical Storm Gamma, Tropical Storm Delta, Hurricane Epsilon and Tropical Storm Zeta. USA Today reports that if Wilfred forms, it's likely to be the earliest "W" storm on record. The NHC advisory for Tropical Storm Vicky, west-northwest of the Cabo Verde Islands off the coast of Africa, said Wednesday the storm was weakening. Vicky was the earliest 20th Atlantic named storm. 
Oceans and seafood fund focus on tech and sustainability
Seed to Growth Ventures, a sustainability-oriented food and agriculture investment firm with offices in Chicago and San Francisco, is expanding its investment portfolio further into the seafood sector, with its managers pledging up to $100 million in future investments. Seafood Source reports that the group, backed in part by Lukas Walton, the grandson of Walmart founder Sam Walton, wants to target its investment to companies and projects that will move the industry forward in its thinking both in how it uses technology, and in how it approaches sustainability issues, the two managing directors of S2G's oceans and seafood fund.
Asian Infrastructure Investment Bank targets climate mitigation
The Asian Infrastructure Investment Bank plans to set a target of investing 50% of its annual direct financing into projects linked to climate change mitigation by 2025, according to a report from Reuters. "We have increased substantially investment to deal with climate change," this Reuters report quoted AIIB President Jin Liqun, addressing the Climate Bonds Initiative Conference. "We aim at achieving 50% direct investment for climate change mitigation by 2025." According to the report, the new target, expected to be approved by the bank's members later this month, would form part of the bank's new 10-year strategy, set to go live in January 2021. The target would bring the AIIB into line with the European Investment Bank.