News briefs: Canada wants climate data for Covid-19 biz loans
Plus, high altitude balloons can provide internet access after a natural disaster.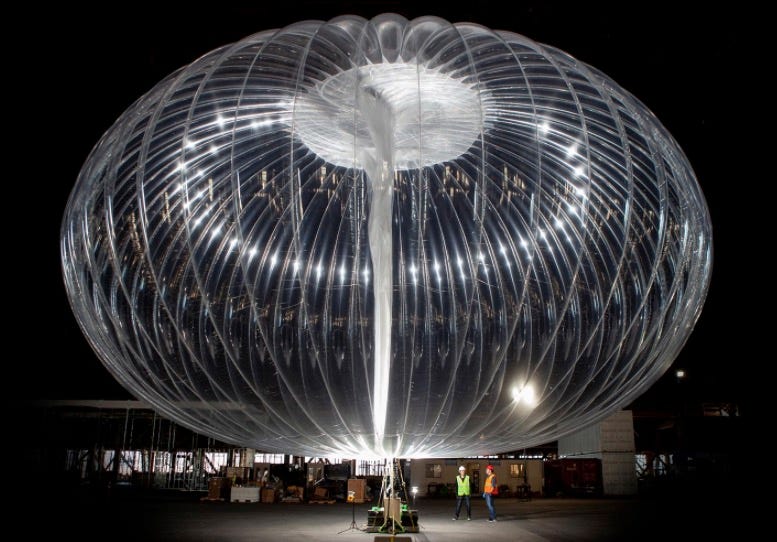 Loon uses high-altitude balloons to provide internet access to rural and remote areas.
Canada requires environmental plans for big business bridge loans 
The Canadian government is offering bridge financing for big businesses across all sectors to help them keep employees on the payroll through the pandemic, but there are conditions attached — including a requirement that companies receiving the loans disclose their environmental plans. The large employer emergency financing facility (LEEFF) will provide support to employers with annual revenues of more than $300 million whose credit needs aren't being met through conventional financing. 
Resilient tech innovating to fight climate change
Giant solar-powered balloons (pictured above) from communications company Loon, a subsidiary of Alphabet Inc. (GOOGL), quickly provided wireless internet connections in Puerto Rico after nearly every other form of communication was knocked out by Hurricane Maria in 2017. It's one example of how resilience technology can deal with the hazards of climate change and other extreme events and eventually replace vulnerable legacy systems.
SmartBrief/ASME
Buffett-backed $1 billion solar project OK'd
The Trump administration this week gave approval to Berkshire Hathaway subsidiary NV Energy's $1 billion Gemini Solar project — the largest proposed solar project in the U.S. The 690-megawatt project will be built northeast of Las Vegas and when completed would be the eighth-largest solar power project in the world.  
Read more about the project at Solar Power World
AOC to co-chair climate change panel for Biden
Rep. Alexandria Ocasio-Cortez (D-NY) will co-chair a climate change panel for presumptive Democratic presidential nominee Joe Biden, Reuters reports. Ocasio-Cortez, who supported Sen. Bernie Sanders, will co-head the climate policy group Biden had set up in collaboration with Sanders, his campaign confirmed Wednesday. Reuters also reported the panel's other co-chair will be former U.S. Secretary of State John Kerry.
Study: oil company net zero claims overstated
BBC News reports that claims by oil and gas companies that they are curbing their carbon emissions in line with net zero targets are overstated, according to a new review. The independent analysis of six large European corporations acknowledges they have taken big steps on CO2 recently. But the authors say none of the companies are yet aligned with the 1.5°C temperature goal.
Eastman works on circular economy tech for plastics
Eastman Chemical seeks to be a circular economy leader through initiatives designed to recycle waste plastic feedstocks and waste polyesters. The two technologies Eastman has in development are forms of chemical recycling but are not meant to displace mechanical recycling, says Eastman CEO Mark Costa.
SmartBrief/GreenBiz
Environmental groups sue Interior over NPS and BLM appointments
Environmental protection groups filed a lawsuit this week against the U.S. Department of Interior over appointments of National Park Service and Bureau of Land Management leaders. The lawsuit was filed in the U.S. District Court for the District of Columbia by the Public Employees for Environmental Responsibility and the Western Watersheds Project. The suit seeks to vacate Interior Secretary David Bernhardt's May 5 order to extend appointments of NPS Deputy Director David Vela and BLM Deputy Director William Pendley by one month.
The coronavirus pandemic isn't slowing climate change
With the coronavirus pandemic shutting down most global activity, a consequent crash in global carbon emissions has been widely reported, Matthew Brown writes in USA TODAY. While analysts agree the historic lockdowns will significantly lower emissions, some environmentalists argue the drop is nowhere near enough.