News briefs: Citi pledges $250 bln for carbon transition
Plus, BofA joins accounting initiative, fund managers launch green investing tool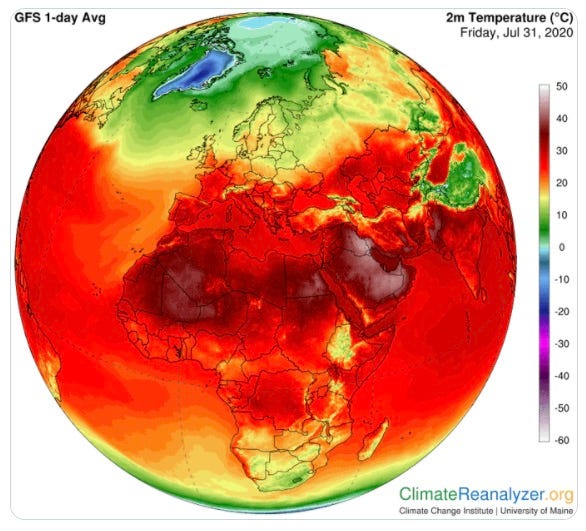 How hot is it? The World Meteorological Association reports there was widespread and extreme heat last week in the Middle East, with temperatures well above 50°C. (122°F.) in Iran, Iraq, Kuwait and Saudi Arabia.
Citi pledges $250 billion to low-carbon transition
Citi (C) has just announced its new five-year 2025 Sustainable Progress Strategy to help accelerate the transition to a low-carbon economy. This new strategy includes a $250 billion environmental finance goal to finance and facilitate climate solutions globally. This builds on Citi's previous $100 billion goal announced in 2015 and completed last year, more than four years ahead of schedule. This new strategy, integrated into Citi's Environmental and Social Policy Framework, will focus on three key areas over the next five years: low-carbon transition, climate risk and sustainable operations.
Bank of America joins carbon accounting initiative
The Partnership for Carbon Accounting Financials says Bank of America (BAC) has joined its initiative to develop a common framework to assess financed emissions. Bank of America is the largest and most diversified global financial institution to participate in this collaboration. The company has been working with the PCAF Core Team over the past several months and will continue to be part of the Core Team, providing its financing and risk management expertise to support the development of a consistent methodology for assessing, measuring and disclosing greenhouse gas (GHG) emissions attributed to financing activities. The goal of PCAF is to develop a global accounting standard to be utilized by the financial sector, providing more transparency to stakeholders.
Green investing tool launched by funds with $1 trillion in assets
Pension fund managers from three continents have launched an online green-investing tool that measures companies against United Nations sustainable development goals, Bloomberg Green reports. According to the report, the SDI Asset Owner Platform will allow investors to assess 8,000 companies using the UN criteria. The four pension funds, which manage a combined $1 trillion in assets, are APG Asset Management NV and PGGM NV from the Netherlands, British Columbia Investment Management Corporation from Canada and AustralianSuper.
Irish Supreme Court ruling could have climate policy broad impact
Friday's ruling by the Irish Supreme Court on climate change policy could have "huge ramifications" across Europe, the group which took the case has said, according to a report on BBC.com. That decision ruled the government's 2017 National Mitigation Plan did not give enough detail on the reduction of greenhouse gases. The BBC reported that the Irish government said it would "carefully examine the decision," while Clodagh Daly, a spokesperson for Friends of the Irish Environment, said the ruling "shows governments have to do more to protect their citizens from the worst impact of the climate crisis.
Tracking HK-listed companies focusing on ESG
Hang Seng Indexes is planning to launch more gauges tracking Hong Kong-listed companies with environmental and social conscience factors, the South China Morning Post reports, in response to investor demand for companies to take action on climate change and ensure good governance. The compiler also plans additional bay area indices as progress to develop the future economic hub increases, according to the report.
Have global oil demand and CO₂ emissions peaked?
A Norway-based energy consultant says global oil demand and carbon dioxide emissions probably peaked in 2019 as the Covid-19 pandemic will have a lasting impact on both, according to a report by the World Economic Forum. The consulting group DNV GL said global energy use would be 8% lower in 2050 than previously expected due to the impact of the pandemic. Also, renewable energy is seen to benefit from the crisis, because falls in energy demand make cheaper renewable sources more attractive.