News briefs: Climate change has teeth
Plus, GM rolls out electric Hummer, and California governor's office faces lawsuit over fracking permits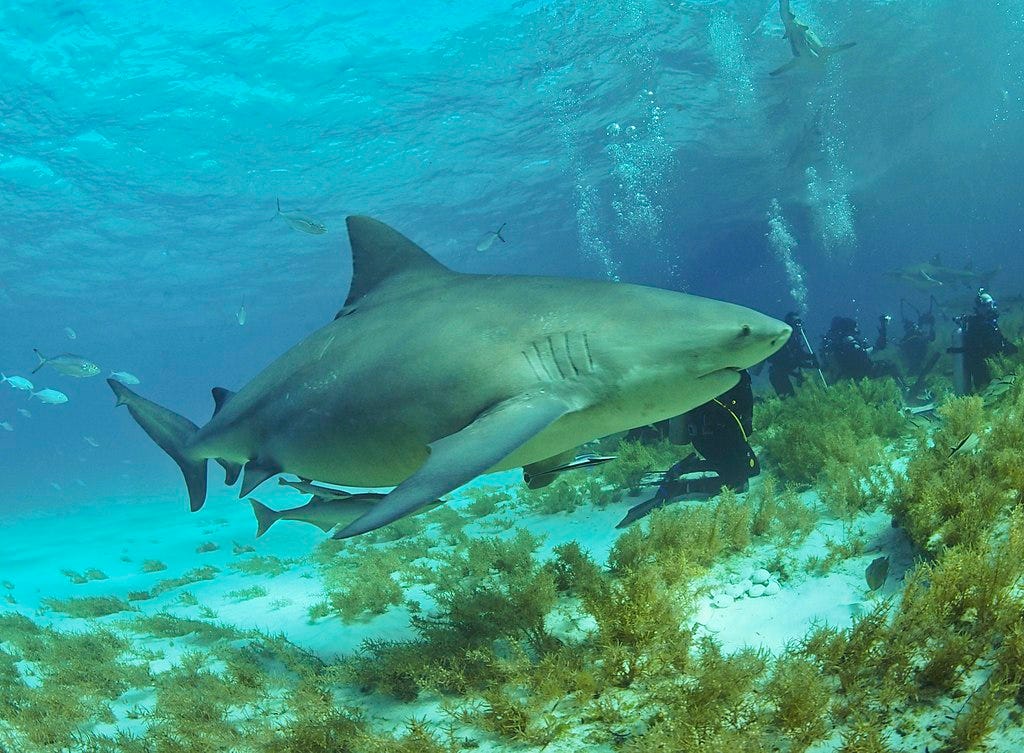 Above, bull sharks, experts say, are built like tanks. Photo: Albert Kok~enwiki/Wikipedia.
Climate change could be factor in Australia's fatal shark attacks
Australia has seen a spike in the number of fatal shark attacks this year, and experts are considering what role climate change is playing, CNN reports. As ocean temperatures rise, ecosystems are being destroyed and sea life must adapt. Researchers say sea life is migrating to new areas and sharks are following their prey closed to shorelines also popular with humans. Earlier this month, Australia marked its seventh fatal attack — a milestone not seen in 86 years. Researchers say they've seen more bait fish aggregations near the coast and the sharks are just responding to where the bait fish are.
GM introduces the electric Hummer
The electric Hummer has arrived. General Motors (GM) on Wednesday debuted the GMC Hummer EV, its first electric pickup. It has a 350-mile range, 1,000 horsepower and up to 11,500 pound feet of torque. With a starting price of $80,000, it's twice the cost of a gas-powered pickup, TechCrunch reports. The truck has all-wheel steering, which allows it to drive diagonally in a mode called "Crabwalk," according to the report. The truck has removable roof panels, 35-inch tires and an air suspension system that can raise the vehicle six inches. TechCrunch says some details are still missing, including the capacity of the battery, and towing capacity.
California governor being sued over fracking permits
A national environmental organization is planning to sue California Gov. Gavin Newsom's administration for issuing new fracking permits, including six approved last week, Emily Hoeven writes in CalMatters. According to the report, Newsom last month asked the state legislature to halt new fracking permits by 2024. CalMatters quotes Kassie Siegel, director of the Center for Biological Diversity's Climate Law Institute as saying, "by passing the buck to the legislature and continuing to fast-track more fracking and drilling, Newsom is fanning the flames of the climate emergency." Siegel reportedly said the permits fail to comply with the California Environmental Quality Act. The Center for Biological Diversity told Newsom on Sept. 21 of their intent to sue if his administration continued to issue fracking permits.
Nuclear, fossil-fueled plants at risk from water stress
As global temperatures rise along with humanity's water consumption, nuclear and fossil-fueled power plants that rely on freshwater for cooling may not be able to perform at peak capacity or could be forced to shut down temporarily even as demand for their supplies for indoor cooling and other uses increase, Esther Whieldon and Taylor Kuykendall write in S&P Global Market Intelligence. According to the report, climate change-exacerbated water shortage issues pose a performance risk to power plants, such as hydropower and nuclear, around the world. In the lower 48 states, more than half of the fossil-fueled and nuclear fleet is located in areas forecast to face climate-related water stress by the end of this decade under a business-as-usual scenario, according to an analysis by S&P Global Market Intelligence. The report says electric utilities' overall exposure to these risks could diminish as they pursue decarbonization strategies and replace water-dependent plants with wind and solar generation that require little to no water.