Discover more from Callaway Climate Insights
Callaway Climate Insights provides news, critical analysis and original perspectives at the intersection of global finance and the challenges of climate change. 
Over 3,000 subscribers
News briefs: Coffee on the high seas
Plus: Euronext launches new ESG index, and Maersk ships help with global climate research.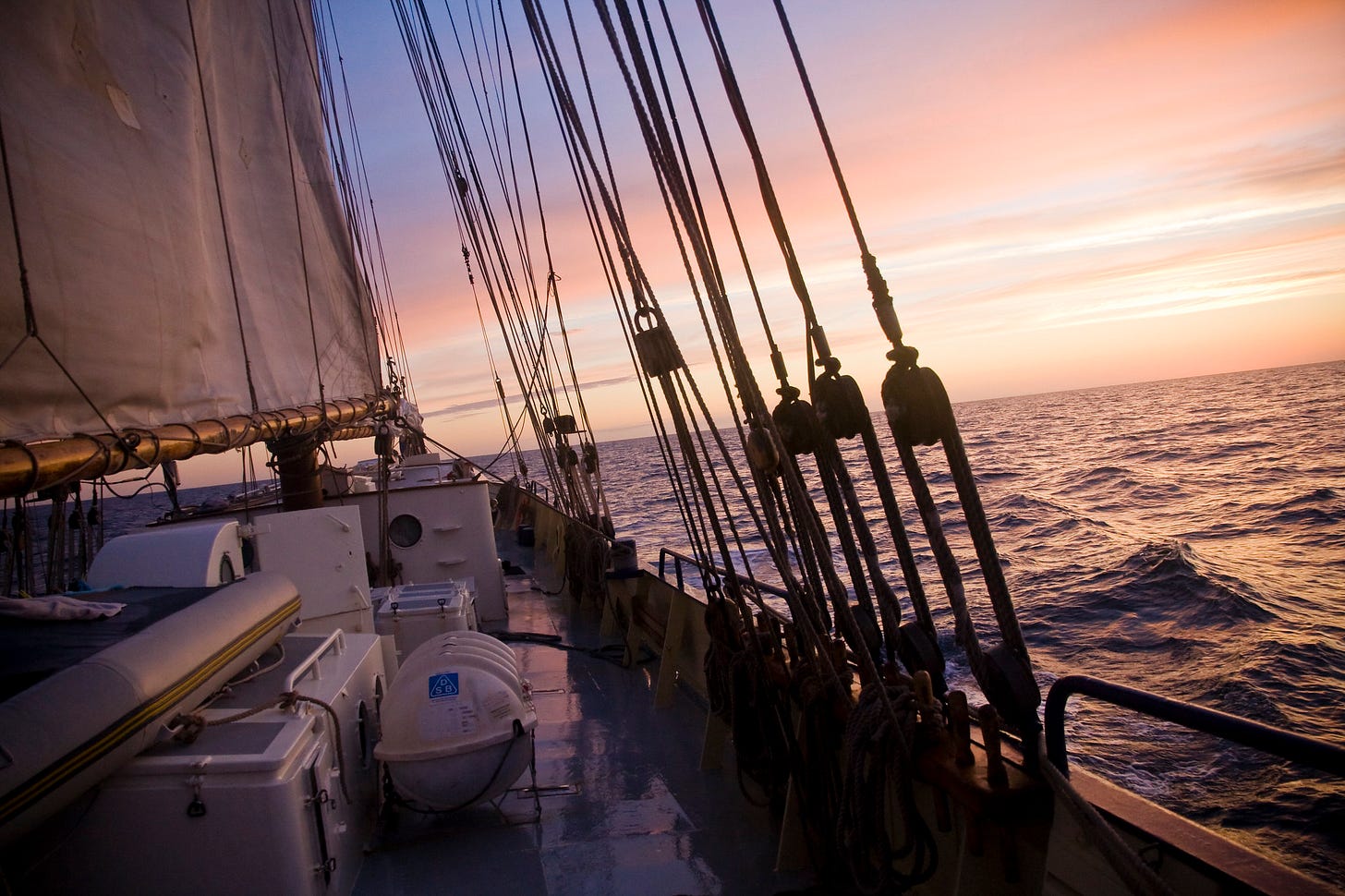 Carbon-neutral coffee comes to Cornwall via schooner
The French schooner De Gallant docked in Falmouth harbor in Cornwall at the end of May, three months after leaving the port of Santa Marta in Colombia laden with tons of sustainably sourced coffee beans. For Richard Blake, the owner of Yallah Coffee, the delivery was the culmination of almost five years developing the idea for a sustainably sourced coffee without the huge carbon footprint of most imported beans. 
Euronext launches ESG products, large-cap index
Euronext just announced the launch of a new suite of ESG-focused products designed to provide "a robust framework of tools" for European capital markets to fuel sustainable growth. Euronext has partnered with Vigeo Eiris Moody's to design a new ESG index, the Euronext Eurozone ESG Large 80, which tracks the Eurozone's 80 best-performing large-cap companies that are strong on social and governance criteria and leading the transition to a low carbon economy. Euronext also is aligning Europe's leading Low Carbon 100 index to the Paris Agreement and expanding Euronext ESG bonds offerings.
Maersk leverages fleet for climate change research
Maersk has committed its entire fleet of company-owned vessels to assist global research on weather patterns and climate change, according to a recent report in FreightWaves/American Shipper. A.P. Møller-Maersk said 300 vessels will be equipped by the end of the year to provide data through the Voluntary Observing Ship (VOS) program. While Maersk already has many vessels contributing to the program, the newly expanded commitment will see its entire fleet participating by the end of 2020, according to the report. The recorded data helps meteorologists create more accurate weather and storm forecasts and will be used in the creation of atmosphere-ocean models that will help scientists better understand climate change. 
Dow sets targets to reduce GHG emissions, stop plastic waste
Dow Inc. (DOW) just announced what it calls "aggressive new commitments to address both climate change and plastic waste..." The company's new sustainability targets include achieving carbon neutrality by 2050, a million metric tons of plastic to be collected, reused or recycled by 2030, and 100% of Dow products sold into packaging applications to be reusable or recyclable by 2035. The company also issued its 2019 Sustainability Report, outlining progress and results connected with its 2025 sustainability goals.
Germany to raise taxes on high-emission cars for climate change
As part of its climate change reforms, the German government is set to raise road taxes for higher-polluting cars. But environmental groups and Greens said the financial penalty was not high enough. German road tax was already calculated based on a combination of engine size and emissions, but the new pricing system is designed to increase the costs for high-emissions vehicles while keeping levels for more frugal vehicles either the same or slightly reduced.
Investors in Africa are betting on the reality of climate change
African investors are already thinking about taking on the fixed costs of green investments, according to this report from QuartzAfrica, both in terms of assessing risk through a climate lens but also in terms of investable opportunities, according to a survey by AVCA, the African private equity trade body. Africa is often cited as the most vulnerable continent to the fast-evolving impact of global climate change. According to the survey, up to 77% of all African and non-African investors consider climate risk when making investments "sometimes" or "regularly". 
Above, view from the deck of De Gallant, 2010. Photo:
savagecat
/flickr.