Discover more from Callaway Climate Insights
Callaway Climate Insights provides news, critical analysis and original perspectives at the intersection of global finance and the challenges of climate change. 
Over 3,000 subscribers
News briefs: Dumping Fukushima's contaminated water
Plus, FERC's carbon-pricing idea, and the vast growth outlook for offshore renewables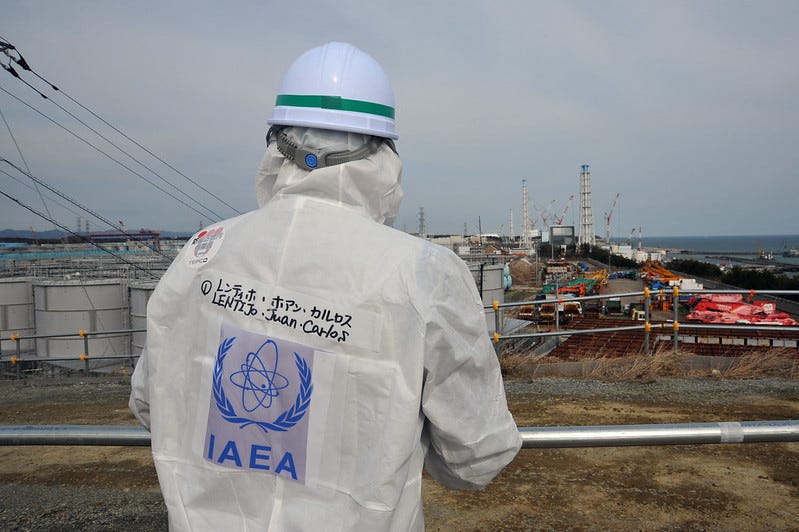 Juan Carlos Lentijo, team leader for an IAEA mission to review Japan's plans and work to decontaminate the Fukushima Daiichi Nuclear Power Station, looks at tanks holding contaminated water and the Unit 4 and Unit 3 reactor buildings during a tour of the tsunami-stricken nuclear power plant in 2015. Photo:
IAEA
.
Japan plans to release Fukushima-contaminated water in the sea
Almost a decade after the Fukushima nuclear disaster, the Japanese government plans to release more than a million tons of contaminated water into the sea, according to published reports. A formal announcement is expected later this month, Reuters reports. What to do with contaminated water from the Fukushima Daiichi plant has been a problem during the lengthy decommissioning project, the report notes. Nearly 1.2 million metric tons of contaminated water are currently stored in tanks at the facility, where multiple meltdowns occurred after the 2011 earthquake and tsunami.
E&E News: FERC gets rapped over carbon pricing plan
The Federal Energy Regulatory Commission has paved the way for states to incorporate a carbon tax into regional power markets, E&E News reports in its Energy Wire. FERC has issued a proposed policy statement saying the panel is willing to consider grid operators' requests to set a carbon price. There are now 30 days to comment on the proposal, and some groups are already starting to weigh in. E&E News calls the move "unprecedented" and says it's getting mixed reviews, including pushback from conservatives and progressive environmentalists. 
Offshore renewables key to energy transformation, investment
Offshore renewables, including offshore wind, wave, tidal, ocean thermal, and floating solar PV, will witness substantial growth in capacity over the next decade and play an essential role in the global energy transformation, according to the International Renewable Energy Agency's (IRENA) projections. In this context, representatives from 40 countries gathered to identify collaboration areas and agree on concrete actions to accelerate progress and ensure rapid uptake of these promising technologies. During his welcoming remarks, IRENA Director-General Francesco La Camera stressed offshore renewables' importance in meeting growing energy demands and improving living conditions. "Offshore renewables have the potential to meet more than four times the global energy demand of today, foster a blue economy, and bring socio-economic benefits to some of the most vulnerable areas to climate change such as small island territories and coastal areas," he said. According to IRENA, global offshore wind and ocean energy installed capacity will reach 228 GW and 10 GW respectively by 2030.
Philanthropies channel more money to climate technologies
The Washington Post reports that since its founding in 2014, Prime Coalition has channeled more than $24 million from wealthy donors and big foundations into a portfolio of 10 ventures with potential to cut greenhouse gas emissions. The report notes that last year, less than 2% of $730 billion in global philanthropic giving was spent fighting climate change, but natural disasters such as hurricanes and wildfires are bringing the problem home. The Post quotes John Balbach, director of Impact Investments at the John D. and Catherine T. MacArthur Foundation, as saying, "We see climate change as an existential threat, and the window to address it in a meaningful way is closing." The MacArthur Foundation earlier this year invested $5 million in Prime's portfolio.