Discover more from Callaway Climate Insights
Callaway Climate Insights provides news, critical analysis and original perspectives at the intersection of global finance and the challenges of climate change. 
Over 3,000 subscribers
News briefs: England could run out of water by 2040; pubs forced to dump beer
Plus, U.S. needs more electric transmission resources, UBS invests in impact fund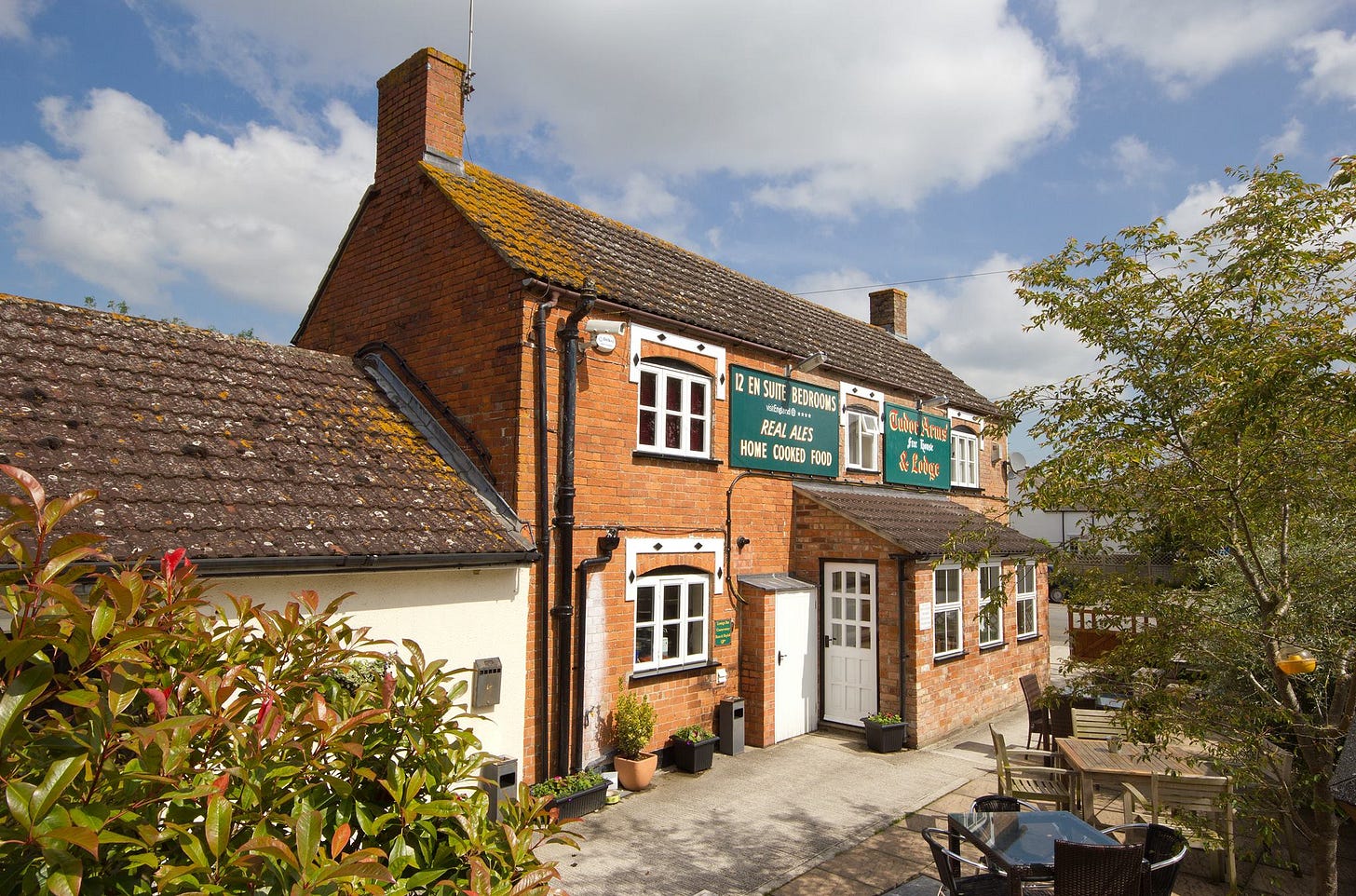 Above, the Tudor Arms in Gloucester: It was "heart breaking" having to flush more than 1,500 pints of beer away.
England could run out of water by 2040; forced to dump beer
The UK's Public Accounts Committee says the organizations responsible for Britain's water supply have "taken their eye off the ball" and there is a real risk that some parts of England could run out of water by 2040, according to this report in SmartEnergy.com. Over 3 billion liters of water, a fifth of the UK's daily consumption, are lost daily due to non-revenue losses like leakages, a situation the committee says is unacceptable. In somewhat related news, the coronavirus shutdown has been the ruin of millions of pints of beer in the U.K., and pub owners are working with water authorities to dispose of it by dumping it into the sewer system. "There are some risks associated with tipping large quantities of beer into the sewer system," said an official from Thames Water, quoted in this BBC.com story.
Rethink Impact raises $182 million for its second fund
UBS Wealth Management Americas, part of UBS (UBS) has partnered with impact investing venture capital fund Rethink Impact, providing $182 million for its second fund. The fund is particularly focused on the health, education, environmental sustainability and economic empowerment sectors and includes companies that merge strong businesses with a social mission. Rethink Impact, with offices in Washington, D.C., New York and San Francisco, primarily invests in women-led technology companies.
U.S. needs more electric transmission resources
The US could create jobs, help rural communities and increase access to reliable, low-cost renewables by building out transmission infrastructure, but state-level permitting processes and "not in my backyard" sentiments have made it difficult for projects to progress. A climate plan recently proposed by House Democrats would give the federal government more control over the approval process, plus there's an opportunity to repurpose former coal lines for clean energy. Read more from the Los Angeles Times via SmartBrief.
Dominion cites ESG factor in sale
Dominion Energy (D) CEO Thomas Farrell said in an investor call that ESG practices were a "key consideration" in the sale of its midstream gas assets, according to the company. Dominion announced the sale of its natural gas transmission and storage business to Berkshire Hathaway Energy (BRK.A) (BRK.B) earlier this month in a deal valued at $9.7 billion, including the assumption of $5.7 billion of debt. 
GreenBiz 30 Under 30 list of sustainability leaders
GreenBiz presents its fifth annual cohort of 20-somethings who are sustainability leaders in their companies, nonprofits and communities. The publication says nine members of this year's cohort work are affiliated with some of the world's most influential companies, including Amazon AMZN, Goldman Sachs (GS), Hewlett Packard Enterprise (HPE), MetLife (MET) and more. Read the story and see the full list here.
Federal appeals court upholds FERC order on energy storage
A federal appeals court late last week upheld a major Federal Energy Regulatory Commission order that aims to remove barriers to energy storage participation in wholesale electricity markets, S&P Global reports. The ruling by the U.S. Court of Appeals for the District of Columbia Circuit was a win for storage supporters. It focused on a 2018 FERC order designed to remove barriers that keep energy storage resources, such as batteries and flywheels, from more fully participating in markets run by the nation's regional transmission organizations and independent system operators.