Discover more from Callaway Climate Insights
Callaway Climate Insights provides news, critical analysis and original perspectives at the intersection of global finance and the challenges of climate change. 
Over 3,000 subscribers
News briefs: Fat bears, BlackRock's new green fund
Plus, Covid and climate woes are sinking small island nations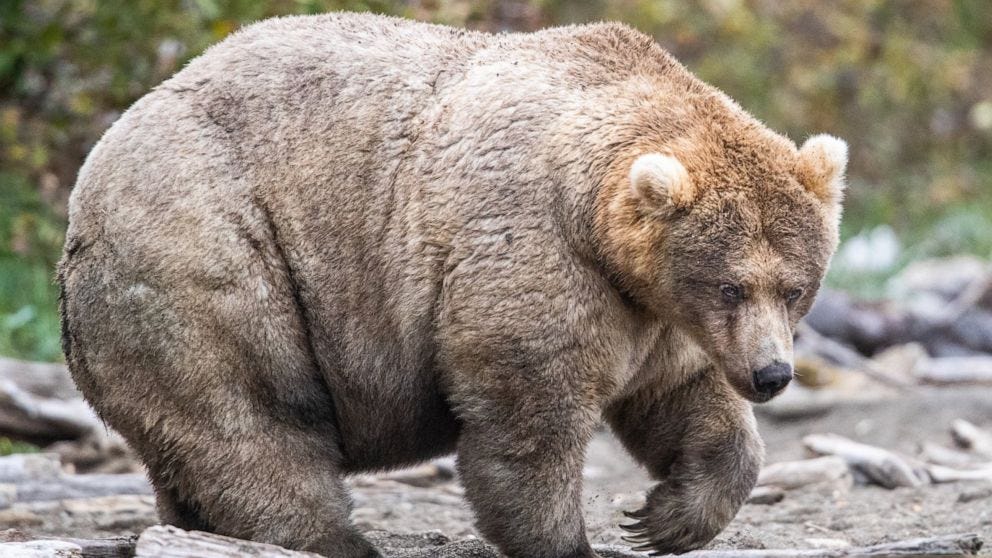 Above, 435 Holly was the winner of the 2019 Fat Bear Week contest. Katmai National Park & Preserve said, "She is fat. She is fabulous."
Who cares about fat bears?
Lots of people, it turns out. And we should care about the health of brown bears, which are at risk of the effects of climate change. They face changes in temperature, and in vegetation and prey, as well as greater risk from increased human-bear interactions, and they are a critical part of the ecosystem. So we take note today of Fat Bear Week — an annual tournament celebrating the success of the bears at Brooks River in Katmai National Park. The public gets a chance to vote for the chunkiest champion. According to Explore.org, "Fat bears exemplify the richness of Katmai National Park and Bristol Bay, Alaska, a wild region that is home to more brown bears than people and the largest, healthiest runs of sockeye salmon left on the planet." Find out more at Explore.org's Fat Bear Week site, or follow Katmai National Park on Twitter. Today's final showdown is between bears named Chunk and 747.
BlackRock's green-weighted euro government bond ETF
BlackRock (BLK) has launched an ETF providing climate change risk-adjusted exposure to eurozone government bonds. The iShares € Govt Bond Climate ETF essentially weights countries on their level of risk exposure to climate change, Simon Smith reports in ETF Strategy. The fund is listed on Deutsche Börse's Xetra and is linked to the FTSE Advanced Climate Risk-Adjusted EMU Government Bond Index. ETF Strategy says the underlying index FTSE Russell is based on the FTSE EMU Government Bond Index which comprises fixed-rate government bonds issued in euros by EMU countries that have at least one year until maturity, are rated investment grade by S&P and by Moody's, and meet minimum thresholds for market accessibility and issue size. The constituents of the parent index are weighted in relation to the market capitalization of the country's eligible debt. It is these weights that act as the starting point for the FTSE Advanced Climate Risk-Adjusted EMU Government Bond Index which thereupon alters the weights according to an assessment of each country's climate risk exposure, Smith writes.
Small island nations are sinking
With international tourism virtually non-existent due to Covid-19, some countries are missing out on income to help fund climate adaptation, according to a new report in Scientific American. The report quoted Jerome Xavier Walcott, minister for foreign affairs of Barbados, as saying, "As small island developing states, we are struggling to stay afloat literally and figuratively." Barbados was one of several island nations to raise concerns this week with the United Nations. According to the report, the pleas for debt relief came from leaders of the Bahamas, Barbados, Dominica, Grenada, the Maldives, Samoa, the Solomon Islands, Vanuatu and other small island developing countries which said lockdowns implemented to fight the pandemic have sent revenues plummeting, thereby crippling national climate adaptation plans and efforts to rebuild from recent tropical weather disasters. 
Conagra Brands shift to packaging made from plant-based fibers
Conagra Brands (CAG) recently announced new products featuring bowls made from plant-based fibers for Healthy Choice Power Bowls, new Hungry-Man Double Meat Bowls, and P.F. Chang's Ramen single-serve meals. Conagra partnered with a sustainable materials science technology firm, Footprint, according to a report from DeliMarketNews.com, quoting Katya Hantel, senior director of sustainable development at Conagra, as saying, "Plant-based fiber packaging is critical to helping Conagra Brands progress toward making 100% of our current plastic packaging renewable, recyclable, or compostable by 2025."