News briefs: Is the U.S. military ready?
Plus, a giant renewable energy project in Australia, and Allianz tightens coal exposure policy.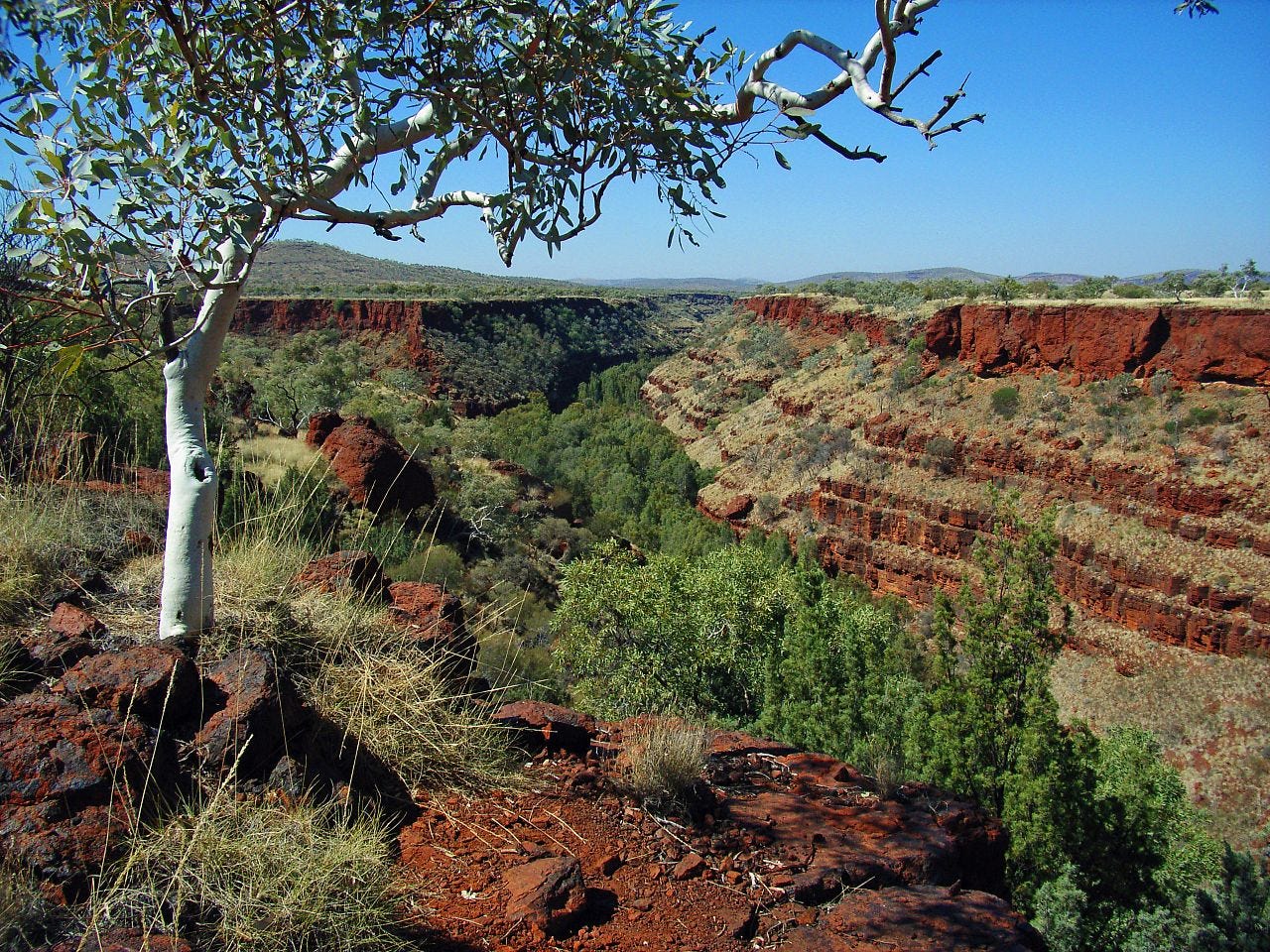 Karijini National Park, Pilbara Region, Western Australia. Gypsy Denise/Wikipedia.
Sea level rise and beyond: Is the U.S. military prepared for climate change?
Climate change has already wrought economic and physical havoc on U.S. military bases. In Hampton Roads, an area of Virginia described by some as the greatest concentration of military might in the world, rising sea levels and worsening storms threaten basic operations. Elsewhere wildfires and melting permafrost limit the types of operations the military can conduct, all of which affect its ability to respond to conflicts and humanitarian disasters. While the military has commissioned studies and funded resilience efforts, climate change impacts continue to grow more serious and more difficult to address.
Bulletin of the Atomic Scientists
Huge renewable energy project in Australia recommended for environmental approval
A vast renewable energy scheme has been recommended for environmental approval by Western Australia's Environmental Protection Authority. The Asian Renewable Energy Hub is a planned development in the East Pilbara area of Western Australia. Set to cover 6,500 square kilometers of land, it's anticipated that the project will produce as much as 15 gigawatts (GW) of wind and solar power, with as many as 1,743 wind turbines being used. The project's consortium is made up of CWP Energy Asia, InterContinental Energy, Vestas and the Macquarie Group.
What scares you most about climate change?
Experts tease out the scientific, legal, economic, political, and philosophical costs and benefits of the problem — and the solutions. To mark Earth Day's 50th anniversary, amid the coronavirus pandemic, the Gazette contacted experts on climate change, the environment, and sustainability to ask them about their global-warming fears. Here are their answers.
Neste Acquires Mahoney Environmental
In March 2020, Finnish company Neste announced that it would acquire Joliet, Ill.-based Mahoney Environmental, a leading collector and recycler of used cooking oil in the United States, and its affiliated entities. "The completion of this transaction is an important step forward in delivering on Neste's growth strategy in renewables and in strengthening our global renewable raw material platform, building on the company's acquisition of Dutch animal fat trader IH Demeter in 2018. I am happy to welcome Mahoney personnel to our joint journey on creating a healthier planet for our children," said Neste's President and CEO Peter Vanacker. 
Allianz tightens coal exposure policy
German insurer Allianz plans to exclude companies from its property and casualty (P&C) insurance portfolios which fail to present "a credible transition strategy away from coal". 
The restriction will become effective starting Dec. 31, 2022. The move is in line with the insurer's announcement two years ago that it planned to phase out coal from its underwriting and investment business by 2040. The new policy will apply to energy suppliers that generate 25% or more of their electricity from coal and have a coal-fired power generation capacity of at least 5GW. It will also apply to companies that generate 25% or more of their sales from mining thermal coal, or produce at least 50Mt of thermal coal annually.
Environmental Finance (subscription)