Discover more from Callaway Climate Insights
Callaway Climate Insights provides news, critical analysis and original perspectives at the intersection of global finance and the challenges of climate change. 
Over 3,000 subscribers
News briefs: Isaias losses top $3 bln
Plus: ESG investments reach $1 trillion, Phillips 66 converts oil refinery to renewables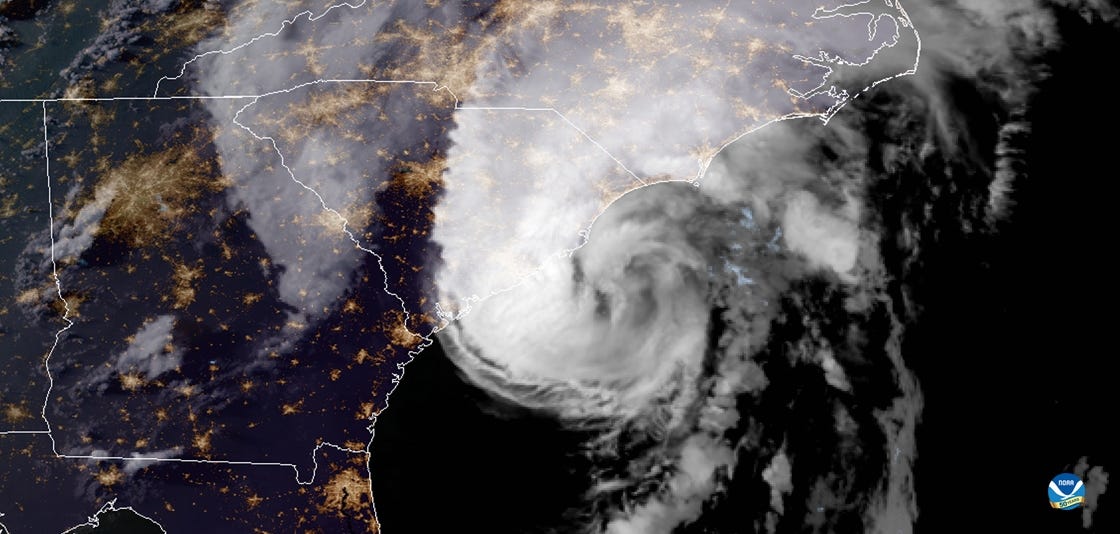 Insured losses from Hurricane Isaias top $3 billion
Estimated total insured losses from Hurricane Isaias will be between $3.0 and $4.5 billion in the U.S., including estimated losses to the National Flood Insurance Program (NFIP) of between $400 and $700 million, according to RMS, the catastrophe risk modeling firm. Additionally, Insurance Journal reported this week that RMS estimates Hurricane Isaias insured losses for the Caribbean of less than $500 million. This comes amid news that atmospheric and oceanic conditions are primed to fuel storm development in the Atlantic, leading to what could be an "extremely active" season, according to forecasters with NOAA's Climate Prediction Center, a division of the National Weather Service.
UBS: Sustainable funds hit $1 trillion
UBS reports assets under management in funds that invest according to environmental, social, and governance principles have passed $1 trillion for the first time, following net inflows of $71.1 billion between April and June of this year, citing data from Morningstar. The Financial Times also reported that, according to UK fund flow data from Calastone, net new money invested in ESG funds between April and July exceeded the entire inflows over the past five years. A UBS analysis says part of the interest in sustainable investing has been fueled by the pandemic, which has highlighted the importance of investing in business models that are resilient to shocks, but UBD thinks the flight to sustainable funds is likely to persist. 
Phillips 66 to convert refinery to renewables plant
Phillips 66 (PSX) plans to reconfigure its San Francisco Refinery in Rodeo, Calif., to produce renewable fuels. The plant would no longer produce fuels from crude oil, but instead would make fuels from used cooking oil, fats, greases and soybean oils, the company said. The Phillips 66 Rodeo Renewed project would produce 680 million gallons annually of renewable diesel, renewable gasoline, and sustainable jet fuel. Combined with the production of renewable fuels from an existing project in development, the plant would produce greater than 800 million gallons a year of renewable fuels, making it the world's largest facility of its kind, Phillips said.
Amazon gets OK for giant satellite constellation
The Federal Communications Commission recently approved a request by Amazon.com (AMZN) to launch its Project Kuiper constellation of 3,236 satellites. The New York Times reports that the Amazon constellation, like SpaceX's Starlink and OneWeb's network, seeks to expand global access to high-speed internet service. The proposed project would launch more than the approximately 2,600 active satellites already orbiting Earth.