Discover more from Callaway Climate Insights
Callaway Climate Insights provides news, critical analysis and original perspectives at the intersection of global finance and the challenges of climate change. 
Over 3,000 subscribers
News briefs: Methane leak in Antarctica alarms scientists
Plus, decarbonizing transport, and China's coronavirus recovery drives boom in coal plants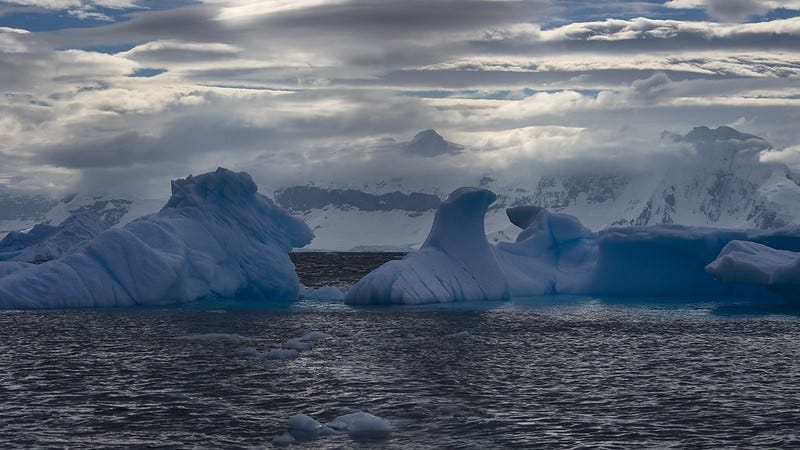 First active leak of sea-bed methane discovered in Antarctica
The Guardian reports the first active leak of methane from the sea floor in Antarctica has been revealed by scientists, and researchers also found microbes that normally consume the potent greenhouse gas before it reaches the atmosphere had only arrived in small numbers after five years, allowing the gas to escape. Large amounts of methane are thought to be stored under the sea floor around Antarctica. The gas could start to leak as the climate crisis warms the oceans, a prospect the researchers said was "incredibly concerning."
Coalition offers executive order plan on racial, climate justice
A national coalition has just released detailed policy recommendations to Joe Biden's presidential campaign, focusing on inequality, race, climate change and pollution. More than 100 groups have signed on to the presidential policy agenda recommendations, including MoveOn, Greenpeace, Sunrise Movement, 350.org, Hip Hop Caucus, and Working Family Party. The policy document, Frontlines Climate Justice Executive Action Platform, identifies the path to addressing environmental inequities and the climate crisis through regulatory and administrative actions an administration can take without Congress. The policy platform planks include a climate equity accountability system, a plan for native sovereignty for an indigenous just transition, and a recommendation to develop a national blueprint for public and community control of a clean, renewably-sourced, and more resilient energy system.
Climate change poses 'systemic threat' to economy
Financial regulators should act to avoid economic disaster, according to a letter from pension funds and other investors representing almost $1 trillion in assets, The New York Times reports. "The climate crisis poses a systemic threat to financial markets and the real economy, with significant disruptive consequences on asset valuations and our nation's economic stability," reads the letter, which was signed by more than three dozen pension plans, fund managers and other financial institutions that together manage almost $1 trillion in assets.
Boosting local climate resilience and opportunities
Our mounting climate and economic impacts are leading to a perfect storm, where more proactive investment in resilience is crucial to safeguard our future — and to help places and people adapt and succeed in the face of tremendous change, Joseph W. Kane, senior research associate at the Brookings Institution, writes. Read more in this special report from Brookings, Boosting local climate resilience and economic opportunity in the COVID-19 era.
HSBC launches new ESG reporting service
HSBC this week launched a reporting service that provides asset owners and managers with independent measurement of how focused their listed asset investments are on environmental, social and corporate governance (ESG) issues. The ESG portfolio reporting service "will allow asset owners, such as insurance companies, pension funds and sovereign wealth funds, and the asset managers that invest their money, to keep track of the ESG ratings of their large holdings and help them meet the increasing demand for greater transparency and more insight in this area," the company said in a news release.
The challenge of decarbonizing transport
Transportation emissions have grown steadily over the past few decades, largely due to increased travel related to economic growth and delivery services but also due to an increasing trend toward larger cars, SUVs, and pickup trucks. Absent significant action, aviation and shipping will be responsible for an increasing share of emissions from transport. Read more in this brief from the Center for Strategic and International Studies: Decarbonizing Global Transport.
China's coronavirus recovery drives boom in coal plants
From the South China Morning Post: Environmentalists say China is in the midst of a new coal boom, as approvals for coal energy projects have accelerated this year in response to the coronavirus outbreak. Additionally, new coal-fired power projects are being driven largely by local government stimulus spending, which is falling back on the old playbook of debt-heavy construction. Read more in China's coronavirus recovery drives boom in coal plants, casting doubt over commitments to cut fossil fuels
Banks focus on nature-related financial disclosures
The UK and Swiss governments, and 10 financial institutions have announced plans to create a task force for Nature-related Financial Disclosures by joining an informal working group that will lead to the creation of the task force next year, the Paypers reports. AXA, BNP Paribas, DBS Bank, Rabobank, Standard Chartered, Storebrand, Yes Bank, and World Bank agreed to create a new reporting mechanism. The initiative is being coordinated by Global Canopy, the United Nations Development Programme (UNDP), the United Nations Environment Programme Finance Initiative (UNEP FI), and the World Wide Fund for Nature.
Above, the Antarctic peninsula. Photo:
Rob Oo
/flickr.