Discover more from Callaway Climate Insights
Callaway Climate Insights provides news, critical analysis and original perspectives at the intersection of global finance and the challenges of climate change. 
Over 3,000 subscribers
News briefs: New ETFs aligned with Paris accord
Plus, House reviews $50 billion energy and water bill; reef sharks in decline worldwide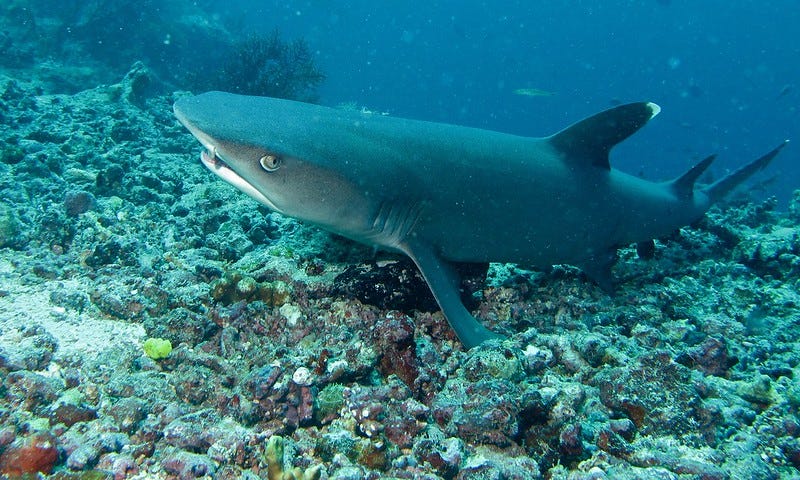 Above, a whitetip reef shark off the coast of Borneo. Photo:
Bernard DuPont
/flickr.
Franklin Templeton launches ETFs aligned with Paris accord
Franklin Templeton has launched a European equity ETF and U.S. equity ETF which are compliant with the Paris climate accord. The Franklin STOXX Europe 600 Paris Aligned Climate UCITS ETF (EUPA) and the Franklin S&P 500 Paris Aligned Climate UCITS ETF (500P) have a total expense ratio (TER) of 0.15%, the cheapest climate ETF offering in Europe, ETFStream.com reports. EUPA and 500P will list on the Deutsche Boerse on Thursday, July 30 and on the London Stock Exchange and Borsa Italiana the following day.
House committee meets on $50 billion energy and water spending bill
In Washington, D.C. today, the House Rules Committee is scheduled to meet to review proposed amendments to its second minibus package for fiscal 2021, which includes the $49.6 billion energy-water spending bill. "This bill provides the foundation of critical investments to combat climate change [and] to upgrade and strengthen our nation's energy and water infrastructure," said Rep. Marcy Kaptur (D-Ohio). Read more from E&E News via SmartBrief.
Reef sharks are in major decline worldwide
Riley Black reports in National Geographic that while sharks are in serious trouble worldwide, largely because of overfishing, a new study shows they're even worse off than previously thought. In a survey of 371 reefs across 58 countries, from the Central Pacific to the Bahamas, scientists discovered that about 20% were devoid of sharks. As essential apex predators, sharks help keep fish populations healthy by eating sick individuals and preventing prey numbers from exploding, Black writes.
California gets a 'Climate-Smart Insurance Products Database'
California's state insurance commission recently launched the Climate Smart Insurance Products Database, what is being touted as the first consumer-oriented list of green insurance policies. The Climate Smart database lists more than 400 products currently available to consumers and businesses that address climate risks, harness new technologies, and build resilience, the CDI said in a news release.
Cause of death: climate change
It was a disaster. But was it natural? In this special science report from Slate.com, author Daniel Merino talks about how, in 2018 in Japan, more than 1,000 people died during an unprecedented heat wave. In 2019, scientists proved it would have been impossible without global warming. Read more about this event and about attribution science.