Discover more from Callaway Climate Insights
Callaway Climate Insights provides news, critical analysis and original perspectives at the intersection of global finance and the challenges of climate change. 
Over 3,000 subscribers
News briefs: Tech leaders harness climate data; sustainable tequila
Plus, Clorox and Mondelez source energy from giant Texas Roadrunner plant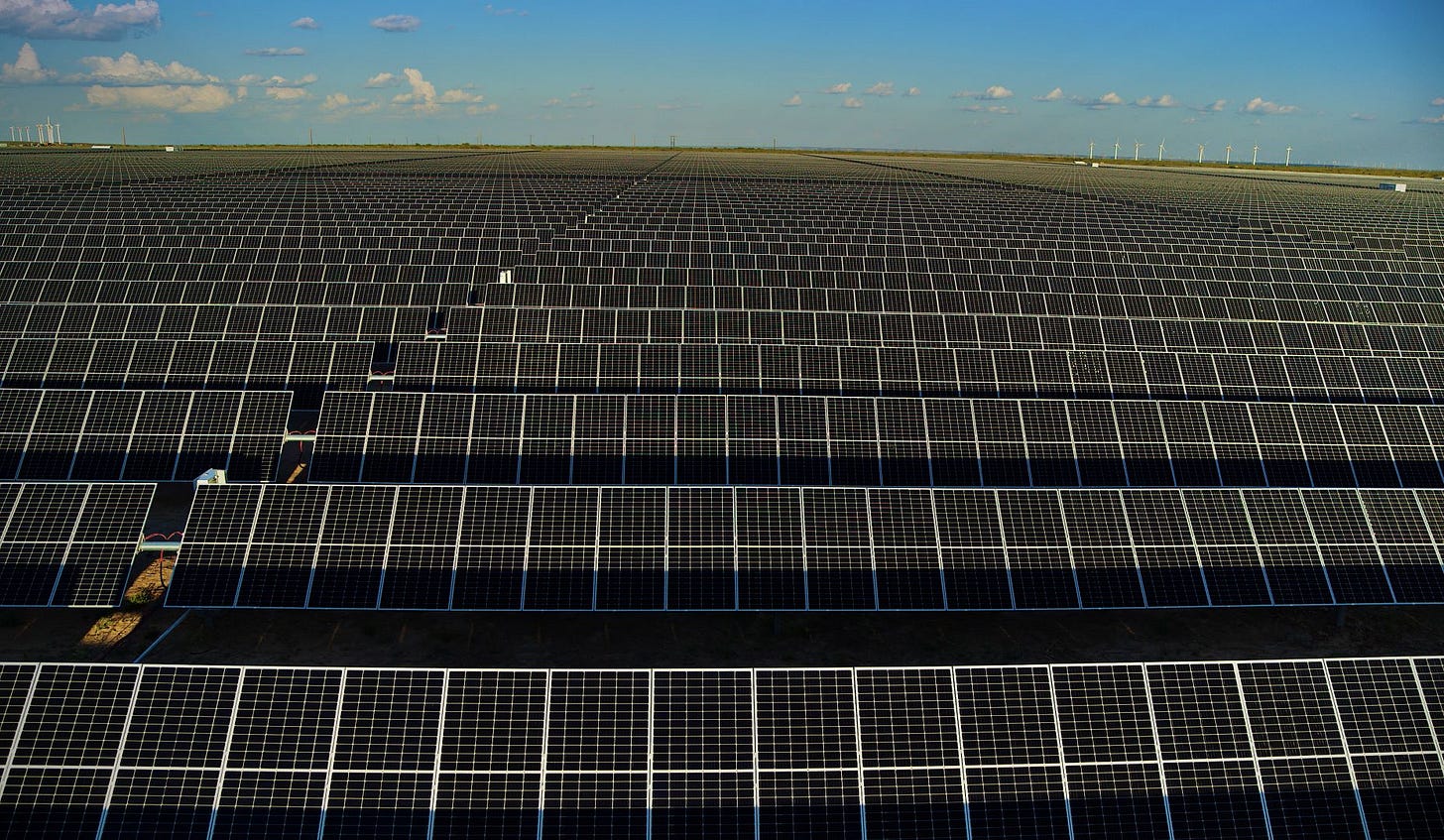 Above, the Roadrunner solar plant in Texas. Photo: Enel Green Power.
Clorox, Mondelez buying energy from new Texas solar farm
Clorox (CLX) and Mondelez (MDLZ) are purchasing the energy created by the biggest solar farm in Texas. The Roadrunner plant deal is serving as the largest renewable energy purchase for Mondelez and is expected to help Clorox hit its target of using 100% renewable energy four years ahead of schedule, according to a report from SmartBrief/Environment + Energy Leader
Amazon, Allianz, Microsoft, and S&P Global join open data initiative
Amazon (AMZN), Allianz, Microsoft (MSFT), and S&P Global (SPGI) are leading a new initiative to harness AI, open source analytics and open data to help better manage climate risks and take advantage of the opportunities offered by the net zero transition, the companies announced. Spearheaded by non-profit Linux Foundation, the LF Climate Finance Foundation seeks to help investors, banks, insurers, companies, governments, NGOs, and academia to use AI-enhanced open data analysis in order to address the financial threats from climate change. Read more from BusinessGreen.
Schlumberger sells fracking unit as oil price cripples demand
Oilfield services firm Schlumberger (SLB) agreed to sell its North American shale fracking business to rival Liberty Oilfield Services (LBTR), unloading a unit that underperformed during the shale bust, according to a report from Reuters. Schlumberger will take a 37% stake in Liberty, and Reuter says the projected revenue would make Denver-based Liberty the third-largest U.S. oilfield services firm by sales.
Asian climate finance gap 'risks jeopardizing green investing'
The climate finance investment gap is limiting the integration of climate change for companies and the financial sector across Asia, jeopardizing the success of green finance globally, according to the Asian Infrastructure Investment Bank (AIIB) and Amundi, Europe's largest asset manager, Christopher Copper-Ind writes in InternationalInvestment.net. The assessment comes ahead of the launch of the AIIB-Amundi Climate Change Investment Framework, a first-to-market tool aimed at informing targeted sustainable and responsible financing. 
World Bank Group top 2020 climate finance target
For the third year in a row, World Bank Group lending for climate-related investments exceeded the target of 28%, reaching 29%, or $21.4 billion, in fiscal year 2020. Total World Bank Group climate finance amounted to more than $83 billion over the five years that the Climate Change Action Plan (2016-2020) was in effect, according to a report on ReliefWeb. During the 2020 fiscal year, the Bank Group identified opportunities for low-carbon, climate-resilient development, and provided supporting advisory services, technical expertise and financial resources. 
Sustainable tequila brand launched by ex-Bacardi CEO
Former Bacardi CEO Mike Dolan, who retired in 2018, has unveiled his new Mijenta Tequila brand, which he spent two years developing in conjunction with distiller Ana Maria Romero in Mexico, The Spirits Business reports. The tequila is produced with a focus on sustainability and on treating workers ethically, with all ingredients sourced within Mexico and packaging made from agave waste, Dolan said. 
U.S. ag lending can mitigate climate risk: report
The U.S. agricultural lending sector is at risk from climate change, according to a new report just released by the Environmental Defense Fund, Financing Resilient Agriculture: How Agricultural Lenders Can Reduce Climate Risk and Help Farmers Build Resilience. EDF says farm budget analyses demonstrate how conservation practices like no-till, cover crops, extended crop rotations and nutrient management can improve farm resilience by delivering measurable economic value in terms of cost savings and crop yield risk reduction to farmers and their financial partners.