News briefs: Walmart, Novartis fund climate pledges
Plus, MSCI's new tool to help investors tool assess alignment with sustainable development goals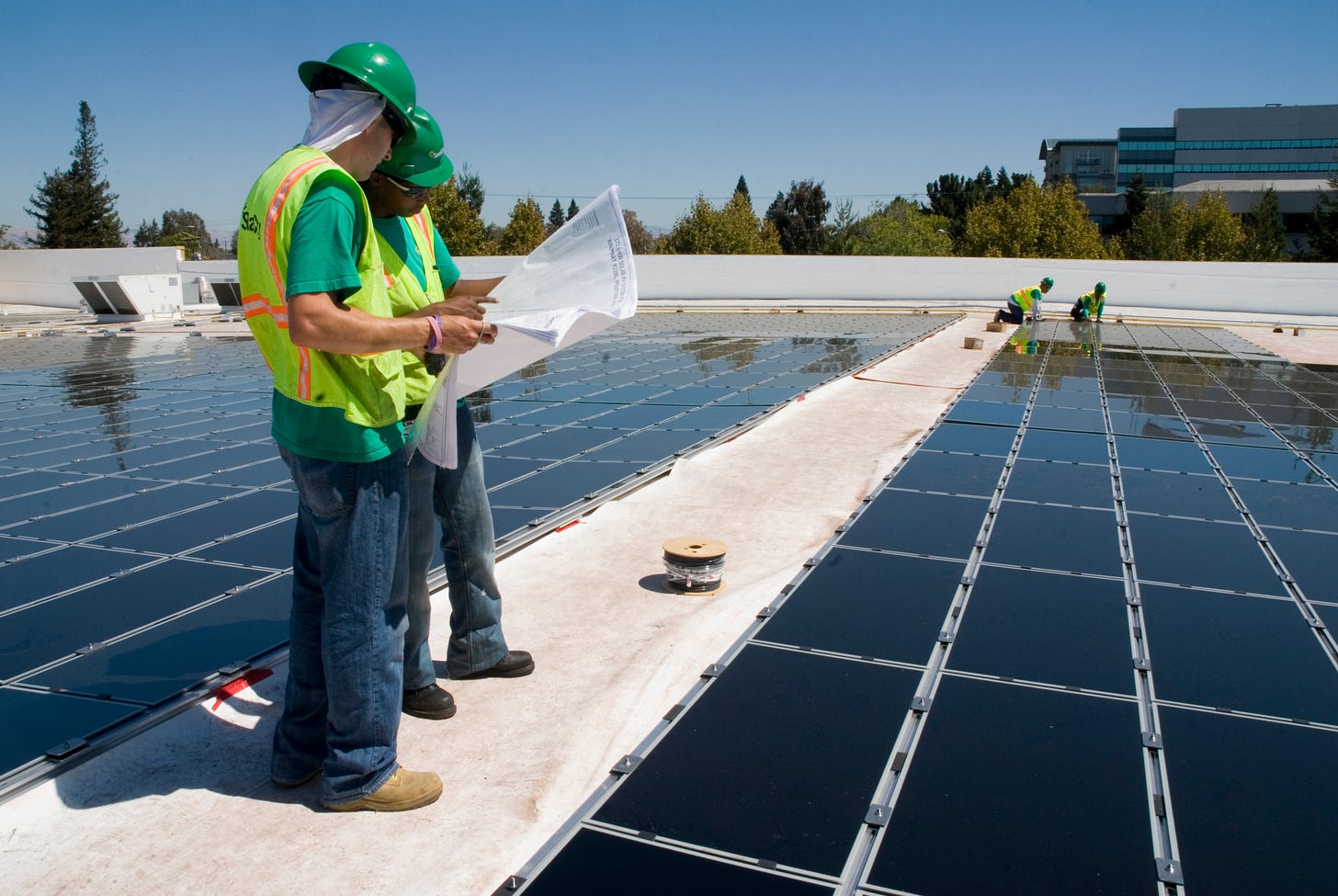 Walmart is installing solar power generating systems in locations in California and Arizona. Above, thin film panels at the company's Mountain View, Calif. store.
Walmart pledges zero emissions by 2040
Walmart (WMT) on Monday announced a new set of sustainability goals, including a pledge to reach zero emissions by 2040. The news came ahead of the company's Sustainability Milestone Summit, and as part of Climate Week NYC. The company says that about 29% of its operations are fueled by renewables and it diverts about 80% of its waste from landfills and incineration globally. Walmart CEO Doug McMillon said in a statement, "The commitments we're making today not only aim to decarbonize Walmart's global operations, they also put us on the path to becoming a regenerative company..." Earlier this month, Walmart and France-based Schneider Electric (SBGSF) announced a collaboration to increase access to renewable energy for Walmart's U.S.-based suppliers. The Gigaton PPA Program aims to educate Walmart suppliers about renewable energy purchases and accelerate renewable energy adoption by participating suppliers through aggregate power purchase agreements.
Novartis prices $2 billion sustainability-linked bond
Novartis has priced a €1.85 billion ($2.12 billion) sustainability-linked bond, as part of its commitment to ESG principles and the 2025 Patient Access Targets announced earlier this month. The company says the new bond is the first of its kind in the healthcare industry and the first SLB incorporating social targets, with bondholders entitled to receive a higher amount of interest if Novartis fails to meet its targets for expanding access to its innovative medicines and addressing key global health challenges, two areas where Novartis can drive the greatest value for society.
MSCI tool to assess alignment to UN sustainable development goals
MSCI has launched a tool to help investors assess their exposure and alignment to the United Nations Sustainable Development Goals. The MSCI SDG Alignment Tool is designed to provide investors with a complete view of a company's net contribution, both positive and negative, toward addressing each of the 17 UN SDGs. The tool brings together MSCI's framework covering over 8,600 equity and fixed income issuers, with analysis of the full range of a company's operations, products, services, policies and practices, to evaluate its net contribution to addressing the global challenges the UN SDGs aim to tackle.
Ginsburg's death leaves 'no environmental voice'
E&E News reports that the death last week of Supreme Court Justice Ruth Bader Ginsburg could affect America's bedrock environmental laws, "leaving a chasm on the bench where once sat an environmental champion." Ginsburg, the report notes, played a critical role in opening courtroom doors to green groups and established broad interpretations of the Clean Air Act, Clean Water Act and other laws.
Price tag per ton of carbon: $100,000
Two geoscientists and a philosopher from the University of Chicago estimate an "ultimate cost of carbon" to humanity at $100,000 per ton of carbon — a thousand times higher than the $100 or less routinely calculated for the cost to our generation. University of Chicago News reports the study, published in the journal Climactic Change, shows the economic "social cost of carbon," pioneered by UChicago Prof. Michael Greenstone, is a number that is intended to represent the value of all future damages to our generation in today's dollars. It calculates the difference between realistic projections of the economy with and without climate change, which typically comes out to $100 or less per ton.
National Weather Service spots giant bat colony on its weather radar
Massive bat colonies, just in time for Halloween, CNN reports. Meteorologists at the National Weather Service in Phoenix were looking at their radar screens and spotted a large cloud of motion sweeping over areas of the city just before the official start of fall. According to the report, there are 28 known bat species living in Arizona. While the best time to catch them is between July and August when the colony reaches their peak, they can also be seen as late as October.
Scientists look at warming and aviation emissions
A new study reaffirms that contrail clouds produce more global warming than carbon dioxide — a finding that could help in the reduction of emissions from air travel, according to a report from InsideClimateNews. An international team of scientists has published what they say is the most comprehensive study to date calculating the complex climate impact of aviation emissions.
Exhibit spotlights threats to Scotland's marine environment
To celebrate Visit Scotland's Year of Coasts and Waters, a new display at the National Museum of Scotland in Edinburgh highlights the beauty and significance of Scotland's marine life and the threats it faces, according to this report from The Courier. Human activity such as overfishing, dumping of rubbish and global climate change is putting Scotland's world-class marine environment at serious risk.