Discover more from Callaway Climate Insights
Callaway Climate Insights provides news, critical analysis and original perspectives at the intersection of global finance and the challenges of climate change. 
Over 3,000 subscribers
Offshore wind power territory planned for Europe's North Sea
Nine countries call for cross-border venture to boost capacity tenfold by 2050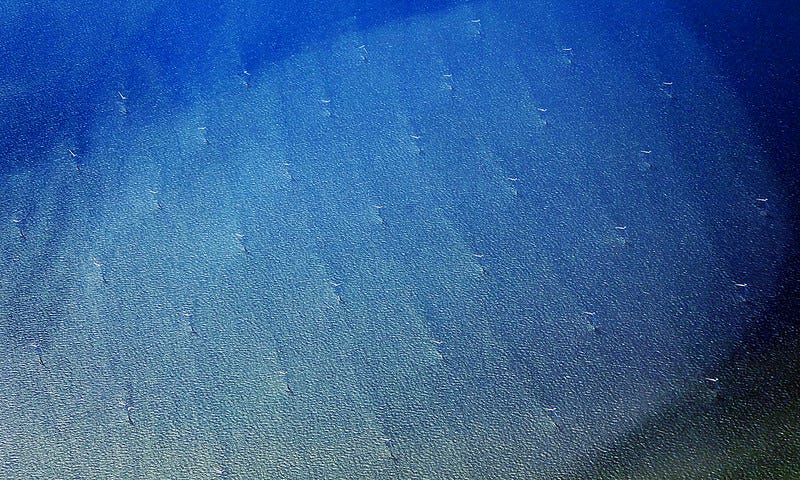 By Elizabeth Hearst
DUBLIN (Callaway Climate Insights) — Several powerful EU countries have called for giant wind-power territories to be built in the North Sea.
The European Energy Ministers of Belgium, Denmark, France, Ireland, Luxembourg, the Netherlands, Norway, Sweden and Germany met European Commissioner for Energy, Kadri Simson, via video conference on Monday under the German presidency of the North Seas Energy Cooperation group. 
They have called for an EU framework to assist in the deployment of hybrid offshore wind energy projects to meet 2050 climate targets.
In a joint statement, the ministers highlighted the importance of further investment in hybrid wind energy and said, "Offshore wind energy is expected to play an instrumental role in reaching the energy and climate objective for 2030 and 2050."
The current installation rate of 3 GW per year will "have to scale up considerably in the coming years" in order to reach the group's 2050 climate targets, with the potential estimated to be more than "10 times today's installed capacity of 22 GW."
A statement released by the EU executive said, "Offshore wind is a renewable energy set to play a vital role to attain climate neutrality by 2050."
Simson outlined the Commission's plans for an offshore wind strategy, due to be published in the autumn, and said, "Only by stronger cross-border cooperation, such as between North Seas countries, will we be able to sufficiently scale up renewable energy production and make Europe the first climate neutral continent."
The EU ministers have called for the "development of market arrangement concepts at an EU level which facilitate the realization of joint and hybrid projects," and have requested EU guidance on how to allocate renewable energy target amounts.
Above, North Sea wind farm. Photo:
Andrew Gustar
/flickr.