Republicans for climate solutions, coming to your ballot box this election
Movements by young Republicans like the American Conservation Coalition are leading to more climate change agendas on the right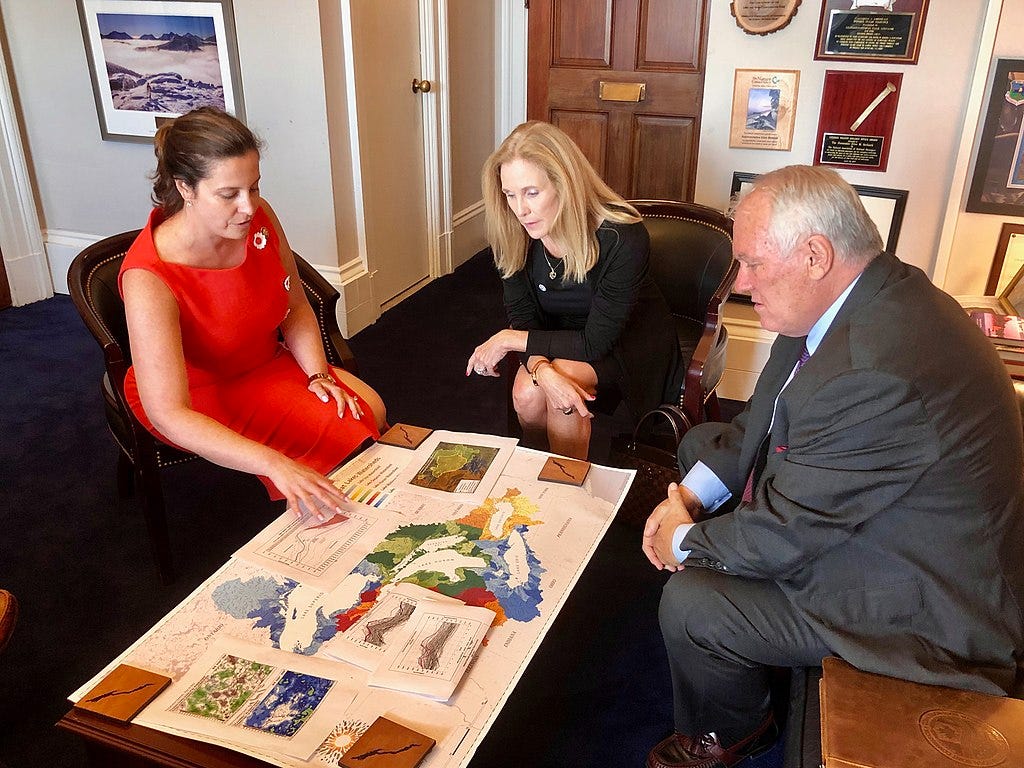 Congresswoman Elise Stefanik, 36, of New York's 21st Congressional District (left), is seen meeting last year in Washington, D.C. with with International Joint Commission Chairwoman Jane Corwin and commissioner Lance Yohe to discuss water level issues facing Jefferson and St. Lawrence counties.
By Darrell Delamaide
(Darrell Delamaide is a freelance journalist in Washington, D.C. He has specialized in business and finance over a long career, writing for Barron's, Dow Jones, Institutional Investor, Bloomberg, and MarketWatch, among others. A longtime correspondent in Europe, Delamaide also has written about international economics, global markets, and foreign policy.)
WASHINGTON, D.C. (Callaway Climate Insights) — He is an African American working in his family logistics business who is making a direct run for a Senate seat from Michigan. He says he will join the Senate climate solutions caucus and backs the Great Lakes Restoration Initiative.
She is a former Air Force combat pilot appointed to a Senate seat in Arizona and now running to fill out that term. She has been a co-sponsor of the Better Energy Storage Technology Act and the Great American Outdoors Act.
Whether these two swing-state candidates committed to fighting climate change win in November may depend on their party's nominee for president winning the White House and having coattails long enough to pull them in.
That nominee is not Democratic challenger Joe Biden, but incumbent President Donald Trump, and the two candidates — John James and Martha McSally — are Republicans who have been endorsed by the American Conservation Coalition (ACC), a man-bites-dog group of conservatives committed to countering global warming and preserving the planet.
The trench warfare that characterizes our politics prescribes that Democrats believe in the science of man-made climate change and Republicans do not, preferring to side with their supporters in fossil-fuel industries.
It's not that simple. A new generation of Republican politicians is breaking the mold. Their approach to fighting climate change tends to be less dogmatic on how rapidly to phase out fossil fuels and is more like the all-of-the-above energy strategy favored by former President Barack Obama.
The ACC has endorsed nearly two score Republican candidates for the Senate and House, ranging from House minority leader Kevin McCarthy of California to Senators Lindsey Graham of South Carolina and Susan Collins of Maine.
In April, the group released the American Climate Contract, which it bills as a free-market alternative to legislation and regulation, with promotion of energy innovation, 21st-century infrastructure, natural solutions, and a global approach to fighting global warming.
The ACC backs diverse efforts in combating climate change, such as the bill introduced in February by Arkansas Republican congressman Bruce Westerman to back the initiative for planting 1 trillion trees globally by 2050. The idea is to pull carbon out of the air and store it in wood, a natural method of carbon sequestration.
Westerman has the endorsement of the ACC, as do a slew of incumbent congressmen and Republican challengers in November. Most states are permanently dyed blue or red, ensuring their respective parties win statewide votes, but Republicans can win congressional districts in blue states like California, Illinois and New York if they find the right mix of policies.
The only licensed forester in Congress, Westerman is 52 and belongs to Gen X, the group ages 41 to 55. But Michigan's 39-year-old James, like many of the Republican anti-climate change advocates, is a millennial, generally defined as the group ages 26 to 40; and Benji Backer, the 22-year-old firebrand founder of ACC, is Gen Z (ages 8 to 25) and attends the University of Washington.
Many of these young Republicans are military veterans and most of those have seen combat. McSally, 54, was a fighter squadron leader educated at the Air Force Academy and later deployed to Kuwait and Iraq, while James is a West Point graduate who served multiple tours in Iraq as a helicopter pilot.
Texas congressman Dan Crenshaw, 36, a former Navy Seal who wears an eyepatch after losing his right eye in an IED explosion in Afghanistan, says the country must avoid a false choice between inaction on climate change and crushing regulation, placing his faith instead in innovation.
Nancy Mace, a 42-year-old state legislator, was the first woman to graduate from the corps of cadets at Charleston's Citadel military academy and is a candidate for South Carolina's 1st congressional district. An army brat born in Fort Bragg, N.C., Mace is interested in protecting South Carolina's coastal environment and opposes offshore drilling. 
On his visit to Jupiter, Fla., for a campaign rally earlier this month, Trump signed a little-noticed memorandum banning offshore drilling in that state as well as in Georgia and South Carolina — not coincidentally all states with Republican governors (Democratic-led North Carolina and Virginia did not get a ban).
Other Republican candidates for Congress show the party's emphasis on diversity. Maria Elvira Salazar, a 58-year-old Cuban-American who was a longtime TV anchor at Telemundo, is again facing Dem. Donna Shalala in Florida's 27th congressional district after losing to her in 2018. Campaigning in the Miami-Dade County district that includes Little Havana, she wants to protect the state's coastline and work to modernize drainage and waste-processing systems to reduce flooding in South Florida.
In blue California, 65-year-old Michelle Steel, a native of South Korea and currently a member of the Orange County board of supervisors, is running for a House seat in California's 48th congressional district against freshman Dem. Harley Rouda. Steel advocates an all-of-the-above energy policy favoring science-led, market-based solutions for climate change.
Incumbents seeking reelection include two Wisconsin congressmen, 36-year-old Mike Gallagher and 39-year-old Bryan Steil. Gallagher, a former Marine, is a supporter of renewable energy and a member of the climate solutions caucus in Congress. Steil, who succeeded former House speaker Paul Ryan in the district that includes Janesville, cosponsored legislation promoting carbon capture technology as well as the energy storage act.
In New York, Elise Stefanik, 36, and Lee Zeldin, 40, are running for reelection to Congress. Stefanik, who won her first election to Congress in 2014 at age 30, is a member of the climate solutions caucus. Representing a district that includes most of the Adirondacks, she backed the Trillion Trees Act, as well as legislation for energy storage, nuclear energy, and two conservation bills.
Zeldin is another veteran, deployed in Iraq with the 82nd Airborne Division and now a lieutenant colonel in the reserves. A social conservative, Zeldin is a member of the climate solutions caucus and opposed a federal plan for dumping waste spoils into Long Island Sound.