Discover more from Callaway Climate Insights
Callaway Climate Insights provides news, critical analysis and original perspectives at the intersection of global finance and the challenges of climate change. 
Over 3,000 subscribers
How one South American winemaker is fighting climate change
Chile's Viña Concha y Toro is shifting its coping strategies -- and its vineyards.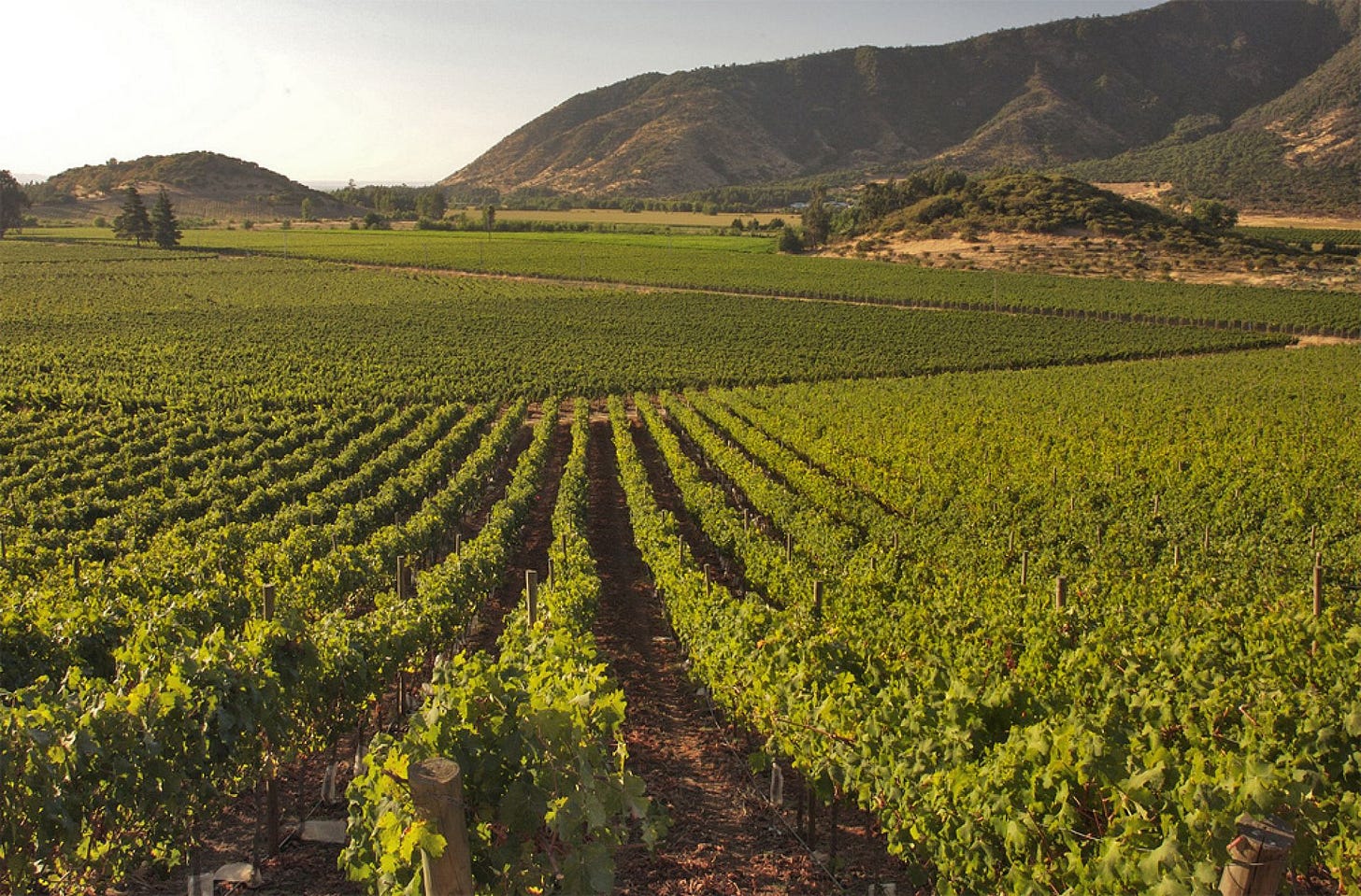 By Michael Molinski
(About the author: Michael Molinski is an economist, content strategist and author. He has worked in the financial industry for Fidelity, Charles Schwab and Wells Fargo, and previously as a foreign correspondent and editor for Bloomberg News and MarketWatch. He is the author of Investing in Latin America: Best Stocks, Best Funds (Bloomberg Press, 1999), and Small Business in Paradise (Nolo, 2007). Currently, he is a senior economist at Trendline Economics.) 
NEW YORK (Callaway Climate Insights) — The wine industry is among those sensitive to seasonality and weather changes, so it's no surprise that wine is affected by global warming and climate change.
One winemaker leading the charge to reverse and adapt to the course of climate change is Chile's Viña Concha y Toro, South America's biggest winemaker and one of the top five winemakers in the world.
Concha y Toro has not only expanded its wine map to include areas that would have been unthinkable just five or 10  years ago by planting grapes at higher elevations, and further south and along the Chilean coast in colder climates, but also expanded its varietals to include thicker-skinned grapes that are less susceptible to the cold, such as Riesling and Gewürztraminer.
At the same time, Concha y Toro has been actively involved in efforts to reduce the global effects of climate change. It is one of 87 companies worldwide that have joined the United Nation's initiative to limiting global temperature rise to 1.5 degrees Celsius above pre-industrial levels and to reaching net-zero emissions by no later than 2050. It has conserved its water use significantly and was awarded an "A" for water security by the Carbon Disclosure Project.
"Being part of this initiative confirms the leadership of the company in pursuit of a low-carbon economy," said Eduardo Guilisasti, CEO of Viña Concha y Toro.
Are those changes enough?
Will those and other climate change initiatives make a difference? And what are the risks and costs of those changes? Will they affect the bottom line? And are those changes too forward-looking?
Those are questions that the wine industry is currently facing, especially when the industry is in the grip of the coronavirus crisis. And there's no single correct answer to any of them.
"I've watched the efforts that some winemakers are doing to adjust to climate change, but I'm not convinced that global climate change is impacting my vineyard," said Michael Talty, a winemaker and owner at Talty Vineyards, in Sonoma, California's Dry Creek Valley. He specializes in Zinfandel, a thin-skinned, warm-weather grape.  "I've been here for 25 years. We have hot years, cool years, wildfires and droughts. It's just mother nature."
Nonetheless, climate change is resulting in rising temperatures across the globe and shifting the regions where vineyards will be planted by as much as 35 miles north in the northern hemisphere, and 35 miles farther south in the southern hemisphere by 2030.
It has also led to inflated prices of land in areas like Canada, northern Europe and even Russia, and places like France, where vintages can depend more on consistently warmer weather. On the other hand, climate change has also led to extreme weather conditions, such as frost and drought in some years, and the wildfires in Australia and California, which has made it difficult for winemakers.
Buying up land in cold climates
Those extreme weather conditions were part of what prompted Concha y Toro to invest heavily in expansion, buying up lands south of Santiago in the Leyda Valley and further south in the Bío Bío region, where fresh ocean breezes and cooler temperatures make them perfect for cold-climate varietals. Two extreme seasons back-to-back in 2015-2016 and 2016-2017, with heavy rains and warmer temperatures, drove the harvests down drastically. Concha y Toro made the decision to invest in land in colder regions. But then came the 2017-2018 season, when the climate was optimal and the harvest jumped by nearly 40% in volume.
In its most recent annual report, the company only says: "Adverse climate conditions in Chile, Argentina and in California, United States, where the company has productive operations, could severely affect the quantity or quality of the company's wine production."
In the long run, those land purchases are likely to come in handy. Indeed, some of those land purchases are helping the company meet its goals for reducing its carbon emissions, in part because some of the land is forested and has been set aside — for now — for preservation. Forested land helps because trees absorb carbon dioxide from the atmosphere as they grow.
"What we are developing as a first step towards conservation is to work in an environment that is part of our natural heritage that we manage on the lands. Around one hectare of this forest type captures between 50 and 100 tons of CO2," says Valentina Lira, sustainability manager of Concha y Toro.
Concha y Toro can afford to invest in its future. Right now, however, is the face of the Covid-19 pandemic, things are looking bleak. The wine industry is not recession-proof but it is recession-resistant because people like to drink during good times and bad times. In the same way, wine may prove to be coronavirus-resistant, but only once the economy stabilizes.
"Right now my entire business is suffering," said Talty. "I can't even open my tasting room. But I operate on a B-to-C model (business to consumer). The B-to-B model (business to business) is probably not affected as much, but they're still hurting, too."
If the coronavirus crisis continues, Concha y Toro may be in a difficult situation as well, one which could jeopardize its environmental initiatives. It's already affecting the company, as factories, offices and tasting rooms have had to shut down.
Concha y Toro's stock price declined 24% in the first quarter of 2020, compared to a decline of 17% on the S&P Food & Beverage Select Industry Index.
Photo: Viña Concha y Toro.