Discover more from Callaway Climate Insights
Callaway Climate Insights provides news, critical analysis and original perspectives at the intersection of global finance and the challenges of climate change. 
Over 3,000 subscribers
Taking the cons out of concrete at CarbonCure
Canadian company working to reduce greenhouse emissions in concrete and construction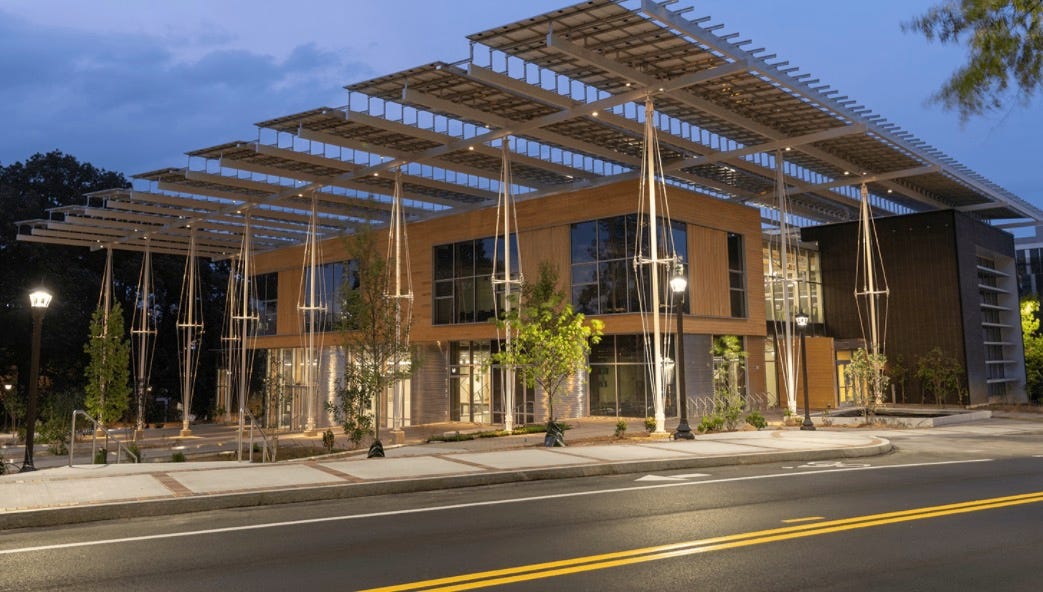 By Avery Mullen
(Avery Mullen is a business and technology reporter at Entrevestor.com, and a journalism student at the University of King's College. His work has previously appeared in The Globe and Mail, The Chronicle Herald and BetaKit. Find him on Twitter @mullenreporting.)
HALIFAX, Nova Scotia (Callaway Climate Insights) — As COVID-19 ground much of the global economy to a halt in March and April, a notable outlier was the construction sector. In regions ranging from California, to Canada, to Italy, construction sites were either declared essential services, granted exemptions from lockdown orders or were among the first workplaces permitted to reopen.
The industry didn't have the same opportunity for a green recovery that climate observers had hoped for in other sectors, but construction remains a significant source of greenhouse gas emissions. Concrete production alone accounted for about 10% of the world's annual carbon dioxide emissions, pre-pandemic, according to London's Chatham House think tank.
A Canadian company has developed a solution to the problem — one that will not require sweeping economic disruption to be implemented at scale.
CarbonCure Technologies, founded in 2007, is based out of Halifax, on Canada's East Coast. CarbonCure's process injects CO₂ into the wet concrete mix during manufacturing. The CO₂ reacts with calcium ions from cement to form the mineral calcium carbonate, which becomes embedded in the concrete. The company says this makes the concrete stronger, enabling mix optimization while eliminating CO₂.
The company's offices are tucked away near the edge of a forest interface area, in an aging industrial district. Fittingly, many of the local buildings include generous helpings of concrete — much of it now cracked and discolored from weathering.
Despite its modest surroundings, CarbonCure's technology has attracted the attention of high-profile cleantech investors, with Bill Gates' Breakthrough Energy Ventures leading a funding round 19 months ago. Now, another round is in the works, although CarbonCure President Jennifer Wagner declined to name a dollar value, citing ongoing negotiations.
Another possible source of funding is the multi-year Carbon XPRIZE competition, in which CarbonCure is a finalist. A $20 million prize will be awarded later this year or in 2021.
Wagner said in an interview that the company has seen annual revenue growth of more than 100% for several years running, with its technology being installed in more than 200 concrete plants across North America and Asia.
Privately held CarbonCure, which has about 50 employees, does not release revenue figures, but crowd-sourced corporate intelligence website Owler pegs cashflow at about $6 million.
In Canada, cement and concrete manufacturers ship close to $10 billion annually. In the United States, the market is worth about $60 billion.
Next on the agenda for Wagner's team is Europe. Unlike in North America, where building standards already allow for use of CarbonCure's product, the regulatory processes in the EU can be complex. But a recent sign-off from the German government has paved the way for a broader expansion.
Wagner said that CarbonCure now has two revenue streams: selling the equipment, and as of this year, selling carbon credits. The result is that the company can generate income from the machinery even after it has been sold.
"We think it's going to be transformative for both our business and our customers' businesses," she said, referring to the carbon offsets. "Because those funds can be funneled back to the concrete producers to help incentivize them to adopt the technology at more plants and use it in more production."
The practice of selling carbon credits has been a target of criticism from climate researchers, with several studies suggesting that the process often does less than promised to actually reduce net emissions.
A 2016 study from Germany's Oeko-Institut think tank found that about 85% of the carbon offset projects tied to the United Nations' carbon-trading mechanisms were likely overestimating the actual amount of carbon reduction.
And a 2019 ProPublica study by Lisa Song and Paula Moura found that, in many cases, "…carbon credits hadn't offset the amount of pollution they were supposed to, or they had brought gains that were quickly reversed or that couldn't be accurately measured to begin with."
CarbonCure's answer to that criticism is a technological one. Customers agree to let the CarbonCure monitor their use of the equipment when they buy it, making it possible to track exactly how much CO₂ is being captured. Consequently, CarbonCure claims to be able to determine how much greenhouse gas is being kept out of the atmosphere with a higher-than-average degree of precision.
This year, Wagner expects to bank about 50,000 tons of averted CO₂ emissions. And she believes that a recent deal with online payment processor Stripe suggests CarbonCure will be able to sell the credits for about $100 per ton.
That price point makes CarbonCure's credits significantly more expensive than those generated through reforestation initiatives, which she said often cost about $10 per ton. But forest-related carbon reduction is limited by the lifespans of the trees, which release carbon back into the atmosphere when they decompose or burn in wildfires. Concrete is not as vulnerable to those natural forces
"We're getting calls daily from potential buyers who want to buy the remainder of our (currently available) credits," she said. "So what that means is that we're able to inject more money into the space of carbon removal. We're able to move faster and we're able to scale faster."
And as Covid-19 necessitates changes to how companies like CarbonCure do business, Wagner expects to benefit from increased scalability. Travel restrictions have forced her team to switch from manufacturing its equipment in Halifax and then flying installation technicians to customer facilities, to showing customers to install the machinery remotely.
"We've simplified the installation process, and developed procedures and training programs to allow our customers to do it themselves," she said. "That's something that we will obviously continue to do going forward, because it makes sense and can save a ton of time."
Above, CarbonCure project: the 42,000 sq. ft. Kendeda Building at the Georgia Institute of Technology in Atlanta. Concrete supplier: Thomas Concrete. Estimated CO2 savings: 40,000 lbs.