Discover more from Callaway Climate Insights
Callaway Climate Insights provides news, critical analysis and original perspectives at the intersection of global finance and the challenges of climate change. 
Over 3,000 subscribers
Tesla spawn raising millions for unmade trucks
The EV bonanza is the hottest thing in climate transformation right now, but history shows investors should beware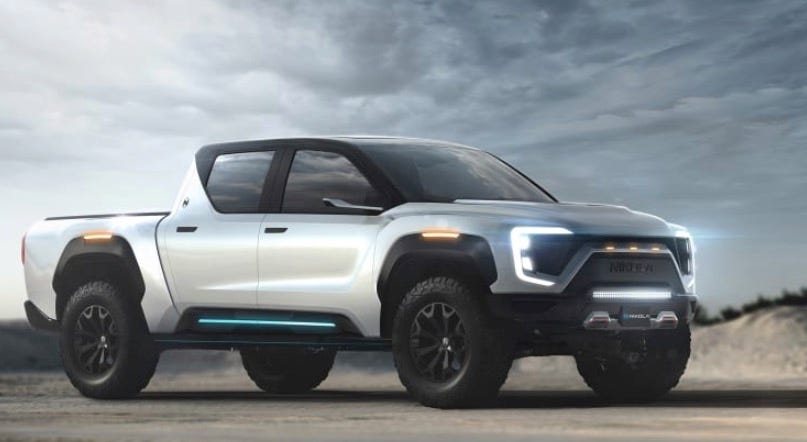 The Nikola Badger, expected to enter production in 2022 or sooner. Photo: Nikola Motor Co.
(David Callaway is founder and Editor-in-Chief of Callaway Climate Insights. He is the former president of the World Editors Forum, Editor-in-Chief of USA Today and MarketWatch, and CEO of TheStreet Inc.)
SAN FRANCISCO (Callaway Climate Insights) — At the height of the dot-com bubble, a cartoon in The New Yorker featured a CEO telling an investor, "You'll love my new Internet company. Our only product is our stock."
Such was the wave of enthusiasm behind first-generation Web companies that would change the world.
A similar bubble is developing in the wake of the Tesla boom as investors shy about paying up for Tesla stock (TSLA), which topped $1,500 a share today and has tripled this year, look for the next big electric vehicle company — especially trucks. Speculation has focused on Nikola Corp. (NKLA) of Phoenix, Lordstown Motors in Ohio, and Chinese company Nio (NIO).
Neither Nikola or Lordstown have sold an electric vehicle yet, but they've sold a lot of stock or stock interest. Each did a deal with a special purpose acquisition company, or SPAC, which is a way for investors to pool money and buy a public entity and then roll a real company into it. Other EVs doing SPAC deals include carmaker Fisker Automotive, and and truckmaker Hyliion. SPACs are in their own bubble, but that's another column for another day.
Nikola (NKLA), which had also tripled this summer, reported results this week and promptly pricked its own bubble. Its stock dumped on $87 million in losses and little news of interest ahead for investors to get excited about.
Lordstown announced this week it would roll into a SPAC called DiamondPeak Holdings (DPHK) and that the new company would change its ticker to RIDE next year, sometime before it rolls out its first truck, the Endurance. Other public EV plays include Workhorse Group (WKHS) and Plug Power (PLUG).
The speculation is understandable. Markets are approaching record highs again and this is what happens at the top. EVs are at the top of the food chain of industries that are expected to lead the transformation into a greener economy, including the meat business, the water business, air and shipping transport, construction, and grid-storage. All have popular horses in the race for investors.
But cars and trucks have a unique hold on the American psyche, so it's not surprising entrepreneurs and promoters are targeting EVs. More than one million electric vehicles are on the road these days in the U.S., or about 2% of all vehicles. But that number is expected to more than quadruple in the next decade, hence the speculation.
The history of cars and trucks shows it pays to pick the winners, but that there are a lot of losers. In 1899, there were 30 auto companies in the U.S., surging to more than 250 by 1908. But by 1929 the numbers were down to 44, as consolidation and The Great War whittled out the losers.
One of the winners, of course, was General Motors (GM), founded in 1908. It's been though the ringer but is still around and innovating, including in electric vehicles. In fact, GM announced a $75 million investment in Lordstown this week, helping generate some of the hype around the company.
If these companies like Nikola or Lordstown do turn out to be winners, then the potential in the booming electric vehicle industry could make their current valuations seem a bargain looking back, a very prescient investment. Amazon.com (AMZN) comes to mind. But at the moment, it's just a bet.
One way to play this hype is to follow the advice of my old colleague at TheStreet, Jim Cramer, who said if you want to play the EV game, why look for the next Tesla? Just by Tesla.
Another way could be to play the platform, like the original robber barons did with the railroads. They bought the land and laid the track.
These days, the track for EVs will be laid by the makers of the charging stations, and there is a battle between companies such as Tesla, and the states, who own the highways, and the utilities, who own the electricity.
Forty-three states and the District of Columbia took some sort of action on electric vehicles in the second quarter, ranging from infrastructure deployment to EV rebates and registrations, according to the North Carolina Clean Energy Technology Center.
Minnesota, New York, Massachusetts, California, and New Jersey were the most active, according to the quarterly report.
"Utilities are increasingly looking for new services to offer their customers, including utility-owned charging equipment for the customer's private use in exchange for a monthly fee," observed Brian Lips, senior policy project manager at NCCETC. "Meanwhile, many states are considering what the appropriate role for utilities is in charging infrastructure deployment."
Unlike the circus around driverless cars a few years ago, or flying cars, electric vehicles are here and growing. There is a proven benefit and the grid work is being done. Picking the next big thing after Tesla is going to be a crapshoot for now. But investors in the climate space need to remember that with every major market rally themed to a climate project, there will be lots more hype than profit.
Until someone slaps down cash for a new electric vehicle off the line and a company books it as revenue, everything else is just so much hot air.