Discover more from Callaway Climate Insights
Callaway Climate Insights provides news, critical analysis and original perspectives at the intersection of global finance and the challenges of climate change. 
Over 3,000 subscribers
Thyssenkrupp jumps on green hydrogen bandwagon
Beleaguered conglomerate looks to clean technology for survival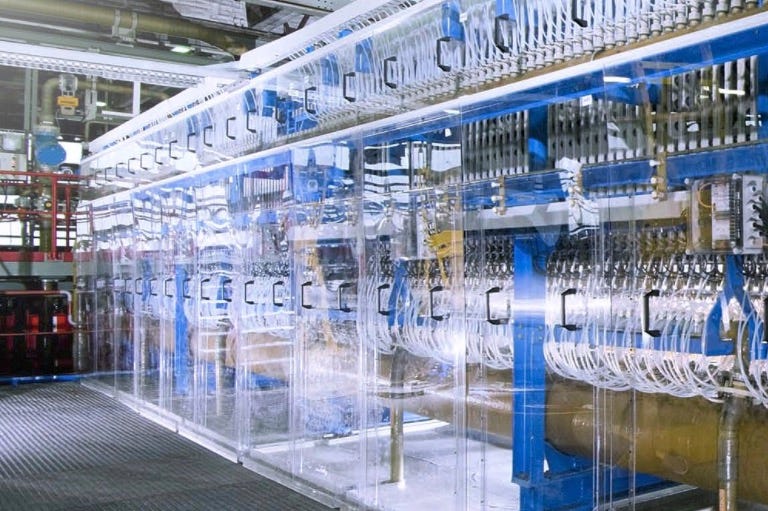 By Darrell Delamaide
(Darrell Delamaide is a freelance journalist in Washington, D.C. He has specialized in business and finance over a long career, writing for Barron's, Dow Jones, Institutional Investor, Bloomberg, and MarketWatch, among others. A longtime correspondent in Europe, Delamaide also has written about international economics, global markets, and foreign policy.)
WASHINGTON, D.C. (Callaway Climate Insights) — Germany's legendary Ruhr valley gave the country its reputation for a booming smokestack economy, smelting steel to drive growth at the dawn of the industrial revolution. So 19th century, you might think.
It is a testament to the ability of German firms to reinvent themselves, then, that the two iconic names in the steel industry, since merged into the industrial conglomerate Thyssenkrupp, are at the cutting edge of 21st century technology in developing and using green hydrogen to combat carbon emissions.
For years, Thyssenkrupp (TKA.DE) has teetered on the edge of bankruptcy as it failed to split off its steel production into a joint venture with Tata Steel, watched its shipyard nearly sink, and sold off its lucrative elevator business for 17 billion euros to help pay down ballooning debt and invest in targeted businesses. 
Management turmoil and boardroom struggles have roiled the merged company as it strove to make the transition from its formidable but obsolete heritage to an economy that likes to think of itself as postindustrial.
Postindustrial or not, the world still needs steel and Thyssenkrupp, which is not out of the woods yet, is scouring the globe for partners in steel production. 
In the meantime, the company has latched onto the current enthusiasm for hydrogen. It is working with Germany's two largest electrical utilities, RWE (RWE.DE) and E.ON (EOAN.DE), to use clean hydrogen in its steel smelting process and to use renewable energy to produce green hydrogen.
Late last month, Thyssenkrupp announced its electrolysis technology for the production of green hydrogen meets the requirements for use in the primary control reserve market. The company has entered into an agreement for its electrolysis plants to act as large-scale buffers to stabilize E.ON's power grid, compensating quickly and flexibly — and automatically — for fluctuations in the supply of power from renewable energy. 
When there is excess power, Thyssenkrupp will ramp up hydrogen production. When there is too little, the company will reduce its hydrogen production, leaving more power on the grid. E.ON has linked 150 generating stations in Germany and the UK in a virtual power plant. The buffering effectively stores excess renewable energy by converting it to hydrogen.
Thyssenkrupp's alkaline water electrolysis unit is already converting waste gases from steel mills into hydrogen, which in turn is used to make chemicals. Its electrolysis cells have a 20 megawatt capacity and can be combined into much larger plants.
Earlier in June, Thyssenkrupp said it will collaborate with RWE to install electrolysis facilities to produce hydrogen for iron production in its blast furnaces. A 100 MW electrolyzer at RWE's Lingen power plant, exclusively using renewable energy sources, will eventually produce 1.7 tons of gaseous hydrogen per hour, equal to about 70 percent of the amount needed for the Duisburg blast furnace.
This would yield about 50,000 tons of climate-neutral steel, the company says. The conversion of the blast furnace will take place in 2022 and the RWE-powered electrolyzer will begin supplying hydrogen in mid-decade. 
A special pipeline to transport the green hydrogen the 90 or so miles from Lingen to Duisburg is also in the works, presumably benefiting from Germany's recently adopted National Hydrogen Strategy and its €9 billion ($10.2 billion) funding.
The two utility partnerships are only part of Thyssenkrupp's commitment to green hydrogen, however, as it barrels along on the hydrogen bandwagon. 
Just last week, the company announced a strategic cooperation agreement with Air Products (APD), a developer of industrial gas projects, to build electrolysis plants with low capital expenditure and low operating expenses at the rate of 1 gigawatt a year, ramping up from there.
After announcing the sale of the elevator unit in February, Thyssenkrupp has embarked on (yet another) restructuring, hoping to streamline the conglomerate into a nimbler group of companies under new Chief Executive Martina Merz. An outsider who became chairman of the board in 2019, Merz was parachuted in as chief executive on a temporary basis just months later and made permanent CEO in March.
Nothing is sacred as the company tries to find the right formula for survival, and its industrial technologies could well end up on the block. But as the string of partnerships indicates the engineering prowess demonstrated in Thyssenkrupp's green hydrogen technologies is clearly in demand.
Above: Thyssenkrupp electrolysis unit.