Discover more from Callaway Climate Insights
Callaway Climate Insights provides news, critical analysis and original perspectives at the intersection of global finance and the challenges of climate change. 
Over 3,000 subscribers
ZEUS: Carbon taxes aren't the answer to our climate challenges
Delays to the growth of a transparent carbon offset market are leading to short-term fixes with no real value.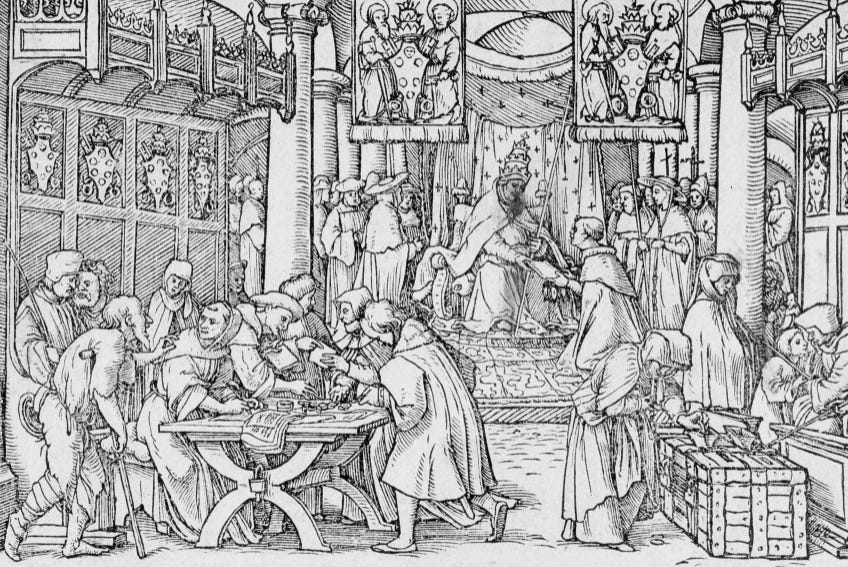 Some have compared carbon offsets to the medieval church practice of selling indulgences, above, that granted remission of the punishment for sins. It didn't work.
(David Callaway is founder and Editor-in-Chief of Callaway Climate Insights. He is former president of the World Editors Forum, Editor-in-Chief of USA Today and MarketWatch, and CEO of TheStreet Inc.)
SAN FRANCISCO (Callaway Climate Insights) — Pandemic delays to plans to create a global market for polluters to offset their carbon emissions are inevitably leading to a rise in proposals for a new way to enforce change — carbon taxes.
The proposal by the Austrian government this week to include a carbon surcharge on the short-haul flights of Austrian Airlines is the latest in a string of proposals — mostly in Europe — to tax fliers for the emissions of their plane trips. The EU is also considering a carbon border tax on Britain if its emissions proposals do not stack up in its Brexit plan, to prevent polluters from moving to the UK.
Such plans typically crop up during periods of inaction on other measures, such as the one we're in now. The delay by a full year to the Cop26 global climate summit in Glasgow because of Covid-19 has those in the climate offset market fuming because it extends the debate on standards for setting up a transparent global market for offsets.
Taxes rarely work, however. And particularly in the airline industry, where the majority of heavy fliers are business travelers happy to pass on the expense. If we've learned anything in the political debates over climate solutions, it's that punishments such as taxes are not enough to change the way we operate. Look at smoking.
Europe let its airlines off the hook this week on climate requirements when it allowed them to use 2019 — a record flying year — as the baseline for future emissions targets, instead of a combined 2019-2020. The original plan would have dramatically lowered the baseline, as it would include the past three months of almost no travel. Analysts estimate the change will save airlines $15 billion in offset costs over the next few years.
The aviation sector is a high-profile contributor to emissions, but is actually only responsible for about 2.5% of all greenhouse gases, paling in comparison to the fossil fuel industry or even road transportation. Still, the Swedish fad of flygskam, or flight shaming, has taken off in the past year in Europe, hitting the airlines and leading to calls for more taxes on flying.
While the concepts of carbon taxes and carbon offsets are essentially the same, the offset market will be most effective at the wholesale level, with companies paying into environmental projects to offset their emissions, rather than individuals paying taxes. The rise in individual offsets has led at least two influential news companies I follow to compare them to Catholic indulgences, where the church would allow people in the Middle Ages to pay to avoid punishment for their sins. Didn't work very well.
Until this year, airlines were among the most active participants in the carbon offset and permit markets, estimated at about $40 billion, but that will change with Covid-19. In a research note last month, German bank Berenberg said it expects the food and beverage, technology, and even fossil fuels markets to lead the way in coming years.
Expanding the markets are a first step toward growth, and Berenberg estimates that offsets could become a $200 billion market by 2050.
Without a global set of standards and transparency to prevent the types of scandals and corruption that have shadowed the market to date, there is little hope it can grow into an effective platform for increasing investment in industries like renewables, wind and solar. And decarbonizing the polluters.
Read Mark Hulbert's column: 5 biggest tech greenhouse gas emitters
As a voluntary market, it will never create enough incentive among companies to reach critical mass, such as we are seeing in the airline market, called CORSIA (carbon offsetting and reduction scheme for international aviation). It will also prohibit small countries — those most in need of climate solutions now — from participating without getting run over for lack of rules.
The Covid-19 pandemic has significantly derailed momentum in addressing climate change, but it has increased awareness. It would be wrong to squander that with a series of new taxes that most companies will find their way around rather than pushing countries to create an efficient and robust global market for trading innovative solutions.
Above, 16th century woodcut, "The Selling of Indulgences." From the Metropolitan Museum of Art.