Discover more from Callaway Climate Insights
Callaway Climate Insights provides news, critical analysis and original perspectives at the intersection of global finance and the challenges of climate change. 
Over 3,000 subscribers
ZEUS: Climate VC and baseball with Prelude's Gabriel Kra
A portfolio of eclectic carbon solution plays, all dedicated to one big goal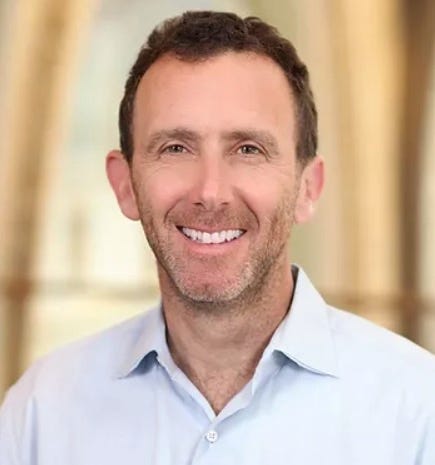 (David Callaway is founder and Editor-in-Chief of Callaway Climate Insights. He is the former president of the World Editors Forum, Editor-in-Chief of USA Today and MarketWatch, and CEO of TheStreet Inc.)
SAN FRANCISCO (Callaway Climate Insights) — Each time I talk with Gabriel Kra, I can't help starting with the plight of our San Francisco Giants, or the potential snow conditions this winter in Lake Tahoe. The former ski bum with a philosophy degree is a great conversationalist, and an unlikely money man.
Until you realize he runs Prelude Ventures.
Kra, (pictured above) is the managing director of Prelude, which was founded seven years ago by billionaire husband and wife team Nat Simons and Laura Baxter-Simons, dedicated to investing in a low-carbon economy. While Prelude's portfolio ranges from fashion plays to battery technology, each of the companies in it has one thing in common: They are in business to make money by helping solve climate change.
"It's blindingly obvious we have a climate crisis, and it's blindingly obvious there's a lot of opportunities and a lot of chances to make money in solving that crisis," Kra told me over Zoom one day last week from his home office in the Bay Area. "We want to invest in companies that can help the transition from carbon to low-carbon."
Prelude's portfolio is about 40 companies, and it typically invests about $75 million a year. At any given time, it has between $500 million and $1 billion in investments. One of its companies, ClearMetal Inc., uses machine learning to optimize big supply chains to reduce waste.
"They balance well the understanding of real business … and at the very same time it's about sustainability practices," said Adam Compain, founder and CEO. "What (Gabriel) brings mostly to our company and to the board is being an operator."
Kra grew up in New York City, and still maintains an affinity for the Mets. He got the environmental bug while on a family vacation to Yellowstone years ago, and after graduating from Columbia College spent a year skiing in Breckenridge, Colo. He added to his philosophy degree a masters in stratospheric chemistry and business degrees from Columbia University and the Haas School of Business at Berkeley. He found his way into investment banking, and was at Deutsche Bank in 2009 when Simons asked him over lunch to help him invest in low-carbon opportunities. Four years later, they launched Prelude.
Kra's investment banking background gives him that "operator" expertise, but his ski bum spirit lends itself to working with nervous entrepreneurs.
"When you're an entrepreneur in the really early stages it's exhilarating but often terrifying," said Shilla Kim-Parker, founder and CEO of Thrilling, which uses logistics and technology to help second-hand clothing stores reduce waste by going online. Prelude was part of Thrilling's seed round of $2.1 million last year.
"They are down-to-earth, value oriented, principled and humane partners," she said. "Gabriel sets the culture and tone for the entire organization."
One of Prelude's holdings, Quantumscape, a San Jose, Calif.-based maker of lithium batteries for electric vehicles, said last month it will go public through a special purpose acquisition company. SPACs are the latest rage on Wall Street, allowing companies to go public through reverse mergers with public shell companies.
Prelude invested in the 10-year-old Quantumscape in a Series C round seven years ago. He said it's common to hold these investments for many years, especially the ones like battery companies that take tremendous time and capital to reach success.
"What is different about us is we have the capacity for longer hold times," Kra said. I asked him about the popularity of SPACs on the market right now and suggested they could be a bit, uh, overdone. Kra would only say that the window is open right now and that lots of young companies are jumping through it, and that it encourages investors and entrepreneurs with long-term horizons. "It will shut at some point."
Another holding, Form Energy, is one of those long-term companies. Mateo Jaramillo, co-founder and CEO, said Kra and Prelude invested in its Series A round after the two met at what is now called Activate, the entrepreneurial fellowship program developed out of the Lawrence Berkeley National Laboratory. Kra was on the board.
Form Energy has announced two rounds of funding to date, for $49 million. But the long-duration energy storage company, which hopes to help re-invent electric grids, still has a long way to go.
"They are committed for the duration of the venture," said Jaramillo, who built Tesla's (TSLA) energy storage business before launching Form Energy. "When we're talking about the scales of infrastructure that we're operating in, the time scales are just much larger. The actual impact on the grid is going to take a decade."
A new era in climate investing
Kra said Prelude's style of mixing the types of companies it invests in gives it diversity, which is important when investing in startups. He says as long as they are all committed to working toward a low-carbon environment, then it really doesn't matter what their business model is as long as it works. He said Prelude focuses mostly on energy, food and agriculture, and tech businesses.
The rush of money coming in to the environmental, social and governance (ESG) space will lead to greater opportunities for Prelude and everyone else, Kra said. Family offices, large investment banks, even sovereign wealth funds are all leaping into the fray, bringing billions to invest in new solutions.
He said three trends in climate investing right now are the "meaningful commitments' from large tech companies such as Amazon (AMZN) and Microsoft (MSFT); the rise in carbon monitoring opportunities available amid more talk of a global carbon price; and the potential for a new, hydrogen-based economy, such as is envisioned in Europe's Green New Deal.
He notes that the U.S. solved its acid rain problem back in the 1980s and 1990s, and that it can do so again on a larger scale such as climate change. As long as there are price incentives for investors and entrepreneurs in new markets, there will be opportunity.
"I see the challenges of solving climate change as much as anybody," he said. "I'm really optimistic. Solar and wind are just cheaper."