Zeus: Getting more from wind power, with Uptake's Sonny Garg
As wind power grows in the U.S. and Europe, running the turbines more efficiently is big money for Chicago analytics company Uptake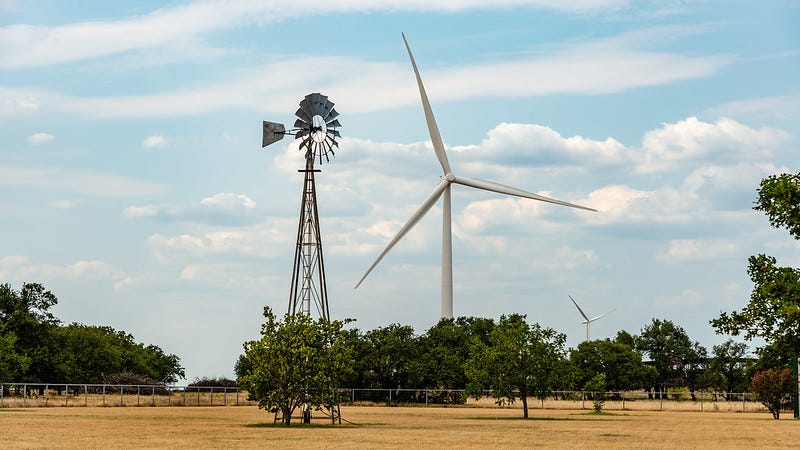 Above, old and new: a wind farm in Texas Hill Country. Photo:
Jason Jacobs
/flickr.
(David Callaway is founder and Editor-in-Chief of Callaway Climate Insights. He is the former president of the World Editors Forum, Editor-in-Chief of USA Today and MarketWatch, and CEO of TheStreet Inc.)
SAN FRANCISCO (Callaway Climate Insights) — Sunil "Sonny" Garg knows a thing about wind.
As a senior executive at Exelon Corp. (EXC), one of the largest U.S. energy companies, he oversaw the transition from coal-fired generating plants to wind power a decade ago. Earlier in his career, he worked as a political aide to Chicago Mayor Richard Daley, experiencing the political winds of the famous Windy City.
These days, Garg is the global energy lead at Uptake Technologies, a Chicago tech pioneer using data analytics to push more efficiency from the nation's fleet of wind turbines — one of the fastest growing sectors of the renewable energy market.
At a time when transitioning to new forms of energy dominates the climate solutions conversation, companies who use data to drive distribution and maintenance decisions are discovering vast new markets as traditional electricity grids become dynamic.
"As we integrate renewables, and we really think about what's behind the meter, this centralized-generation electricity we've known for 100 years is coming to an end," Garg said by phone from his Lincoln Park home. "To be able to manage that de-centralized grid is very hard, and data is going to be at the center of it."
Uptake, a six-year-old company started by Groupon co-founder Brad Keywell, is an artificial intelligence and machine learning company that was named "Hottest Start-up" by Forbes in 2015. Energy is one of its three largest divisions, along with transportation and mining. Within energy, renewables are the big focus, and the company currently monitors about 8% of the nation's wind generation capabilities of about 100,000 gigawatts from 50,000 turbines.
The company is a late-stage startup, with four rounds of funding under its belt, led by Baillie Gifford. Its customers range from Berkshire Hathaway Energy to the U.S. Army.
As renewable energy continues to replace coal and fossil fuel energy in communities around the country, using data to squeeze as much capacity out of the equipment will become more important. Garg said back at Exelon he worked at improving nuclear capacity, which was sometimes as low as 48%.
Wind energy can be as low as 40%, because after all, the wind doesn't always blow. When it is blowing, capacity rises to about 94%, Garg said. But that leaves a lot of room for AI to work with.
"There's at least 1% to 2% of annual production at most sites," Garg said. "1% to 2% is real money."
Uptake has worked on solar projects, but Garg said the company decided to focus on wind because it was a newer industry, less subject to traditional utility regulation and with a younger workforce more willing to embrace new tech.
Garg's experience as a senior executive at a traditional energy company provides him with background on how the energy sector in general can transition to renewable energy. Unlike some who want to see fossil fuel companies shut down, Garg said the big energy companies can push the transition because they can bring funds to renewables that most government's can't afford. Now that return on equity and profits are starting to build from renewables, there is more incentive to invest.
Garg said many of the nation's turbines came online about 10 years ago and, in general, have 20-year lifespans, so there is plenty of opportunity to improve them, as well as to "train" new turbines coming to market. While most of the U.S. wind market is onshore today, there is progress being made in offshore projects, particularly in the northeastern U.S.
Garg said offshore turbines could be would be a new market, but one that could be potentially even more profitable if data could drive maintenance decisions that would prevent work crews from having to travel to the offshore sites.