Discover more from Callaway Climate Insights
Callaway Climate Insights provides news, critical analysis and original perspectives at the intersection of global finance and the challenges of climate change. 
Over 3,000 subscribers
ZEUS: How central banks could lead a climate-based reconstruction
Far ahead of their respective governments in spraying financial stimulus, these banks could lay the groundwork for a greener recovery.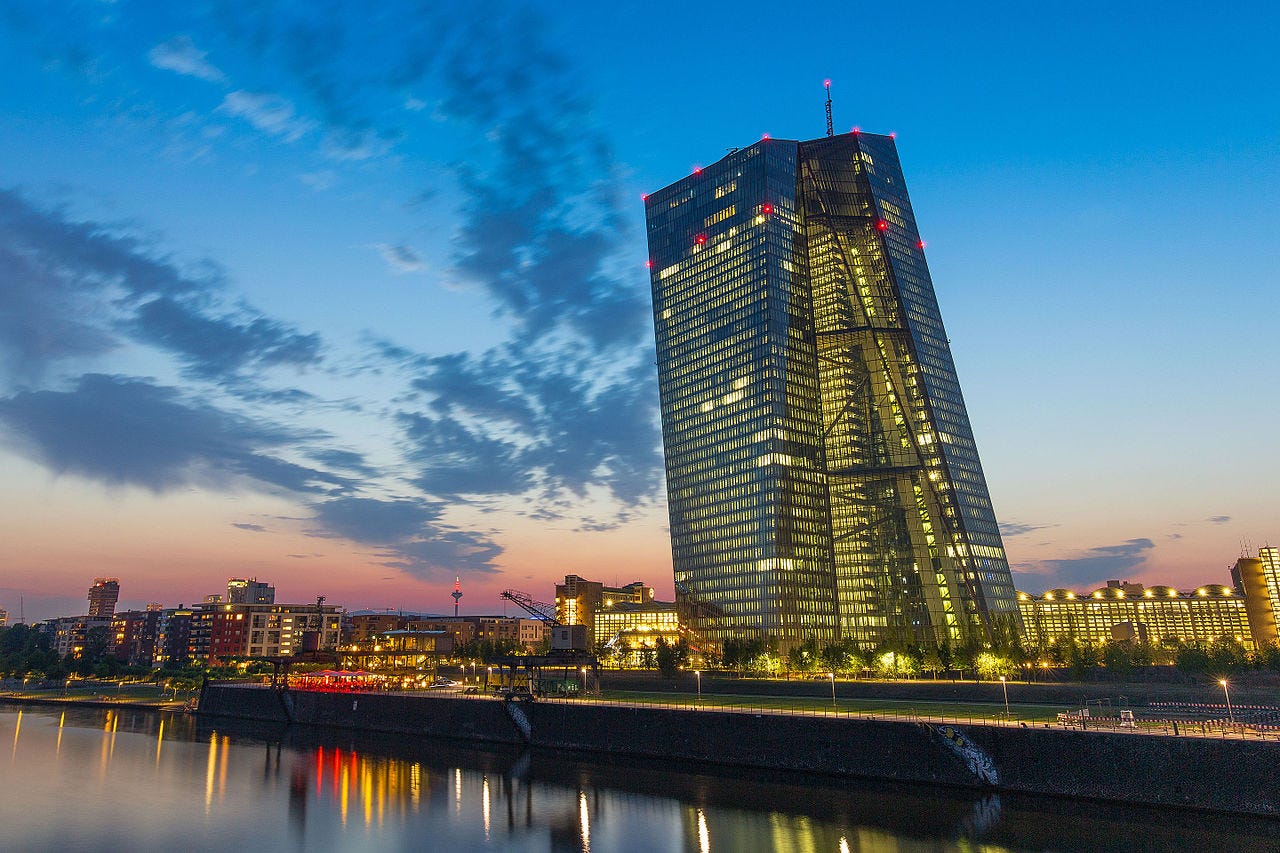 SAN FRANCISCO (Callaway Climate Insights) — It was almost inevitable that Congress' $2.2 trillion economic bailout plan would omit any major new climate or environmental requirements, but that doesn't mean we've blown the opportunity.
Other governments will face similar decisions about attaching green rules to money that is desperately needed to keep vital industries moving and jobs paid for, and some will do better then others. Europe comes to mind. For a model on how to subdue panic and spread stimulus with green intent, though, they should follow the central bank playbook. Shoot now and work the benefits later.
While Democrats and Republicans squabbled on Capitol Hill over the terms of the bailout, delaying it for days, the Federal Reserve stepped up and committed everything it's got — everything — to supporting the financial system. As European institutions and the United Nations promised to develop a sustainable recovery strategy, the European Central Bank announced almost $800 billion in spending now.
Just as a decade ago, when global central banks teamed up to save the world from financial meltdown while governments argued, the coronavirus pandemic will test the resilience of the Fed, the ECB, the Bank of England, and Bank of Japan among others. As the world endures an unprecedented lock-down to survive the health dangers of the virus, the financial dangers caused by ceasing work are only just starting to appear.
Goldman Sachs estimates the U.S. economy will decline 24% in the second quarter, two-and-a-half times its worst quarter ever. Former ECB Chairman Jean-Claude Trichet said this crisis is the worst the world has faced since World War II. But like the post-war era, and the months and years after the Great Financial Crisis ended in March 2009, the financial legwork won't start until after the panic subsides. When that happens, the central banks will be called on again, and if they are smart, they will make sure reconstruction begins and ends with a Green New Deal. 
Many central bankers have long been advocates for climate change. Former BOE Governor Mark Carney has been talking about it for years. Sarah Bloom Raskin, a former member of the Fed Board of Governors, told a Senate committee recently that while financial industry exposure to fossil fuel companies is causing turmoil right now as oil plummets, the recovery could yield a massive new reallocation of financial resources into renewable energy if bank CEOs and asset managers have the fortitude. 
At the forefront of this must be the central banks. They are settling into position for the second time in a generation to save us from economic meltdown with unprecedented spending. Politics and slow-moving bureaucracies often prevent governments from rapid action, as we witnessed this week in Washington D.C. But central banks, because of their relative independence from politics, can and must act immediately, to keep on top of the changing markets.
As Congress dithered, the Fed fired a massive volley, stepping up and basically guaranteeing to back up everything, in what Economic Council Director Larry Kudlow said could be up to $4 trillion in lending power. In Europe, the ECB announced $780 billion (870 billion euros) in emergency spending to buy bonds — this year.
That is action. Not words.
That action earns these banks the right to push a greener agenda on Wall Street and the City as we begin to come out of this, perhaps in April. Banks are the major investors in fossil fuel companies and strategies, and they are tied to their central bankers in ways that are different from their governments. Together, they will foster a way to put their money where their mouths have been on sustainable investment for the past six months.
The Official Monetary and Financial Institutions Forum, or OMFIF, has long cataloged the importance of the central banking industry to fighting climate change (See its latest report here: Tackling climate change: The role of banking regulation and supervision.) 
OMFIF estimated this week that the world's central banks have committed what will add up to about $1.9 trillion in new liquidity to global markets through emergency asset purchases. The think tanks said that "if completed over the next six months, it will be the most rapid pace of purchases yet undertaken."
It is similar to when the Fed agreed to step in and backstop the $1 trillion money market fund industry in 2008 in the days after Lehman Brothers collapsed, essentially halting a run on the U.S. financial industry in its tracks.
The time to commit to spending is now. To develop how it is used will come soon enough, and sustainable projects will look more attractive once the curve is flattened than they did beforehand.
Stimulus in the form of investing in renewable energy will gather pace. As scientists study the death patterns of certain countries — why it was so bad in Italy and China but not in Japan, for example — they will see what part clean air and environment played. Those findings too, will play a role.
Last week, after a long career in major newsrooms both digital and print, I decided to start my own business, Callaway Climate Insights. I believe that — despite the virus scare — climate change will be the story of the next quarter century. That there is a disconnect between a flood of money wanting to come into the space and successful entrepreneurs who can bring us the solutions necessary to adapt to climate change, and the opportunity that comes with it. 
The need for immediate stimulus and the preservation of jobs worldwide is being answered, first by the central banks and, slowly but surely now, by politicians and governments. Global crises focus our minds. It will be impossible to ignore the benefits of green investments going forward.
Photo: European Central Bank. Kiefer/Wikipedia.